In my August 30, 2009 article titled "Reviewing the Stock Analysts," I pointed out a book that I felt would advance your ability to analyzing individual stocks much better than whatever method that you might be using. In the article that I posted on August 30th, I stated that I'm convinced that if you buy the book Quest For Value you would have made a wise investment.
The only reason that I'm convinced that Quest For Value is useful is due to the third party examination of the performance of the approach as applied by Matrix USA. On a consistent basis, the economic value added (EVA) method was attributable to Matrix USA beating all other stock analysts for buying and selling stocks.
Now, in the most recent issue of Fortune Magazine dated January 18, 2010, Geoff Colvin reiterates that using the economic value added (EVA) approach is resoundingly effective at discerning quality stocks without the ability of corporations to tweak or fudge the financials through generally accepted accounting principles.
The punchline to the Colvin article is that of the three top quality companies based on the EVA model, Gilead Sciences (NASDAQ:GILD) is among them. GILD happens to be one of the Nasdaq 100 companies on our most recent watch list. On October 23, 2009, I indicated that based on the Coppock Curve, GILD would be among the best companies to investigate for a potential purchase.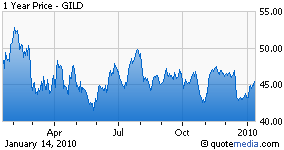 I am reiterating the belief that GILD is worthy of investigating since it has not varied by much since my last look at the company.
While some would rail on the lack of fundamentals and no current position in the stock, I strongly encourage readers to do their own due diligence and draw their own conclusions. I'm certain that the overall picture will favor selective buying opportunities for this company.
Disclosure: No positions