There is a lot of data out on Apple's (NASDAQ:AAPL) recent iPhone and iPad launches, but sometimes this data is misread by writers who do not look at the data correctly. This is important because "The iPhone likely accounts for almost two-thirds of Apple's profits." (Business Insider)
There is, of course, heated competition in the smartphone space from Apple's iPhones, phones running Google's (NASDAQ:GOOG) Android system - led by Samsung (OTC:SSNLF) - and Microsoft (NASDAQ:MSFT) with their Windows Phone 8, most strongly fielded by their recently purchased Nokia (NYSE:NOK) phone division. BlackBerry (NASDAQ:BBRY) is also in the space, but their smartphone sales have fallen so low that they do not even show up on many of the reports.
One example of some recent data regarding the state of the market is Counterpoint Research's report on the iPhone's strong rebound in the U.S. this September, after the release of the two new models - the 5s and the 5c.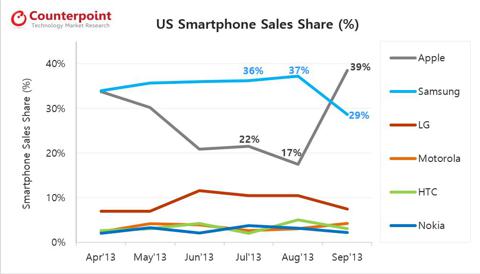 As can be seen, Apple catapulted to the highest share of 39% over the August low of only 17%. It should be noted that Apple beats Samsung in spite of having only three phones in their lineup ($450 - $650 unlocked), while Samsung has many across the whole range of price points in both Windows and Android systems. (Amazon lists 450 models starting at $10.)
Counterpoint notes:
"Apple dominates the ultra-premium $500+ price-band capturing a 90% share of this segment and helping Apple double its overall market share in just a few weeks." Mr. Richardson, further comments, "While Apple dominated the ultra-premium price band, Samsung showed great strength in the $400-$500 price band; more than half the sales in this segment came from Samsung, which allowed the Korean vendor to maintain a healthy 32% share in the US mobile phone market overall."
Here we can see the actual data as presented by the report, and the comments are all in line with the data.
A problematic example
But a less accurate assessment of another report is an example of how investors must read articles critically. Author Nathanael Arnold makes several errors when he writes for Cheat Sheet. First:
In what could be good news for Android-based phone makers, it appears that Apple's poaching of customers from other platforms has slowed down this year.
He is referring to the following graph from a report by Consumer Intelligence Research Partners:

While the second port of his statement is true, a smaller percentage of buyers were poached from other platforms as a whole, you only need to look a bit at the graph and see that his lead in is all wrong.
"Good news for Android…" he writes but this is totally wrong! It is not easy to read the graph precisely, and the report does not include detailed numbers. Still, it appears that last year Android poaching was (approximately) 71% - 55%, or 16%. The graph for this year indicates that the bar for Android tops at 85%, so subtract Apple's share of 65% and you are left with a full 20% poached from Android - a complete contradiction of his statement.
The report itself states:
"Ideally, Apple attracts a significant percent of its customers from Android and other systems," said Mike Levin, Partner and Co-Founder of CIRP. "At the most recent launch, though, Apple saw an increase in the share of customers that already had an iPhone. Perhaps because of the declining base of non- smartphone owners, a smaller percentage of iPhone buyers upgraded from a basic or flip phone, compared to the year-ago launch."
And if you look at the graph this is clear. The decline in poaching came from shrinking shares of previous owners of basic phones, other smartphones, and BlackBerry. There is actually more poaching from Android, share wise.
Second
Arnold makes a second important error in his opening paragraph:
According to a new survey from Consumer Intelligence Research Partners, fewer iPhone customers came from outside the Apple ecosystem during this year's iPhone 5S/5C launch than they did during last year's iPhone 5 launch. [emphasis added]
This is another factual error. The graph represents the percentage of phones sold. The author has confused this with the number of phones sold. We need to remember that Apple sold 9 million iPhones in its opening weekend, almost double the 5 million from a year before.
So, if this year 65% were from former iPhone owners, then 35% were "poached," as opposed to 45% last year. Now raw number yield the following statistics (N in millions):

Therefore, the total of all customers new to the iPhone this year was 3.15 million, while last year there were only 2.25 million. Clear more not fewer customers came from outside the Apple ecosystem during this year's launch. And, more than twice as many former Android owners switched to the iPhone - an increase in both raw numbers and in the percentage of sales.
Aside
As an aside, it seems to me that during the launch event you would get a stronger showing of the die-hard Apple fans. After all, one needs to wait in line for hours, and still may wind up not finding the model you want. So only the most faithful should be out there. Therefore, one would expect that the switchers would be under-represented in this sample. That is, percentage wise, it is likely that even more Android owners will be switching in the future. (Although this is pure conjecture.)
Caveat
The CIRP study methodology should be noted:
CIRP bases its findings on its survey of 400 phone customers that activated an iPhone in the US in after the launch on September 20, 2013.
Conclusion
One needs to be careful in interpreting data. There are cases where people may have interpretations that disagree on reasonably arguable grounds, but there are also cases where outright errors are made.
While reported that it could be "good news for Android," the data actually show that a 20% - a full one in five iPhone buyers - are switchers from Android, and this is up from last year in both sheer numbers and percentage figures.
If one really wants to draw proper conclusions, it is always best to either stick with a reporter who you feel gets it right most of the time, or even better, go back to the original data itself (whenever possible) and draw your own conclusion.
Disclosure: I am long AAPL. I wrote this article myself, and it expresses my own opinions. I am not receiving compensation for it (other than from Seeking Alpha). I have no business relationship with any company whose stock is mentioned in this article.