On Thursday, November 7, Valero Energy (NYSE:VLO) announced its plans to seek the approval for doubling the amount of crude handled by a planned rail project at the 250K bbl/day St. Charles, La., refinery and add a unit to a recently proposed plant expansion.
The application, which was filed with the State of Louisiana, shows plans for a railcar unloading station that could receive as much as 30K bbl/day, up from 15K. Valero also wants to revise an expansion project first approved in 2007 so that the refinery can add a catalytic naptha hydrotreater; VLO then plans to operate an aromatics BTX extraction unit, a fourth sulfur recovery unit, a sixth river dock and a new crude desalter.
In the wake of Thursday's announcement, I not only wanted to highlight the company's operations at St. Charles but also note a number of reasons why I remain long on shares of Valero Energy.
The Valero St. Charles Refinery
The Valero St. Charles Refinery major process units were built in the early 1980s or later, making this refinery one of the newest in the United States. Between 2000 and 2002 major upgrades included the construction of a large fluid catalytic cracking unit, alkylation unit and continuous catalytic reformer unit. Since acquisition of the refinery outside New Orleans in 2003, Valero has invested nearly $4 billion making the plant one of the company's more complex refineries. These investments enabled the plant to process additional heavy feedstocks, increase throughput capacity, upgrade its product yields and improve on-stream reliability.
According to Valero's website, "The St. Charles facility also adds value to the company's operations by providing intermediate feedstocks to other Valero refineries located along the Gulf Coast and has access to the Colonial and Plantation pipelines for distribution of refined products to numerous markets in the southern and eastern U.S". By expanding the amount of crude handled at the refinery, I strongly believe Valero's earnings performance has the potential demonstrate significant growth over the next several years.
Recent Performance & Trend Behavior
On Friday shares of VLO, which currently possess a market cap of $21.89 billion, a beta of 1.39, a forward P/E ratio of 9.03, and a current dividend yield of 2.23% ($0.90), settled at a price of $40.32/share. Based on their closing price of $40.32/share, shares of VLO are trading 2.17% above their 20-day simple moving average, 9.60% above their 50-day simple moving average, and 7.12% above their 200-day simple moving average. These numbers indicate a short-term, mid-term, and long-term uptrend for the stock which generally translates into a moderate buying mode for most near-term traders and longer-term investors.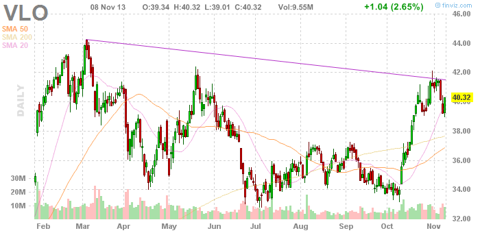 24-Month Dividend Behavior
Since November 14, 2011 the company has actually increased its quarterly dividend four times in the last 24 months. The company's forward yield of 2.23% ($0.90) still makes this particular oil & gas play a highly considerable option, especially for those who may be in the market for a moderate stream of quarterly income.
Recapping a Fairly Strong Q3
On Tuesday, October 29, Valero Energy reported EPS of $0.57/share and revenue of $36.14 billion. These results surpassed EPS estimates by $0.16/share and revenue estimates by a margin of $6.38 billion.
Some the more positive notes to come out of the company's conference call included but were not limited to the fact that the company's Q3 2013 refining throughput volumes averaged 2.8 million barrels per day which demonstrated an increase of 172,000 barrels per day from Q3 2012 and its ethanol segment reported operating income of $113 million in Q3 2013, an increase of $186 million from the Q3 2012, mainly due to higher gross margins per gallon and higher production volumes.
If the company can continue to demonstrate strong throughput volumes and a subsequent increase in ethanol-related operating income I see no reason why earnings would not continue to demonstrate steady growth through the fourth quarter and into the first half of 2014.
On the other hand, there were a few negative notes that should also be pointed out. For example, the company's Q3 2013 refining throughput margin of $7.76 per barrel declined more than $5 per barrel versus the Q3 2012 margin of $13.12 per barrel, which was due to significantly lower gasoline and lower diesel margins and if things are going to turn around by H1 2014, I'd personally like to see refining throughput margins of at least $9.50-$10.50 per barrel or more.
Risk Factors
According to Valero's most recent 10-K, there are a number of risk factors all investors should consider. These factors include but are not limited to the company's financial results are affected by volatile refining margins, which are dependent upon factors beyond our control, as well as uncertainty and illiquidity in credit and capital markets can impair our ability to obtain credit and financing on acceptable terms and may also adversely affect the financial strength of our business partners.
Conclusion
For those of you who may be considering a position in Valero Energy I'd keep a watchful eye on a number of catalysts over the next 12-24 months as each could play a role in the company's long-term growth. For example, near-term investors should focus on the partnership's recent trend behavior, while long-term investors should pay close attention to any growth related to the continued development of the company's rail project in St. Charles as well as any improvement in the company's refining throughput margins over the next 12-18 months.
Disclosure: I am long VLO. I wrote this article myself, and it expresses my own opinions. I am not receiving compensation for it (other than from Seeking Alpha). I have no business relationship with any company whose stock is mentioned in this article.