When I thought about putting together an article on the high valuations and potential for a downslide in dividend stocks, one of the first things I did was ask Google what commentators have been saying on the subject recently. Here's what I got with the search terms "overvaluation dividend stocks" as a first run at it. Top four hits are from Seeking Alpha. The top two are the recent discussions here from Dave Van Knapp and Chuck Carnevale of a couple of weeks ago, which I'm sure many readers have already seen. Both of these authors tended to come down on the side of "Maybe, but it doesn't matter."
The next two pages were articles from places like Fool, Barron's, GuruFocus, CNBC, Morningstar and the like. These put out a general tenor of doom and gloom for dividend stock prices. While that in itself seems interesting, what's much more interesting is the dates. Get past those top two and dates range from as far back as February 2012 - nearly two years ago - most warning investors that the rush into dividend payers will lead them to ruin, real soon now.
One could take this anecdotal bit, spin it a few ways. Just dismiss it is one tack: "The bears are always growling." Or "Clearly, these guys don't know what they're talking about." And just be done with it. Another view might be, "Knowledgeable commentators have been saying this for some time now, but prices here just keep going up. Clearly they're wrong." Or, "How long before that building consensus is proven correct? After all, lots of people were warning about tech stocks and real estate before overvaluation brought everything down." What I thought about all this was more like, "maybe it's time to rethink this thing, and look a little deeper."
Let's start by looking at market realities and market psychologies that have been driving the dividend tidal wave. I'm going to focus on retail investors, either directly or through dividend funds because I, and many other observers, consider that the dividend-stock run-up has been largely driven by the retail investor. Obviously, a lot of investors lost a good part of their shirts in the aftermath of the fiscal-crisis/real-estate debacle. It took a while for many of them to even consider venturing back into the market again. Themes were "Safety," "Defense," and "Low beta." The reigning mantra was "Won't get fooled again."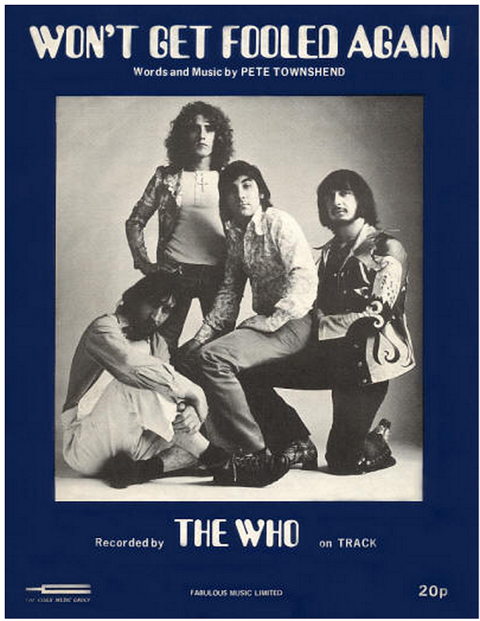 And, where does one look for defensive, safe-as-possible investments: boring dividend stocks, clearly.
Yet another theme went something like this: "I'm starting to get old. I want to retire someday. I need income. Clearly, I need bonds with their safety, defensiveness and income." So those who weren't simply stashing cash in a mattress were flocking into bonds, and did okay for a while, too. Then the Fed went to work at dismantling the bond market. Everything was fine at first: then bond returns began to dry up and every few months the latest rates-are-going-to rise fear took another bite out of the bond investor's capital value. Where to go? Dividend stocks, of course. Remember the Great Rotation?
What had been among the most unpopular segments of the market became everyone's darling. Investors everywhere were remembering Great-uncle Willy who invested in Coca-Cola and McDonald's and told them, "Buy dividends and just don't think about it again" just before he fell asleep after Thanksgiving dinner. Lots of people became assured that the safest investment had to be in something with a brand name everyone recognized; ideally, something that was advertised on the TV every few commercial breaks. So, what happens? They're getting income that's certainly no worse, often even better, than bonds, and prices kept running upward. Investors began flocking to the Shrine of Uncle Willy driving up those prices even further. By the end of 2012 some $20.8B had flowed into equity income funds. But, in too many cases, people failed to notice that the valuations when they started buying domestic dividend stocks were quite a bit more attractive than the valuations in place as those defensive stocks started to grow like they were momentum stocks.
That brings us to the closing months of 2013. The crescendo from the dividend bears grows louder by the day. For one thing, bond yields are set to rise, so money will likely start moving out of dividend stocks back to bonds. But the heart of the argument is one that no one can deny: Valuations are worrisome. Ehren Standhope at O'Shaughnessy tells us that by August, dividend payers were trading at a 12% premium to the broader US market. Many dividend stocks have seen valuations continue to rise since then. Some have begun to falter; others will likely follow.
Here's an chart from Mebane Faber (who has been beating the Market-Is-Overvalued drum for some time now) illustrating the extent to which dividend stocks are overvalued: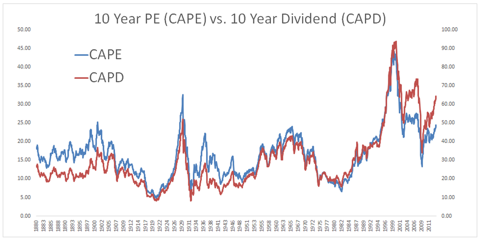 CAPE is at the 90th percentile and CAPD is at the 94th. As Mr. Faber says "Neither are good places to hang out the next 3-10 years. Next q, next y? Who knows."
Example Dividend Portfolios
Let's look at some examples of those high valuations using stocks well known to the Seeking Alpha dividend investor community. For openers, there's the set of most popular stocks held by dividend investors from the survey conducted by Dave Van Knapp (listed here). That list returns this range of valuations:
P/E

PEG

average

22.92

2.44

min

*9.9

***0.84

25%tile

14.29

1.54

50%tile

16.94

2.07

75%tile

21.20

2.60

max

**40.95

****4.89

removed outliers

*

AGNC

P/E=3.75

**

VOD

P/E=265.43

***

KMI

PEG=0.76

****

CINF

PEG=12.59
I considered the highest and lowest from each metric as outliers and omitted them. It was unreasonable to have something like VOD's P/E or CINF's PEG in there skewing the results to the high side (especially as I am not aware of what is driving VOD's lofty P/E value, although I'm sure there must be some reasonable explanation known to those who follow the stock). Similarly, these metrics are much less appropriate for an mREIT (NASDAQ:AGNC) and or an MLP (NYSE:KMI), so they would have unreasonably skewed the results as well, albeit much less so, in the other direction.
For comparison, SPDR S&P 500 ETF (NYSEARCA:SPY) has a P/E of 15.
As it would happen, while I was preparing this article Chuck Carnevale, also well known to the dividend investor community here, published an article on some of his favored dividend stocks.
Many investors hold a portfolio that looks something like the Chuck Carnevale's list so it provides an instructive framework. Here are the stocks from that article:
| | | |
| --- | --- | --- |
| | P/E | PEG |
| Automatic Data Processing (NASDAQ:ADP) | 23.34 | 2.57 |
| Aflac (NYSE:AFL) | 9.03 | 1.57 |
| Becton Dickinson (NYSE:BDX) | 18.87 | 2.07 |
| Clorox (NYSE:CLX) | 20.88 | 2.11 |
| Dover (NYSE:DOV) | 16.72 | 1.31 |
| Genuine Parts (NYSE:GPC) | 17.67 | 2.07 |
| Illinois Tool Works (NYSE:ITW) | 14.98 | 1.21 |
| Johnson & Johnson (NYSE:JNJ) | 20.67 | 4.48 |
| Kinder-Morgan (NYSE:KMB) | 22.98 | 4.70 |
| Coca-Cola (NYSE:KO) | 20.50 | 3.71 |
| McDonald's (NYSE:MCD) | 17.68 | 2.13 |
| Medtronic (NYSE:MDT) | 16.49 | 2.56 |
| McGraw Hill Fin. (MHFI) | 26.49 | 1.51 |
| PepsiCo (NYSE:PEP) | 19.74 | 2.48 |
| Procter & Gamble (NYSE:PG) | 20.92 | 2.50 |
| Sysco (NYSE:SYY) | 19.37 | 1.94 |
| VF Corp. (NYSE:VFC) | 21.37 | 1.94 |
| Wal-Mart (NYSE:WMT) | 14.99 | 1.64 |
| | | |
| --- | --- | --- |
| | P/E | PEG |
| average | 19.04 | 2.36 |
| median | 19.55 | 2.09 |
| min | 9.03 | 1.21 |
| max | 26.49 | 4.70 |
A bit more reasonable than the Van Knapp list perhaps, but just a bit. I submit that at such lofty prices, it borders on the naïve to dismiss the likelihood of a sharp and painful correction.
But, what's an income investor to do? Some will say, "Fine, I'll just buy more on the dip." Problem here is twofold. First, unless you've still got a stash in that mattress, you probably don't have the resources to do any significant buying without selling something else first. Second, there is a recurring unwillingness by retail investors to "buy low." Too many are prone to fear-induced selling instead. All right, I hear you, I know that you know better, and many of you hold cash in eager anticipation of such events. But you also know that many of your fellow retail-level income-investors will panic and as they do the slide will get sharper.
What's a Dividend Investor to Do?
If we sort Chuck Carnevale's list on PEG, the top and bottom three are:
| | | |
| --- | --- | --- |
| | P/E | PEG |
| Top 3 | | |
| KMB | 22.98 | 4.70 |
| JNJ | 20.67 | 4.48 |
| KO | 20.50 | 3.71 |
| Bottom 3 | | |
| ITW | 14.98 | 1.21 |
| DOV | 16.72 | 1.31 |
| MHFI | 26.49 | 1.51 |
For an investor holding this example portfolio a reasonable line of thinking might be to sell KMB, JNJ, KO and consider adding to the likes of ITW, DOV, MHFI or other similarly (or better) valued stocks.
However, if one were to take this approach, the result is likely to be a loss in income. For the 6 stocks above, one would go from an average yield of 2.87% to 1.97%, an income drop of about a third. This may not be feasible, and is certainly not going to be pleasant for an income investor. Many would rather watch their portfolio lose ground than give up the income.
This is an inevitable consequence of the trend toward hyper-valuation of dividend stocks: the best yielding tend to be the most overvalued as can be seen in this chart of P/E and PEG Ratio for the stocks that comprise this list.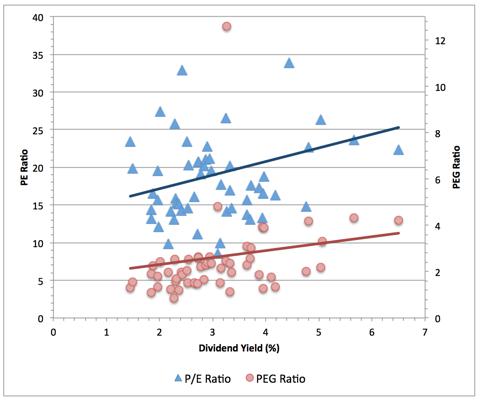 There is, however, a lot of variability around those linear trend lines and it is possible to identify prospective buys that provide reasonably high income at reasonably attractive valuations. Some of these do not necessarily have long histories of dividend increases. I infer from what I read here by some authors and especially in comment threads that there is a cohort among the SA followers of DGI that refuses to buy anything that isn't on David Fish's CCC list that tabulates companies that have raised their dividends for at least 5 consecutive years. Please don't misunderstand, I fully appreciate the value of consistency in raising dividends, but let me point out that some of the best-valued dividend stocks are not on that list. Rejecting them outright may not be the best possible strategy for weathering a projected storm in dividend stocks. I offer as an example Apple (NASDAQ:AAPL). On Van Knapp's list AAPL is the second-best valued stock on a PEG basis (the best if we remove the outlier), and in the lowest 20th percentile on a P/E basis. AAPL represents incredible value to a dividend investor; why shun it simply because it's not on someone's list? Good as the CCC list is (and I use it all the time, thank you David Fish for this outstanding contribution), it wasn't handed down from Sinai on stone tablets.
International Dividend Stocks
I note that as far back as January 2013, the O'Shaughnessy blog opined that it was the "most difficult environment for generating income for 140 years." It certainly hasn't gotten any better since January. There is an alternative that may provide one solution to this dilemma. One that many income-oriented investors tend to overlook: Look abroad.
Opportunities exist for well-valued, high yield, international stocks, both in developed and emerging-market countries. But many investors are most comfortable with the familiar. The familiar can be as tightly defined as being brand names known to anyone or, more often, the broader domestic market. Too few are comfortable investing in international holdings with the exception, perhaps, of global brand names largely indistinguishable from familiar, domestic brand-name stocks. Here's an interesting chart, from O'Shaughnessy again, comparing P/E values for dividend stocks across global markets to illustrate the potential cost of a reluctance to explore widely:

The green bars represent the 10% top yielding stocks for the US and global markets. The blue bars represent the broader markets.
Some investors can comfortably maneuver the international markets and buy and sell globally. For the rest of us with neither the expertise nor interest for investing at that level, there are ample opportunities in international dividend funds. Many readers may stop reading here. They want to choose their own stocks and not leave it to managers they have to pay. My response is that those of us who lack international investing expertise are far better off letting experts navigate the complexities of the international markets. Domestic stocks are hard; international stocks are another level of hard.
I've looked at international dividend income funds in some detail previously. At this time I'd like to summarize some of the international income opportunities that can be found that provide reasonable valuations and reasonably high dividend income. One might consider:
| | | | |
| --- | --- | --- | --- |
| ETF | Ticker | Yield | P/E |
| Developed Countries | | | |
| First Trust DJ Global Select Dividend Index | (NYSEARCA:FGD) | 4.56% | 11.25 |
| Global X Super Dividend | (NYSEARCA:SDIV) | 7.07% | n/a |
| Guggenheim Global Dividend Opportunities Index | (NYSEARCA:LVL) | 6.35% | 11.74 |
| SPDR S&P International Dividend | (NYSEARCA:DWX) | 6.52% | 12.15 |
| | | | |
| Emerging Markets | | | |
| EGShares Low Volatility Emerging Markets Dividend | (NYSEARCA:HILO) | 5.17% | n/a |
| SPDR S&P Emerging Markets Dividend | (NYSEARCA:EDIV) | 4.95% | 10.45 |
| | | | |
| Global Real Estate | | | |
| SPDR DJ Wilshire International Real Estate | (NYSEARCA:RWX) | 6.07% | 17.66 |
| | | | |
Note that the yields here are attractive by the standards of the overvalued domestic stocks. Note too that the P/E ratios are well below those of the holdings we discussed above. The highest P/E ratio among the equity ETFs here would be just about at the bottom of the list of Dave Van Knapp's most popular dividend stocks.
I am certainly not suggesting abandoning domestic dividend payers entirely. But, there are advantages to holding a portion of one's portfolio in international equities beyond income and their current attractive valuations. International exposure provides a greater degree of diversification than what is typically seen in many dividend income investors' portfolios. Ideally, this diversification should be spread among developed and emerging market countries. Many knowledgeable investors recommend a ratio of about 3 to 1. A fund like DWX fits that profile fairly well and by itself could be an attractive addition to a domestic-stock focused portfolio with its 6.5% yield and 12.15 P/E ratio
Real estate is another diversifying area that will be familiar to many readers who are well acquainted with domestic REITs. RWX provides exposure to international REITs enhancing the diversification one adds to a portfolio with real estate. As domestic REITs stagger from rising interest rates, one may be well advised to consider diversifying REIT holding with a more global focus.
Summing Up
My objective in writing this article is to point out a reality that I suspect many are aware of but are choosing to ignore. It is almost inevitable that we will soon see a downturn for some of the most overvalued dividend stocks, perhaps even as the broader market continues climbing. Some investors will take the approach of "So what? My income is safe because I've chosen well." And, if that's one's only priority, I will concede that it will likely work out for them reasonably well. But, if one is even remotely concerned with preserving or growing the net value of his or her portfolio, it would be, in my opinion, wise to consider what alternative there might be to holding all those overvalued stocks until valuations revert to their means. Doesn't it make more sense to put some of those over-valued gains into other opportunities instead of just letting the market take them back?
As always, I remind readers that I am an individual investor doing my homework. I have no claims to professional expertise of any sort in stock evaluation. I am simply sharing my own research in the hope that it may be useful to others. Any actions a reader may want to take based on this research must necessarily include his or her own careful due diligence and full consideration of his or her individual goals and need.
Disclosure: I am long AAPL, AFL, DWX, JNJ, RWX, VFC. I wrote this article myself, and it expresses my own opinions. I am not receiving compensation for it (other than from Seeking Alpha). I have no business relationship with any company whose stock is mentioned in this article.