What are the ingredients for a great business? For my money, I'll take a company with a unique franchise, with huge barriers to entry, high returns on invested capital and above average growth. Such businesses are rare, of course, and even rarer are such businesses selling for bargain prices. But Interval Leisure Group continues to meet all of the above criteria, and below I discuss why I think that continues to be the case.

Interval Leisure Group (IILG) is one of two companies within the niche timeshare exchang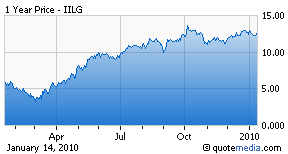 e business - the other being Wyndham's (NYSE:WYN) RCI. Customers pay annual fees so that they can exchange the time blocks in timeshares they own for vacation time in other timeshares on Interval's network. The barriers to entry are massively high, because the network itself is the value-customers only want to sign on with an exchange network that is large and thus has a lot of different choices. The fees are reasonable, at less than $100 a year for most packages. IILG and RCI are essentially the only players in the industry.

The business requires minimal ongoing capital, as Interval owns no actual timeshares and doesn't have to put up capital for development of new ones. They simply get a recurring revenue stream from their customers, and that revenue stream has very high renewal rates, at north of 80%. Developers often throw in a multi-year membership to Interval or RCI along with the purchase of a new time share interest.

Let's talk financials. Interval has been averaging about $1.35/share in cash earnings/free cash flow over the couple of years. Up until the financial crisis, revenue growth had averaged over 10% a year for well over a decade. At $12.50, the stock has a double-digit free cash flow yield.

But analyst estimates are for only $0.75/share for 2009/2010 - so where do I get $1.35/share? The GAAP numbers include amortization of some purchased intangibles that will never have to be replaced. Cash earnings are significantly higher and match the economic reality of the business. The beauty of the discrepency, however, is that Interval comes up looking more expensive on P/E screens. In fact, at the recent price of $12.50 the P/E is 16.8 times earnings estimates. Based on the cash EPS/free cash flow, Interval is selling at about 9.3 times. Due to their historical growth and returns on capital, Interval could easily receive double this multiple.

Interval had about $425 million in debt and $160 million cash as of the third quarter. Most of their debt is callable at par in September of 2012, and we think Interval should be able to call the debt then, possibly by paying cash. This would reduce annual interest expense by about $29 million, or about $0.20/share after tax. We think cash earnings will hit $1.75/share or better by 2013.

Interval has relatively thin analyst coverage, with most who cover it track the generic "travel and leisure" industry. Interval is in a unique, niche space, and doesn't get the attention it deserves. Thus in our opinion, this is a special situation and a market inefficiency.

Disclosure: We own Interval Leisure Group.