Thursday morning, the U.S. Department of Commerce reported that Advance Estimates of U.S. Retail and Food Services sales for December fell 0.3% from the prior month to $353.0 Billion, while sales increased 5.4% compared to the year-ago period. This is the second straight year-over-year gain after 14 consecutive months of declines, the longest such streak on record. To put this into perspective, consider that in the previous 15+ years, from January 1993 through August 2008, there were a total of only 2 months in which YoY decreases were reported.
While the gain certainly looks impressive at first glance, it's more representative of the extremely easy comparison from last December, when overall sales tumbled 11.0%. For the month, Gasoline Stations (+33.6% YoY / +1.0% MoM) and Nonstore retailers (+10.3% YoY / +1.4% MoM) were among the strongest gainers. Total sales excluding Autos were up 5.2% from last year, while total sales less Autos and Gas Stations showed a 2.3% year-on-year gain.
Stores which are highly leveraged to the housing and job markets, including Furniture & Home Furnishings Stores (-3.8% YoY), Department Stores (-1.2%), and Building Materials & Supplies Dealers (-5.8% YoY) continue to struggle mightily, and have yet to gain any traction. For the November-December holiday season, total GAFO Retail sales climbed 1.1%, after plunging 4.2% in last year's dismal showing.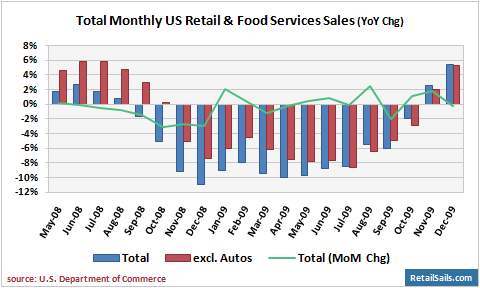 Preliminary results show total sales for 2009 fell 6.2%, or 1.9% excluding autos and gas stations. The steepest annual drops were seen in gas stations (-24.5%), autos (-12.3%), furniture and home furnishings stores (-11.1%), electronics and appliance stores (-7.8%), and department stores (-5.8%). The only sectors to show yearly gains in 2009 were health & personal care stores (+3.3%), food services and drinking places (0.7%), and food & beverage stores (0.3%).
Going forward, expect to see continued improvement in year-over-year gains as the comparisons will only get easier from here. However, spending will remain constrained until consumers feel more confident about the housing and job markets. While sales are relatively strong compared to a year ago, they are still well below the spending levels we saw even back in 2006.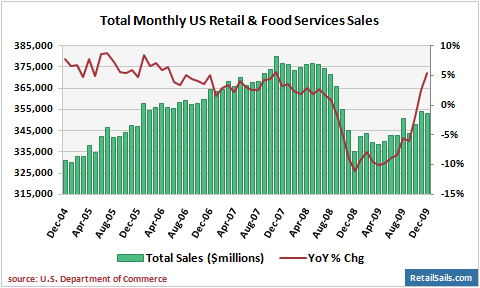 Click here to see in-depth data and charts by type of business.
Disclosure: No Positions