Though the technology of 3D printing (additive manufacturing) is still in its early stages of development, many analysts are estimating that it will grow at a CAGR of 20%-30% for the next seven years and will nearly quadruple its value by 2020. It was widely assumed that the pioneer of the 3D printing industry, 3D Systems (NYSE:DDD), was well positioned to capitalize on this growth, but the impending arrival of another big-name player in the form of Hewlett-Packard (NYSE:HPQ) may restrict 3D Systems from fulfilling its potential.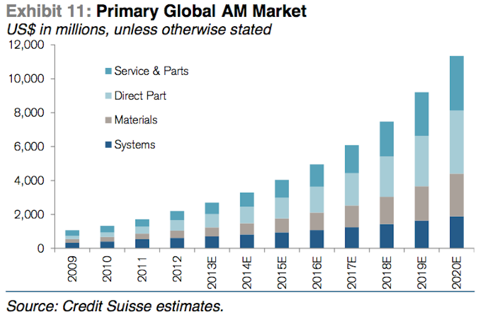 Why 3D Systems May Not Succeed
3D Systems has to steer clear of many roadblocks before it can fulfill its potential, and the arrival of Hewlett-Packard has further added to those difficulties. I will tell you why I think HP can pose a major threat to all the existing 3D printing companies, but first let's take a look at the challenges faced by 3D Systems.
High Time Consumption
The method of producing a simple product via 3D printing can consume plenty of time and can even last for a couple of days. By comparison, conventional industrial machines can churn out thousands of fully-finished products every day, and there's no way a present-day 3D printer can compete against that. Also, the fact that a 3D printer does not produce a fully-finished object and requires an extra step of removing the object from the printer, further delays the printing process.
So, when analysts projected that the 3D printing market will be worth $12 billion by 2020, they assumed that additive manufacturing will replace the process of industrial production. However, given the fact that the industrial manufacturing process is a lot faster, this assumption seems irrational.
High Cost
The cost of setting up a traditional industrial machine is very high, but it makes up for it with its efficiency. This however, is not the case with 3D printers. Not only is a top-end 3D printer highly expensive, but the material used in printing is also not economical. And given the slow speed of 3D printers, spending over the odds for setting up multiple printers won't be considered profitable.
Can Hewlett-Packard Dethrone 3D Systems?
Hewlett-Packard's CEO, Meg Whitman, recently told the Canalys Channels Forum in Bangkok that the company is planning to enter into the 3D printing market by mid-2014. Whitman claimed that HP sees this industry as an exhilarating business opportunity and aims to become a leader in the 3D printing market.
Though Whitman didn't reveal much information as to what 3D printing products HP will be offering, she stated that the company will focus on reducing the time consumption and bringing down the costs of 3D printers, which will give it a huge competitive advantage over 3D Systems.
With a market cap of more than $49 billion, Hewlett-Packard will become the biggest player in the 3D printing industry. Therefore, the thought of producing faster and cheaper 3D printers isn't too far-fetched for HP as the company has enough resources to fund the Research and Development (R&D) of this technology. To put into perspective, HP spent more than $3.4 billion on R&D in the preceding year, therefore it's evident that the company will not shy away from spending on R&D once it enters the market.
Furthermore, with more than $13 billion in cash, Hewlett-Packard can even consider acquiring other small name players like Arcam AB (OTC: OTCPK:AMAVF), Organovo (NASDAQ:ONVO), and ExOne (NASDAQ:XONE), which will diversify its product offerings. All these companies have an annual revenue of less than $50 million, but they are enhancing their revenues rapidly by improving their product offerings and may become a takeover target for Hewlett-Packard in the future.
Also, the expiration of several key patents that prevent competition in the market for most advanced 3D printers means that HP will not have to spend a massive amount of time on creating more sophisticated high-resolution 3D models.
3D Systems A Lost Cause?
3D Systems will have to continue to innovate in order to fortify its position as the market leader. The company has been overindulged in acquisitions and has taken over 38 companies since 2011. This string of acquisitions has helped 3D Systems to improve its product offerings, and the latest acquisition of The Sugar Lab has further diversified its portfolio. So far, this tactic has been working well, but the company will have to lay more emphasis on technological innovations in order to proficiently challenge HP.
Moreover, 3D Systems has added Seiko-I Infotech and Synnex Corporation to its list of global sellers. The company expects these additions to drive its sales in the future.
Furthermore, HP doesn't appear to be targeting the home-consumer market, which plays to the advantage of 3D Systems as the company recently strengthened its position in the consumer market by launching two printers called Cube and CubeX. The company also strengthened its seller network by striking up a deal with Sindho Ink to distribute Cube, and CubeX printers in South Korea. This implies that 3D Systems' presence in the consumer market is prominent and this should help the company to perform better than its existing peers even after the arrival of HP.
Comparing The Fundamentals
At present, 3D Systems is trading at roughly $70.40, and with a trailing P/E ratio of 152.38, it is obvious that the stock is expensive. By comparison, HP is trading at $25.94 and has a forward P/E ratio of 7.09. Therefore, investors looking to benefit from the 3D printing business will have an economical and more diversified option in the form of HP, when it enters the market. In addition, a high dividend yield of 2.40% will also tempt investors into buying HP's stock.
Conclusion
Hewlett-Packard's entry into the 3D printing market is great news for the industry as a whole, but might upset the sales of all the existing players due to the aforementioned reasons. Since HP hasn't entered the market yet, investors should hold onto their 3D printing investments. But, if the company manages to "walk the talk", it will prove to be a better investment than 3D Systems. So, investors looking to profit from this industry should keep an eye on Hewlett-Packard as it has the potential to become one of the biggest companies of the industry.
Disclosure: I have no positions in any stocks mentioned, and no plans to initiate any positions within the next 72 hours. I wrote this article myself, and it expresses my own opinions. I am not receiving compensation for it (other than from Seeking Alpha). I have no business relationship with any company whose stock is mentioned in this article.