Overview:
I have no position in Tesla's (NASDAQ:TSLA) stock currently, although I would love to be in the driver's position of one of their elegant new vehicles. Tesla not only produces some of the most innovative electric vehicles in the world, they also produce the fastest charging station available today. The company has seen their balance sheet improve with serious increases in revenues and incomes along with decreases in liabilities. Moreover, the massive run up in the share price has started a downswing - one that will likely be exacerbated by the news. I say this due to the fact that the run up in Tesla has obviously been based upon the news and love for the company, the product and Elon Musk - and as such a short term bottom will be founded on news and technicals, not fundamentals. Keep in mind that I am not a dire short calling for the end of Tesla, I can't wait to buy shares - at the right time though. This article will cover more than just technicals, to point out a positive with regard to Tesla that I feel deserves more discussion.
An Exciting Niche:
The future seems full of charging stations that are all the same, much like gas stations today - except for the slight product differentiation that people quickly overlook today to see the price per gallon when filling up their cars with gasoline. People today generally do not care what gasoline they are putting in their car, although when charging their car's battery in the future there is an absolute product differentiator with Tesla's charging stations over the public version. The main difference is the speed of the charge. The difference with charging stations goes to Tesla's unique niche in the area.
(source)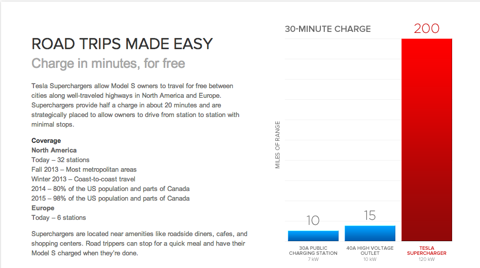 We can see that Tesla has the most innovative electric car technology with Tesla's deal to work with Mercedes-Benz to help them create an all electric power-train for the Daimler Mercedes-Benz B-Class EV vehicle. This came with a price tag of $33.2 million to Tesla from Mercedes-Benz. Moreover, Tesla is also providing Toyota (NYSE:TM) with a supply of a validated electric power-train system for its RAV4. These deals demonstrate Tesla's advanced technology that other companies covet - and will pay for on a car level. As with Tesla's ability to sell their innovative power-train technologies, Tesla will also likely supply and sell their charging stations to independent buyers or businesses for a price tag.
Tesla's niche in the area of charging stations is huge - phenomenal even. Their ability to charge electric vehicles exponentially faster than the competition is a huge positive for Tesla in terms of brand power - as being the leader in the area. This also provides a niche to profit from that is not demonstrated as easily by gas stations today - as product differentiation with Tesla's charging stations over public stations is much more absolute than differences in gasoline generally overlooked or non-existent today.
Gas stations today can be built or started by any number of companies such as Exxon (NYSE:XOM) or BP through a corporation owned or independently owned deal. Since the product is generally the same to the consumer, they just want to see their price per gallon low and their tank filled up. Product differentiation occurs with gas stations per brand, although in terms of charging stations it will be a game changer for Tesla.
"We currently have over 30 Supercharging stations open, and are continuing to expand our network both in North America and in Europe." (10-Q)
This is due to the fact that Tesla's charging stations are 10x faster than a 30A public charging station and over 13x faster than a 40A high voltage outlet. Now imagine that you are going to get a charge and you choose the non-Tesla charging station and it takes your car 200 minutes to be charged - a random number for argument's sake. Now you see your best friend across the street who has their Tesla charged in 10 minutes - product differentiation is a major factor here with charging stations, way beyond what is seen at the pump now.
"We intend to expand the Tesla Supercharger network throughout the U.S., Canada and Europe" (10-Q)
Keep in mind that this advantage is subject to advancements in public stations, as well as advancements by Tesla. Although it offers Tesla a key niche in the market that they can profit from enormously - Tesla certified charging stations, or the huge sale of their technologies to those willing to run their own stations independently - if Tesla allows.
Caveat With Their Niche:
Tesla is currently using their 30 supercharging stations as a selling point for their vehicles. Drivers do not have to worry about going around bragging to their neighbors since there are supercharging stations around the U.S. and abroad. Although a great buying point for the customer, it is a current negative for Tesla.
"...as we have announced that we will not be charging our customers to access this network in addition to what they have already paid for their vehicles, any significant unexpected costs that we encounter will entirely be borne by us and may harm our operating results." (10-Q)
Currently Tesla is bearing the cost of the charging stations and offering it as a free service to their customers. Although it is currently not a net negative since it is helping drive the sale of Tesla's vehicles, in the future it will be a valuable source of income to run more advanced charging stations at a cost or license the technology to independently operating stations that are more advanced than the competition. Product differentiation occurs in the gasoline market now, and there likely will be in the future of the charging station as well.
If a Model S driver does not have an 85 kWh battery, such as those with a 60 kWh battery, it can be added for $2500 if enabled after delivery.
Expansion:
Tesla is planning a rather large expansion of their services in Europe. Tesla's website does not offer a geographic map with set points for charging stations in Europe, although they have six locations currently. Shown above are the six current stations in Europe, and shown below are these stations in an overall map of Europe.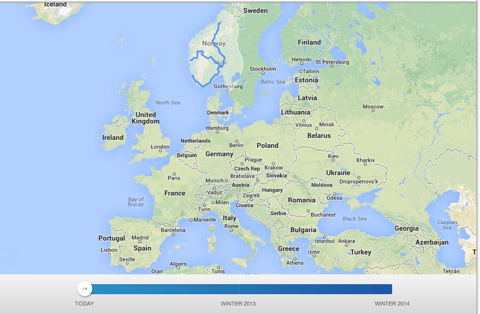 By 2014, the company will have supercharging stations all over Europe.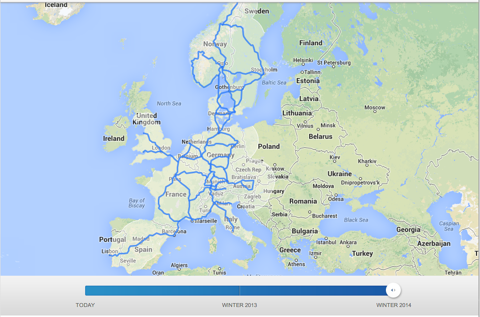 Currently sporting more charging stations than in Europe, Tesla has a great foundation for growth.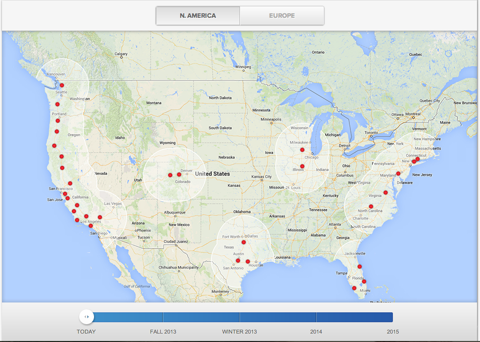 By 2015, Tesla will have the United States covered with charging stations.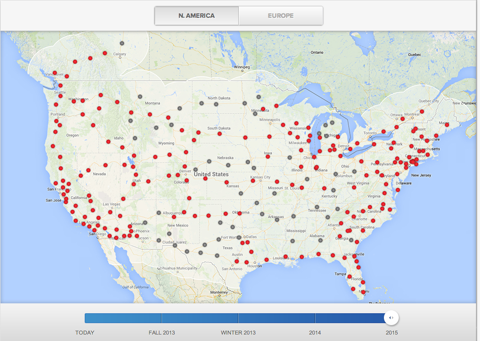 The plans for growth for Tesla's Supercharging stations are intense, and offer a significant buying point for the consumer as they do not have to worry about finding a far away station in the future.
Future:
Tesla is planning future changes to their supercharging stations to make them even more advanced than they currently are. Moreover, Tesla is also planning to add solar panels to more of their stations in sunny areas to offset power use.
"We will soon roll out 120kW Superchargers, which are 33% faster than our current version and can replenish have a charge in just 20 minutes, for free." (source)
If I Buy A Model S Will It Always Be Free To Charge?
Tesla is not planning to charge their customers for use of their charging stations, ever. This puts an uneasy mind to rest when buying - in that the cost to charge will always be free.

Conclusion and Analysis: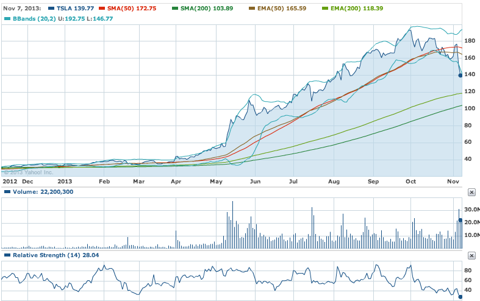 Tesla offers an exciting niche in the area of charging stations that is not only ahead of its time - it screams product differentiation in the best way. Tesla's advancements over public charging stations (16x faster by their estimates, 20x by my simple 200/10 input) is not only a slight difference - it is huge. The company does have to bear the cost of these stations, although they provide for an undeniable selling point moving forward this is a key sales driver - as buyers do not have to worry about driving long distances to recharge. In relation to the past of course.
Tesla has been on a down swing from a recent high of $193 to the current level of $137.95. In my opinion, the company is entirely news driven at this point as the fundamentals are in bad shape, although the technical indicators are not substantive either. I will wait for a drop below $100 into the range of $75 to $85 before buying shares. From that level the reward of holding onto a piece the most innovative electric car company definitely outweighs the risk for me.
Tesla's supercharging stations are not only innovative, they hands down beat the public stations. Tesla's niche in the market of supercharging stations will not only drive sales as an excellent buying point for consumers, it will lead to increased sales for Tesla or even the licensing of their charging capabilities to independently run operators.
Disclosure: I have no positions in any stocks mentioned, but may initiate a long position in TSLA over the next 72 hours. I wrote this article myself, and it expresses my own opinions. I am not receiving compensation for it (other than from Seeking Alpha). I have no business relationship with any company whose stock is mentioned in this article.
Additional disclosure: Always do your own research and contact a financial professional before executing any trades. This article is in my own personal opinion.