Despite posting excellent results in the third quarter of fiscal year 2013 the stock price of Sirius XM Radio (NASDAQ:SIRI) plunged. Analysts believe that the earning guidance given by the company is downbeat. In this article I will analyze the company's future prospects to determine whether or not the recent dip in share price is an entry point for new investors or if current investors should sell shares before they suffer further losses.
Sirius derives most of its revenues from subscription fees which vary based upon the different service plans that the company offers its customers. Other sources of revenue include the ad fees that the company charges for playing ads during non-music channels, the sale of satellite radios and their accompanying components and accessories, internet radio, as well as data and weather services.
Sirius is the leading radio broadcasting company in North America; the company also operates in Canada. The economic conditions of these regions are improving which will help radio broadcasters improve their revenues in the coming future.
According to research conducted by "PWC", global radio revenues are expected to grow at a CAGR of 3% to $51 billion between 2013 and 2017. The North American region is likely to grow at a lower rate than the expected growth rate of the emerging markets. North America currently contributes 50% of global radio revenues and is expected to generate US$24bn in 2017 (roughly the same proportion).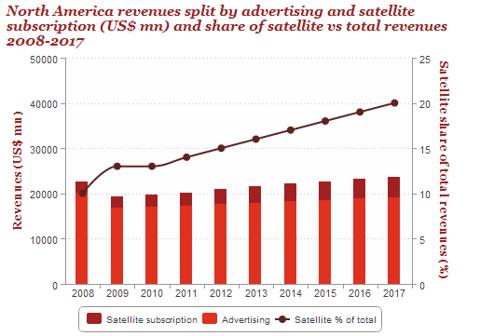 Reports also highlight that satellite subscribers and subscription revenues will see a rapid growth. Subscriptions accounted for 15% of total revenues from the North American region and that number will increase to 20% in 2017.
Recent Quarter Results
In the third quarter of fiscal year 2013 the company reported record revenue generation of $962 million. This reflects an increase of 11% year over year. Net income for the third quarter of 2013 was $63 million and reflects a decrease of 16%. This decrease was mainly because of income tax expenses and a loss caused by the extinguishment of debt.
Income before taxes was $124 million and reflects an increase of 128% from reports of the third quarter of 2012.
Additionally the company successfully lowered its cost of debt last summer from 9.2% to 5.5% by retiring senior notes. Sirius has also added 513,000 new subscribers increasing its total subscriber base to 25.6 million.
Future Outlook
In general, the prospects of the radio broadcasting industry, particularly in North America, are bright. Let us examine the new innovations and improvements that the company is employing to capitalize on these growth opportunities.
Completion of Announced Acquisition
According to research conducted by "SBD", in 2018 the overall market of connected vehicles will be 3 times the size it was in 2012.
$24.5 billion will be generated from in-vehicle services, such as traffic information, call center support and web based entertainment (up from $9.3 billion in 2012)
$6.9 billion will be generated from the sale of hardware such as telematics control units (up from $1.2 billion in 2012)
$4.5 billion will be generated from the delivery of telematics service such as customer relationship management (up from $1.8 billion in 2012)
$4.1 billion will be generated from the provision of connectivity such as mobile data traffic (up from $814 million in 2012

In the pursuit of growth opportunities Sirius recently completed the acquisition of Agero's connected vehicle services unit. With this transaction the company hopes to build upon its capabilities in order to cater to the rapidly growing demand of connected vehicle services. The company was already working on developing this service and this step will further strengthen its position.
Countering Online Streaming Companies
Nowadays radio services are becoming more popular on smartphones in comparison to car radios. This shift has provided the opportunity for companies to increase their market shares. Due to this shift Sirius faces some competition from online streaming services launched by companies such as Pandora, Spotify, Apple and Google. To address this threat the company has launched its own online paid streaming service for Android, BlackBerry and iOS smartphone users. Obviously there will be some cannibalization since existing subscribers may shift to this service but I think that the company is more than able to convince potential subscribers to use its service.
Moreover, Sirius offers various services in addition to music streaming services. Apple plans to include news, talks and sports in its offering but has yet to officially announce its line-up.
Barring Entry
The company has no competition in the satellite radio service industry after the merger of both Sirius and XM back in 2008. Additionally, setting up a satellite radio service requires immense investment and is subject to government regulations. This is why it is difficult for new companies to enter the industry..
Strong Ties with Major Automakers
The company has highlighted in its financial reports that it has signed several agreements with major automobile manufacturers to provide factory fitted radio sets and services.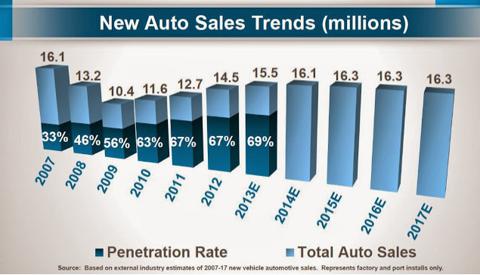 Auto sales have been increasing in the US. In October, auto sales grew by 12% compared to sales in September. Growth was lower than expected during the first half of the month due to the government shutdown but later on achieved reasonable growth. This is a good sign for automobile manufacturers as well as for Sirius since a major portion of the company's revenue is correlated with auto sales.
Conclusion
I think the company has a clear competitive edge over its rivals and any new entrants. It can also easily differentiate its services from rivals and allow the company to be flexible in terms of pricing.
Sirius has strong ties with large auto manufactures which will help to fuel future growth.
The company's current financial performance is quite satisfactory and Sirius is expected to shine in the future. Therefore, I see the recent set back in the company's share price as an opportunity to buy a fundamentally sound stock.
Disclosure: I have no positions in any stocks mentioned, and no plans to initiate any positions within the next 72 hours.
Business relationship disclosure: The article has been written by a Blackstone Equity Research research analyst. Blackstone Equity Research is not receiving compensation for it (other than from Seeking Alpha). Blackstone Equity Research has no business relationship with any company whose stock is mentioned in this article.