Introduction
In this article I'll have a closer look at Sandstorm Gold (NYSEMKT:SAND) which is one of the very few publicly traded gold streaming companies. I will provide my view on the company's quarterly results and its balance sheet and will discuss its outlook. This will result in my investment thesis at the end if this article.
My view on the financial results
In the third quarter of this year, the company sold 9,570 ounces of gold which (together with its royalties) generated a total revenue of $15.35M. As the company's business model is based on pre-paying for a gold offtake at a fixed price of $400-500/oz (adjusted for inflation), Sandstorm usually has a very high operating margin, and even though the realized gold price was quite low during the quarter, the company was able to table a gross profit of $5.1M. However, the company also recorded an impairment of $3.2M on its interest in the Bracemac-McLeod property as one of the joint venture partners couldn't cough up the money to develop the project, after which its interest was taken over by mining giant Glencore Xstrata which now owns 100% of Bracemac-McLeod.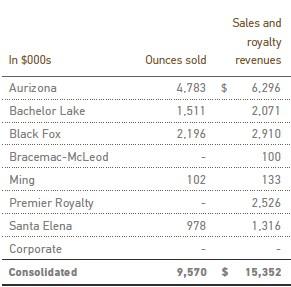 This means the bottom line of the quarterly financial statements shows a net loss of $2M, or $0.02/share. However, as I said in several previous articles, in the mining sector it's more important to look at the cash flow statements than at the income statements, as the cash flows usually give a better indication about the quality of the underlying operations.
By looking at the cash flow statements, we see that Sandstorm actually generated $8.5M in operational cash flow, which equals $0.085/share. The company also decided to pay back $10M of debt by using internally generated cash flow and the proceeds of $5.4M coming from option exercises. As such, the company was effectively cash flow positive on an operating basis.
My view on Sandstorm's balance sheet
Moving over to the balance sheet, Sandstorm has a very robust balance sheet without any long-term debt. Its working capital position is a very healthy $94M, and its current ratio is an extremely high 25.7, which is one of the highest current ratios I have ever seen. A ratio higher than 1 indicates the company has sufficient current assets to cover its current liabilities. But if the current ratio is too high, it might be an indication the company isn't efficient in putting its money to work. However, I don't think that's the case with Sandstorm Gold, as I think the company is cashing up to purchase new gold streams later on to take advantage of the current low gold price.
The total equity attributable to the Sandstorm shareholders is $372.9M, which equals $3.73/share. This means the company is currently trading at a premium of 45% to its book value. This might put some people off, but I'd like to emphasize again that Sandstorm Gold is a growth stock and it expects to substantially grow its revenue stream in the next few years, so a premium on its book value is warranted, especially as approximately 25% of the book value is being held in cash.
As Sandstorm has no long term debt (and just $10.7M in total liabilities), the company has one of the strongest balance sheets in the mining sector. This will allow Sandstorm to make opportunistic acquisitions during this downturn.
Looking forward to the future
Sandstorm is currently trading at 16 times its annualized operating cash flow. This might sound expensive, but investors should not forget the company plans to grow its output substantially in the next three years. The production guidance for this year is 33-37,000 gold-equivalent ounces, but Sandstorm expects this number to grow to 60,000 ounces by 2016, which means the production should grow by 70% in just three years from now.
If I apply an average cost of $500/oz and a sales price of $1300/oz, the operating cash flow should increase to $45-55M or $0.45-55/share which results in a better market cap / cash flow ratio of 10-12. This does not take any additional streams into account and I'm expecting Sandstorm to make new investments with its current $94M working capital.
Investment Thesis
Sandstorm Gold looks very interesting down here. It is trading a bit expensive but let's not forget this is a growth stock and its cash flow should substantially increase in the coming years as it expects a 70% production growth by 2016.
As most of my readers know, I prefer to write put options instead of just buying the common shares.
As such, I'm having a closer look at writing a P5 December 2013 for an option premium of $0.20 and a P5 March 2014 for an option premium of $0.50. I will very likely also place an order to write a P2.5 June 2014 for an option premium of $0.10. I think it's extremely unlikely Sandstorm will drop to $2.50 per share, but in that case I still receive the option premium which results in an annualized yield of 6.86%.
Disclosure: I have no positions in any stocks mentioned, and no plans to initiate any positions within the next 72 hours. I wrote this article myself, and it expresses my own opinions. I am not receiving compensation for it (other than from Seeking Alpha). I have no business relationship with any company whose stock is mentioned in this article.
Additional disclosure: I currently have no position in Sandstorm, but I might write put options as explained in this article.