We launched a new series of articles last month with the premise of building a dividend portfolio from scratch by leveraging the collective knowledge and opinions of the Seeking Alpha community. In parts 1 and 2, we highlighted the investment plan and strategy for the portfolio and parts 3-12 will highlight each sector in the S&P 500, including high-rated stocks within each sector to consider for the portfolio. Readers can either vote on the stocks we suggested for the portfolio or "write in" their own stocks to vote on. Majority will rule.
Below is a schedule of the entire series. Please make sure to "follow" us so that you will be notified when each new article is published.
Financials
The Financial sector has been one of the weakest sectors in the S&P 500 over the past 5 years, with the second worst current 5-year total return (+71.9%). In addition, the sector has the highest average beta (1.59) of any sector and it experienced the worst drawdown during the 2008 recession (-82.7%).
Even though financial stocks make up about 25% of our dividend stock universe, it's no surprise that there are only a few high-rated stocks in the sector. The credit crisis caused many banks and financial firms to cut their dividends.
Thankfully, the financial sector is a mixed bag of industries (not just banks), some of which have done quite well over the past 5 years and currently offer investors very attractive yields.
That said, below are several high-rated Financial stocks to consider. This list includes two insurance companies, two real estate investment trusts, and one asset manager. Please vote in the comment section below for your 2 or 3 favorites. Also, feel free to "write-in" your own votes... remember that this is a democracy!
Triangle Capital Corp. (NYSE:TCAP)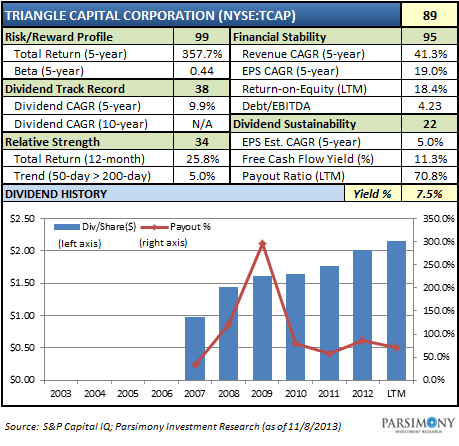 Triangle Capital is a business development company specializing in private equity and mezzanine investments. TCAP has increased its dividend at a compound annual rate of 9.9% over the past 5 years (including increases in 7 of the past 12 quarters) and delivered shareholders a 358% total return over this period. TCAP has a very attractive current yield of 7.5% and we think that DIY investors should keep this stock on their radar.
Arthur J Gallagher (NYSE:AJG)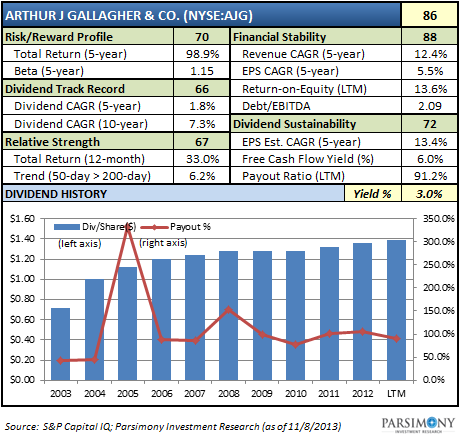 AJG provides insurance brokerage and risk management services. While the company's dividend increases have slowed in recent years, the company has consistently paid dividends every quarter since its public offering in 1984. AJG has a decent dividend yield (3.0%) and very good ratings for Financial Stability (88) and Dividend Sustainability (72).
Cincinnati Financial (NASDAQ:CINF)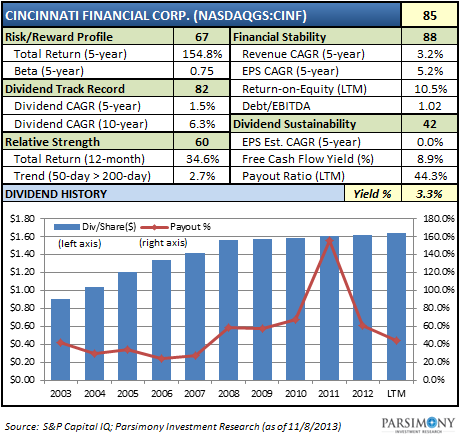 Cincinnati Financial is a Property & Casualty insurer. CINF has a decent current yield (3.3%) and it has increased its dividend to shareholders for 52 consecutive years, including a compound annual growth rate of 6.3% over the past 10 years. The company's revenue and earnings growth has slowed in recent years, but we expect the company's very stable dividend to continue.
Omega Healthcare Investors (NYSE:OHI)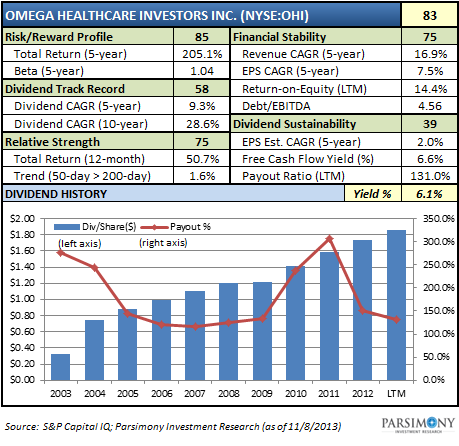 OHI is a real estate investment trust investing in and providing financing to the long-term care industry. The company has increased its dividend at a compound annual rate of 9.3% over the past 5 years and delivered shareholders a 205% total return over this period. OHI has a very attractive yield of 6.1% and we believe the stock would be a great addition to a long-term DIY Dividend Portfolio.
Realty Income Corp. (NYSE:O)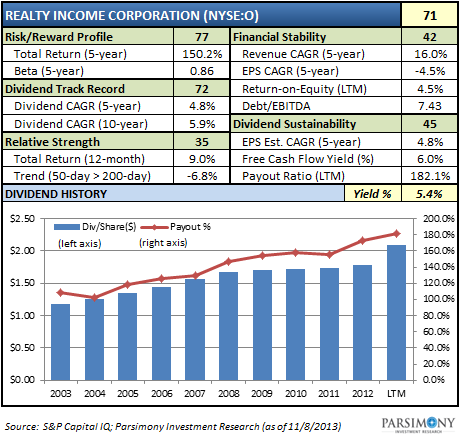 Realty Income is a real estate investment trust with a retail-focused tenant base. The company generates revenue from over 3,800 properties, diversified across 47 industries and 200 companies, located throughout 49 states in the US and Puerto Rico. Realty Income has a 44-year track record of paying monthly dividends to its shareholders and it has increased its dividend at a compound annual rate of 4.8% over the past 5 years.
Summary
Any DIY Dividend Portfolio should include several stocks from the Financial sector. Although volatile, stocks in this sector have offered investors great risk-adjusted returns.
Feedback Request: Please vote for your favorite Financial stocks in the comments section below. If you don't like any of the suggestions above, please feel free to "write-in" a vote of your own. Remember ... majority rules!
In Part 8b of this series, we will highlight our specific "Buy Zones" for each of these stocks, which will help us determine whether or not to pull the trigger on any of the stocks that we choose to put on our watch list. Please make sure to "follow" us so that you can participate in the entire process.
Disclosure: I am long OHI. I wrote this article myself, and it expresses my own opinions. I am not receiving compensation for it (other than from Seeking Alpha). I have no business relationship with any company whose stock is mentioned in this article.