In an Enterprise post, Ryan Streeter writes about how Chile's recent ascendancy to membership in the Organization for Economic Cooperation and Development (OECD) represents a remarkable story of the triumph of liberty, economic liberalization, and free market reforms.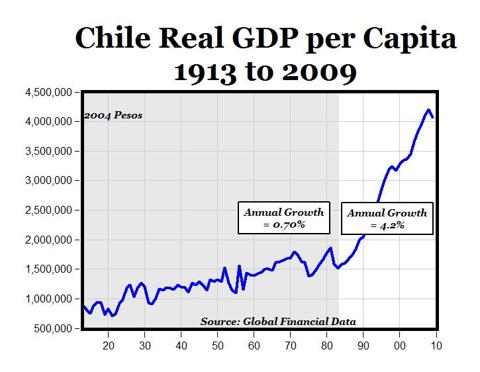 The chart above helps to document graphically what has accurately been described as the "Chile economic miracle." Up until the early 1980s, when the first round of economic reforms (1974–1983) were starting to have a positive effect, Chile's economic performance was among the weakest of the Latin American countries, with annual increases of real GDP per capita averaging only 0.76 percent from 1913 to 1983. Additional economic reforms in 1985 and 1990 that included trade liberalization supercharged Chile's economy, and annual growth in per capita output since 1983 has averaged an impressive 4.2 percent per year. Before the economic reforms, with only 0.76 percent annual growth, it took almost an entire century for living standards to double in Chile; living standards now double every 17 years with 4.2 percent real growth, and that's a real economic miracle!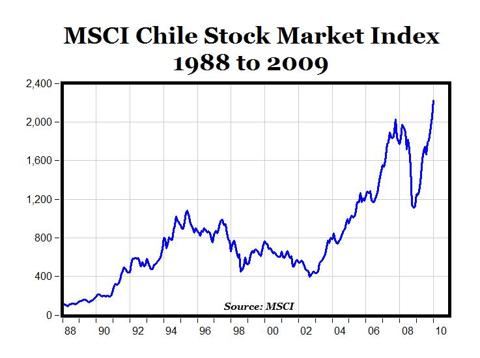 Further evidence of the "Chile miracle" is provided by the chart above, showing the phenomenal growth in Chile's stock market since 1988. The annual return for Chile's stock market has averaged 15 percent per year since 1988, meaning that stocks have doubled in value almost every five years during the last several decades. That is especially good news for the 90 percent of Chileans who have their money invested in a privatized social security system and are receiving pension payments that are 40 to 50 percent higher than the government-operated system, thanks in large part to the attractive returns from Chile's stock market.
Another major factor in Chile's amazing economic success has been its active pursuit since the 1990s of becoming one of the world's most open and free markets. To help overcome its natural handicap of being a small and remote country, Chile has become a world leader in free trade, demonstrated by its free trade agreements with more than 50 countries around the world, which give its consumers and companies access to more than half of the world's customers and markets.
Following Chile's free trade lead, at least eight new major trade agreements have recently been signed by Asian countries (including China, India, and South Korea) that will allow several billion consumers and companies in Asia to engage in several trillion dollars of duty-free trade annually. Unfortunately, the United States is moving in exactly the opposite direction—we haven't passed a single major free trade agreement since 2007, thanks to politicians who have consistently delayed our pending deals with Colombia, South Korea, and Panama for protectionist, political reasons.
As the United States struggles to regain our economic growth and start creating jobs for Americans, we can learn from Chile that free trade, not protectionism, is a key factor for economic success. After all, just imagine how different Chile's economic story would be if instead of pursuing a free trade approach, it had pursued protectionist policies with high tariffs and a "Buy Chilean" strategy, and you get an idea of what the United States might be missing.