Internet stocks continue to garnish much attention as witnessed by market's latest obsession on the IPO of Twitter (TWTR). Companies whose products are used by the masses tend to have a halo effect when it comes to their popularity. For the online local business review company, Yelp (YELP), such popularity was marked with an impressive upward momentum on the stock market. Yet over the last two months, the company appears to have struggled in continuing its prior rate of climb. As seen in the chart below, the share price failed to retrace its prior market high. Of greater significance, the company's stock most recently dipped below the level of support that it had been forming.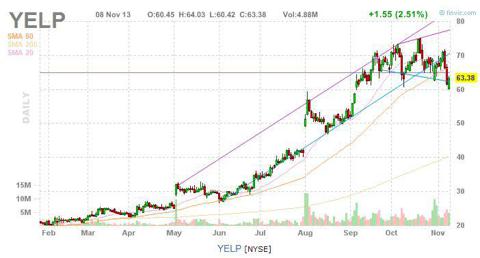 Revenue Growth And Marketing Expense Growth
As for the company itself, one of the key drivers to Yelp's public market success has been it's rapidly growing revenue. Over the past three years, Yelp has sequentially increased its revenue from $47.7 million in 2010, to $83.3 million in 2011, and ultimately to $137.6 million in 2012. However, such revenue growth has also resulted in increasing operating losses. In 2010, Yelp had an operating loss of $9.5 million. In 2011, the loss grew to $16.2 million. In 2012, this loss expanded further to $18.7 million.
The largest culprit to this outcome lies Yelp's rapidly growing marketing expense. Selling, general and administrative expenses have rapidly climbed along with Yelp's rising revenue. In 2010, this expense was $45.2 million. By 2012, it was over $117.4 million. In the company's Q3 2013 earnings call found here, CFO Robert Krolik had the following to say about this growing expense category:
"Total sales and marketing was approximately 56% of revenue compared to approximately 59% last year, reflecting leverage in the model. Domestic sales and marketing was 53% of revenue compared to 54% in the prior year's quarter. Sales headcount grew 53% year-over-year as we made up from last quarter when we were a bit light on hiring. We intend to continue to invest in sales and marketing given our significant growth and large market opportunity."
Overall, it remains a positive indicator that marketing expense growth continues to fall. However, investors should be on guard that there was a mere 3% differential in marketing expense growth when compared to actual revenue growth. Such a high correlation and slow divergence between the two factors suggests that profitability will take a significant amount of time before becomes a more normal occurrence. Of course, this assumes that Yelp's revenue growth can be sustained long enough to even bring about such profitability into consideration.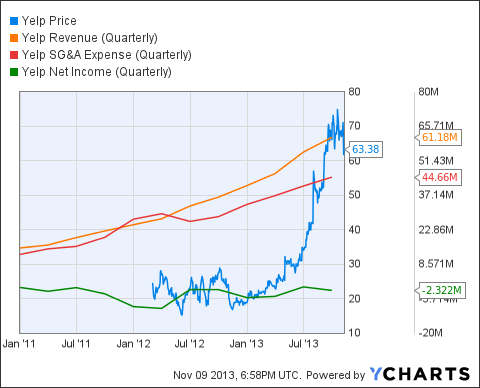 Insiders Selling Out
The one steady trend that has continued in the background of Yelp's public life on the market is the consistent sale of stock by insiders. Much of these sales are derived from exercised stock options. The largest insider sellers of Yelp include CEO Jeremy Stoppelman, General Counsel Laurence Wilson, Director Max Levchin, Senior VP Joseph Nachman, and COO Geoffrey Donaker. In October alone, these insiders sold stock with a combined total value of $16,564,916.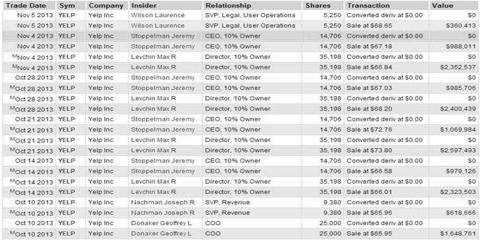 However, the most interesting aspect of these insiders is that they none of them are willing to hold onto any shares. Upon exercising there options every month, each of them have maintained a zero-balance after the subsequent sale. An example of this can be seen in the latest Form 4 found here filed by CEO Jeremy Stoppelman. Such apparent overall lack of confidence in the company's future potential could suggest that the company's valuation has merely exceeded its near-term potential.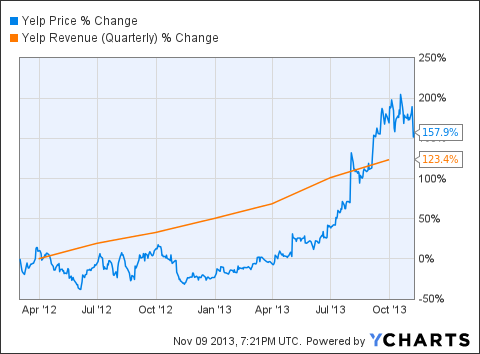 Raising Capital With A Follow-On Offering
On November 5, Yelp announced the closing of its latest capital raise found in a follow-on offering of company stock. An aggregate 4,312,500 shares were sold at a price of $67 per share. The total amount raise was approximately $288.9 million. The net affect resulted in minimal dilution to the company's existing 66.1 million shares outstanding. However, the capital raise could further establish the upper limit of Yelp's current price range. It may also serve in slowing the company's upward momentum.
A Look At The Financials
Based on approximately 70 million shares outstanding, Yelp now trades with a market capitalization of $4.4 billion based on the last closing price of $63.38 as of November 8. Excluding the company's latest capital raise, Yelp carries a very high price-to-book ratio of 20.77 and price-to-sales ratio of 20.08.
The company's latest offering should considerably improve Yelp's balance sheet. As of September 2013, Yelp had total assets of $224.3 million. It maintains a very under-leveraged balance sheet with only $27.9 million in total liabilities. Nevertheless, it remains highly speculative as to when the company will be able to turn net income positive. Current analyst estimates predict that Yelp will earn $0.19 by the end of 2014. This gives the company a considerably high forward price-to-earnings ratio of 333.
Final Thoughts
Yelp continues to grow its revenue fairly well. However, investor expectations for the company have rapidly surpassed the growth rate of that revenue. The company's need to drive revenue growth has necessitated significant increases in marketing expenses. It remains yet to be seen if the company will be able to sustain that same rate of acceleration once this growing expense is diminished. The same applies to whether Yelp will be able to achieve and retain its future profitability.
At the same time, while investors may continue to eagerly support the company's share price, management has taken advantage of this opportunity. Numerous insiders have sold out of their positions in the company entirely. Likewise, management has bolstered Yelp's balance sheet with an additional follow-on offering. Such capital could prove to be useful should the company pursue acquisitions or have need to sustain its ongoing operations further down the road.
Disclosure: I am short YELP. I wrote this article myself, and it expresses my own opinions. I am not receiving compensation for it (other than from Seeking Alpha). I have no business relationship with any company whose stock is mentioned in this article.