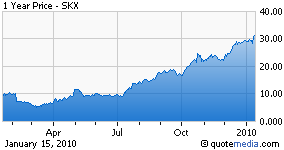 Skechers U.S.A., Inc. (NYSE:SKX) projected strong fourth-quarter 2009 results amid a challenging retail environment, and expects growth momentum to sustain in fiscal year 2010.
Skechers expects fourth-quarter revenue to be more than $385 million, an increase of over $87 million, or approximately 30% from $298.1 million posted in the prior-year quarter.
Based in Manhattan Beach, California, Skechers now anticipates fourth quarter earnings in excess of 50 cents per share, compared with a net loss of 44 cents in the year-ago quarter. The company's estimate remains in line with the Zacks Consensus Estimate of 50 cents.
We believe, Skechers' sustained focus on new line of products, opening of new retail stores and distribution channels, and the development of new international distribution agreements (in India and Mexico), should facilitate the increase in sales and profitability. With growing operations in Brazil, China, Hong Kong and Chile, the company remains on track to continue its growth in the future.
Skechers continues to offer a diversified portfolio of brands that includes a wide range of fashion, athletic, non-athletic and work footwear at compelling prices. This multi-brand strategy enables the company to roll out new products without cannibalizing its existing brands and helps to expand the targeted demographic profile of customers.
We believe the blend of ample liquidity, in-demand inventory and innovative products, positions Skechers to capitalize on future growth opportunities.