Penn West Petroleum (NYSE:PWE) has most certainly seen better days. Last week after earnings, the stock fell off a cliff, declining 20% over two days before rebounding slightly on Friday. While speculation abounds as to the cause of this drop, the most likely corrupt has to be the conclusion of the company's six month strategic review. Basically, Penn West came to the realization that it needs to shift gears, reduce debt, lower expenses and become more profitable. In order to achieve these goals, the company plans to dispose of large amounts of legacy assets and reinvest those proceeds into higher margin light oil plays with the remainder used to pay down debt.
Q3 2013 Overview
Before I get into the nitty-gritty regarding Penn West's long-term plan, let us recap its recent quarterly report.
On November 6, Penn West reported its Q3 2013 results. Overall, Penn West posted some of its best numbers in many quarters, largely thanks to much higher prices for its light oil. Operating netbacks, a key metric for E&P's, came in at $33.45 per BOE, up 18% from last year. However, production declined to an average of 133,712 BOE/D, down 17% from 160,339 BOE/D last year due to asset sales completed in 2012 and early 2013. FFO came in at $293M, down 15% from $344M last year, mostly due to $66M in one time hedging related gains last year. Excluding these one time items, FFO for Q3 2013 would have been higher than last year.
Strategic Review: A long-term, oil focused plan is needed
Asset sales of $1.5 to $2.0B by 2015

Focus on highest return projects (Cardium, Viking, Slave Point)

Lower Debt to FFO ratio to 1.0X to 1.5X

Target Oil production CAGR 12.6%

Target FFO CAGR 18.7%

Target to lower operating expenses to $15 to $20 per BOE
In June 2013, Penn West's Board formed a Special Committee which was tasked with evaluating Penn West's assets, operations, and other strategic alternatives to maximize shareholder value. This "Strategic Review" was recently concluded and the results were not well received.
Basically, Penn West's Board came to the conclusion that the company needed to be more focused on profitable production and controlling its costs. In the past, Penn West had often grown production for growth's sakes, often ignoring market fundamentals and operating expenses. This led to the company having some of the highest development expenditures per BOE among its peers.
2014 is to be a "transition year"
Penn West noted in its Q3 conference call that 2014 will be a significant transition year as the company will be looking to move major assets out of its portfolio. For the year, Penn West is aiming to invest around $900M, mostly into its more profitable fields. Net of the divestitures, FY 2014 production is expected to average from 105,000 to 110,000 BOE/D.
Using the midpoint of expected average 2014 production of 107,500 BOE/D, this would mark a 21,500 BOE/D decline from the expected production of 129,000 BOE/D for year-end 2013. Even taking into consideration the anticipated divestitures, this still has Penn West's 2014 production declining around 9,000 BOE/D in just one year.
Asset Disposition will lead to production declines, but will lower debt and leverage
Penn West has plans to sell $1.5B to $2.0B in assets by 2015. The company is very close to closing on the sale of around 12,500 BOE/D (61% oil and liquids) of production by late 2013 and early 2014 for about $485M.
Cardium, Viking, and Slave Point to receive large amounts of capex
A large part of Penn West's plan involves a shift towards light oil. The company is targeting that 80% of its production comes from light oil by 2018. Starting 2015, Penn West hopes to have a CAGR of its oil production of 12.6% and of total production of 7.3%.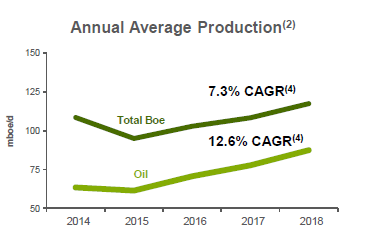 To achieve this, Penn West plans to invest heavily into its oil rich inventory, namely the Cardium, Viking, and Slave Point acreage.
Cardium
In the Cardium, Penn West plans to deploy up to $800M in development capital per year by 2018. IRR in this region are expected to range from 30% to 35% with up to a 1,500 potential well inventory. This is by far the most potentially profitable area for Penn West due to its large asset base. By 2018, production in the Cardium could top over 50,000 BOE/D, nearly double the current production.
Viking
The Viking acreage is likely to be the driver for Penn West's short-term cash flows. With potential IRR of nearly 70%, the company would be wise to invest in this area. However, a lack of well inventory may cap future production. By 2018, Penn West hopes to produce 10,000 BOE/D from the Viking acreage, up from about 4,000 this year. The majority of this increase is likely to come by 2015.
Slave Point
The Slave Point region is likely to be the more stable in terms of production declines of Penn West's three large growth areas. IRR's in Slave Point are similar to Cardium, but are more back-ended. The company noted that this region has been plagued by higher than expected costs. Penn West is looking to remedy this by focusing more on lower risk drilling locations. Production in Slave Point is expected to increase to 16,000 BOE/D by 2018, up from 4,000 this year.
Penn West's Long-term Goal
The overall goal for Penn West is to stabilize its FFO, lower its leverage, and improve its profitability. As noted, 2014 is likely to be a transitional year, with key metrics such as FFO and debt/EBITDA likely to deteriorate. However, if Penn West is able to execute as promised, these metrics should improve great starting in 2015. Penn West estimates its total debt to be under $2.0B in 2015 before creeping up to $2.2B in 2018. However, throughout this time FFO is anticipated to grow from $1.0B in 2014 to over $1.6B in 2018.
Final Thoughts and Conclusion
Penn West's plan seems to be very aggressive. Disposing of such a large chunk of its asset base at likely unfavorable prices may impact its NAV long-term. Reinvesting this capital into the light oil rich plays seems to be the right move. However, Penn West needs to keep its expenses down to maintain adequate margins.
Regarding the dividend, the company noted that its estimates assume paying out the current quarterly rate of $0.14 per share through 2018.
I will admit that I am a tad skeptical regarding Penn West's plan. In the past, the company has repeatedly failed to execute its plans on time and on budget. Production growth from Penn West has often been at very high operating costs per BOE, often negating the positive impact.
With its long-term plan, Penn West is essentially doubling down on western Canadian light oil. Will this strategy be successful? I really do not know the answer. However, what I do know is that others in the region have been diversifying away from the area, either into other regions, such as the Bakken, or into other products, such as low-cost thermal oil.
Disclaimer: The opinions in this article are for informational purposes only and should not be construed as a recommendation to buy or sell the stocks mentioned. Please do your own due diligence before making any investment decision.
Disclosure: I have no positions in any stocks mentioned, and no plans to initiate any positions within the next 72 hours. I wrote this article myself, and it expresses my own opinions. I am not receiving compensation for it (other than from Seeking Alpha). I have no business relationship with any company whose stock is mentioned in this article. I am long PGH, BTE