Shares of Gilead Sciences Inc. (NASDAQ:GILD) jumped last week when the biotechnology firm reported outstanding third quarter results and also raised its annual forecasts. The revenues of the company were $2.78 billion (14.7% YOY increase) and ahead of consensus estimates of $2.72 billion. Earnings of the company were also up 11.4%, YoY.

Source: Y-Charts
Gilead Sciences experienced jaw-dropping growth last year. Its share price has increased by more than 110% in a period of twelve months. The company's share price growth is attributed to its anti-viral segment, which manufactures drugs for the treatment of HIV/AIDs. This segment contributes more than 80% of the total revenues of the company. In my article, I will analyze the company's anti-viral segment to determine whether or not the company's current line of drugs and pipeline are able to sustain the momentum of its earnings and revenue growth.
Recent Results
The outstanding third quarter performance of the company was driven by the antiviral segment. The segment sales have increased by 14% on a YoY basis.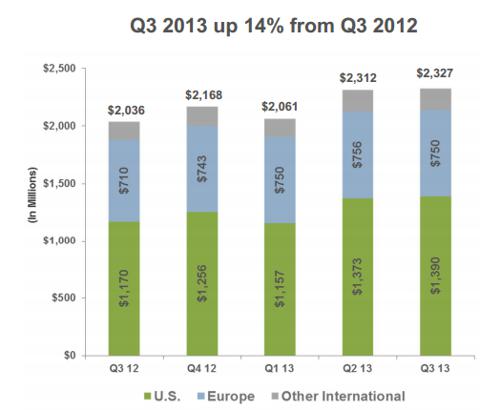 Source: Third Quarter 2013 Earnings
The segment's growth was primarily driven by the company's blockbuster drugs Atripla, Truvada and Stribild. Atripla's sales have increased by 4% during the most recently ended quarter in comparison to the same period last year. The increase in the sales of this product is attributed to the increase in the product's selling price. Atripla is the most-prescribed regimen in HIV treatment and in the US it is prescribed to almost 31% of patients treated for HIV. It is also the most-prescribed regimen in HIV treatment in Europe and around 22%of patients treated are prescribed with Atripla.
Atripla accounts for almost 40% of the revenues of this segment. Bristol - Myers Squibb's (NYSE:BMY) Sustiva, a component of Atripla,faces patent expiration in next few years and this would result in a 10% gross margin improvement for Gilead Sciences. This would bode well for the company, since Atripla is one of the major contributors towards the company's revenue.
Truvada accounts for 35% of the total sales of the company's antiviral segment and during the most recently ended quarter its sales increased by 1% on a YoY basis. Truvada is the most prescribed regimen in HIV treatment in Europe and around 39% of patients treated for HIV are prescribed Truvada.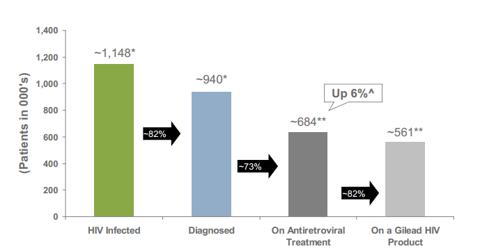 Source: Third Quarter 2013 Earnings
In the US there are almost 1.1 million people who are HIV positive and around 50,000 people are affected every year by HIV. Amongst those who are diagnosed with HIV, more than half of a million are using Gilead's HIV treatment regimens.
A monthly course of Gilead Sciences' HIV drug Atripla costs $1,567.15 and a monthly course of Truvada costs $1,013.45. Shareholders of Gilead Sciences can rejoice since the patents of Atripla and Truvada will not expire until 2021. This gives the company ample time to restore its pipeline before these bestselling drugs expire.
The company's real growth engine is just getting started. Stribild's sales have increased by 722% in the most recently ended quarter compared to the same period last year.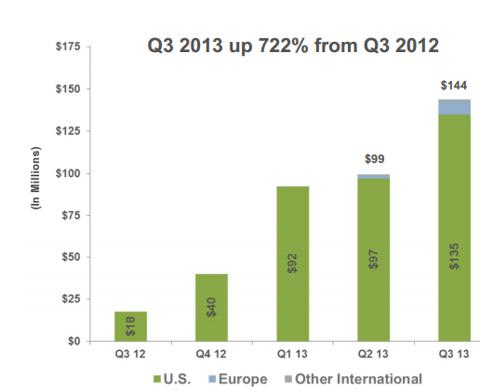 Source: Third Quarter 2013 Earnings
Stribild is a pill that combines four different HIV treatments into one therapy and was approved late last year. Encouraging long term data from two of Stribild's phase 3 studies (102 and 103) were presented by the company at the 14th European AIDS Clinical Society's conference in Belgium. Study 102 compared Stribild to Atripla and study 103 compared it to Norvir and Reyataz marketed by AbbVieInc (NYSE:ABBV) and Bristol-Myers Squibb . Data from studies102 and 103 revealed that Stribild was not less effective than Atripla or Norvir and Reyataz. I expect Stribild's strong performance to continue as the HIV market offers significant potential.
Diversification
In order to reduce dependency on the anti-viral segment and fuel the future growth of the company Gilead Sciences has decided to focus on improving the performance of other segments. Gilead Sciences is currently in the advance phase of approval for its Hepatitis C drug Sofosbuvir. Recently all 15 members of the FDA have voted in favor of Sofosbuvir. This was the final step required before FDA approval. The approval is expected to be granted in early December and with this approval, Sofosbuvir would become the first choice treatment for Hepatitis C.
In the US, around 3.2 million people are suffering from Hepatitis C. The pharmaceutical consulting firm Decision Resources has estimated that the market for Hepatitis drugs would reach $23 billion by 2018. This would create a huge market for Sofosbuvir.
The most recently available Hepatitis C drug in the market is Vertex's (NASDAQ:VRTX) Incivek and it costs $72,565 for a treatment course of 12 weeks. In the past few months the FDA has placed a clinical hold on the development of VX-135 in the US, due to the liver toxicity it caused in three patients. This is positive news for Sofosbuvir because VX-135 was a potential threat. Sofosbuvir has the potential to be the next bestseller for Gilead Sciences.
Gilead Sciences has decided to enter into the cancer arena by developing drugs and meeting the unmet needs of cancer patients. In order to advance in this arena Gilead Sciences has submitted a new drug application to the FDA for the approval of Idelalisib for the treatment of indolent non-Hodgkin's Lymphoma (OTC:INHL).

Source: Third Quarter 2013 Earnings
On October 9th, 2013 the company announced it would stop the phase 3 study for Idelalisib based on the analysis that shows statistically significant efficacy for the primary end point of progression-free survival for patients using the drug. Gilead Sciences is considering filing Idelalisib for approval in the US and is also planning to file Idelalisib in the European Union later this year.
The National Cancer Institute has estimated that 70,000 patients will be diagnosed with NHL and around 19,000 patients would die from NHL this year. This means that there is a potential market for Idelalisib.
Conclusion
The company is currently trading at a price to earnings ratio of 43.5. Its forward price to earnings ratio is estimated to be 22.4 with an expected EPS of $3.06. This offers an earnings growth potential of around 53% because of the continued growth of the company's anti-viral segment.
Given the continued growth, approval, and successful launch of Sofosbuvir and Idelalisib, I expect the company's annual revenues to reach $15 billion within 2 years and its earnings to clock in at around $6 billion as I also expect the margins to improve due to patent expiry of BMY's Sustiva, a component of Gilead's Atripla. Therefore, I would strongly recommend buying GILD.
Disclosure: I have no positions in any stocks mentioned, and no plans to initiate any positions within the next 72 hours. I wrote this article myself, and it expresses my own opinions. I am not receiving compensation for it (other than from Seeking Alpha). I have no business relationship with any company whose stock is mentioned in this article.