Lower forecasted feed costs will help make the next couple of years a lucrative time to be in the egg industry. Cal-Maine Foods (NASDAQ:CALM) in particular looks to benefit greatly from these lower feed costs, making them a good addition to a portfolio. While CALM's current share price and price-to-earnings multiple seem to leave investors reticent to opening a position in the company, the economics of their business and stability of their revenue growth coupled with new legislation in Prop 2 make a convincing case that CALM is a solid company on the cusp of trading upwards.
Here are five reasons which suggest CALM is a strategic investment opportunity at current levels, and all the more during a market correction:
CALM's Universe
Egg Demand
Lower Feed Costs
Variable Dividend
The Effects of Proposition 2
1. CALM's Universe
There are a little more than 60 egg companies in the US which together produced over $7.8 billion of revenue in 2012. This was during a production year when feed costs were higher than expected, hurting egg farmer's bottom line. Where does CALM rank amidst their competitors? CALM is the biggest player in egg industry, both domestically and internationally with a growing grip on over 20% of the domestic market. Egg farmers grade their size on layers which are the amount of mature female hens able to produce eggs. The chart below shows CALM is ~20% larger than the second largest egg producer with over 28 million layers (the US table is from 2012). With CALM's recent acquisitions they now have over 31 million layers. Having this many layers will benefit CALM greatly as the demand for eggs looks to strengthen.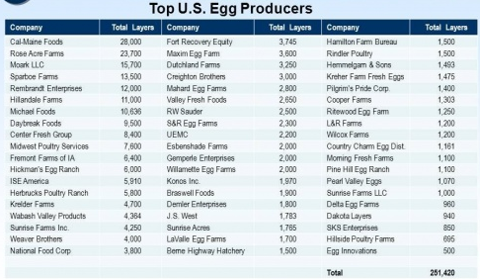 | | | | |
| --- | --- | --- | --- |
| Rank | Company | Country | Hens in production (million) |
| 1 | Cal-Maine Foods | USA | 29 |
| 2 | Avangard Holdings | Ukraine | 22 |
| 3 | Proteina Animal | Mexico | 20 |
| 4 | Rose Acre Farms | USA | 18 |
| 5 | Moark LLC | USA | 15 |
| 6 | Bachoco | Mexico | 13 |
| 7 | Rembrandt Enterprises | USA | 11 |
| 8 | Hillandale Group | USA | 10 |
| 9 | Michael Foods | USA | 10 |
| 10 | Sparboe Foods | USA | 9 |
| 11 | Mantiquera Agronegocios | Brazil | 9 |
| 12 | Itanhandu | Brazil | 9 |
| 13 | Productos Avicolas el Calvario | Mexico | 8 |
What's more interesting, CALM is the only true egg stock publicly traded in the market. While some of CALM's competitors such as Michael Foods have become more of a diversified food producer, CALM has remained focused on what they're best at - eggs. The risks become greater when you have to be firing on many differing cylinders year after year with little market share in different industries compared to being a dominant player in one industry. This is one thing which sets CALM a part from their competitors. Some of CALM's other noteworthy domestic competitors also having a strong hand in the market with the potential to file form S-1 would be the following:
| | | |
| --- | --- | --- |
| Company | Revenue | Layers |
| Michael Foods | ~1.5 billion | +11 million |
| Rose Acre Farms LLC | +350 million | +23 million |
| Moark, LLC | +150 million | +16 million |
| Rembrandt Enterprises | +70 million | +12 million |
But it doesn't look like anyone will be going public anytime soon due to management issues, timing, and CALM's growing hand in market share.
2. Egg Demand
Egg demand for 2014 has been forecasted to increase slightly which is another good sign for CALM. What is even better news is the rate at which demand for specialty eggs has been increasing, giving CALM and other producers of specialty eggs a niche in the industry. Specialty eggs are playing more and more of a role in meeting consumer demand and health preferences. These eggs would include vegetarian, cage-free, free-range, in-shell pasteurized, in-shell, organic, and nutrient-enhanced eggs. Of course with higher production costs, these eggs have a higher unit cost. Nevertheless, CALM has seen sales of their specialty egg segment grow at 22% year over year compared to 15% for non-specialty eggs. I believe this segment of CALM's business will continue to serve as a catalyst for further growth.
For CALM's Q1 results for the 2014 financial year, specialty eggs accounted for a quarter of their net egg sales, up ~5% from the same time period in 2012. What's even better for CALM in light of this is that the average unit cost increased ~5.5% during this time, yet consumers bought even more. Thus, CALM will continue to benefit from the ever growing consumer sentiment to eat healthier products such as their specialty eggs.
(Amounts in thousands)
 
August 31, 2013
 
 
September 1, 2012
 
Total net sales
 
$
319,528
 
 
$
272,928
 
 
 
 
 
 
 
 
 
 
Non-specialty shell egg sales
 
$
228,794
 
 
$
198,498
 
Specialty shell egg sales
 
 
75,215
 
 
 
61,488
 
Other
 
 
1,420
 
 
 
1,161
 
Net shell egg sales
 
$
305,429
 
 
$
261,147
 
 
 
 
 
 
 
 
 
 
Net shell egg sales as a percent of total net sales
 
 
96
%
 
 
96
%
 
 
 
 
 
 
 
 
 
Non-specialty shell egg dozens sold
 
 
203,372
 
 
 
176,272
 
Specialty shell egg dozens sold
 
 
39,177
 
 
 
33,789
 
Total dozens sold
 
 
242,549
 
 
 
210,061
 
Some, such as fellow Seeking Alpha Contributor Michael Nau have focused more on the cylicality of the egg industry, concluding the risks in CALM are to great. Nau's article from August titled Cal-Maine Is A Short offers the reader an alternative analysis on CALM. The article claims that the egg business is "highly cyclical" and that as eggs are a commodity, multiples should then be depressed. While egg prices have shown some volatility over the years, I believe the industry's cyclicality benefits CALM due to CALM's size and market share. It makes CALM more stable and predictable for the investor. Furthermore, the industry is not cyclical in the typical usage of the word (e.g., the cyclicality of the auto industry). I believe stable would be a more of a correct word. Furthermore, a company's multiples needing to be valued in a more depressed fashion have less to do with this and far more with the company's comparables within their own universe and consistency of revenue growth. Understood from this perspective and CALM begins to look more cheap than overvalued, or at the least, not a stock to trade short.
3. Lower Feed Costs
If there's anything which makes CALM an enticing buy right now and especially on any pullback would be the forecast on feed costs for 2014. Drought conditions from 2012 yielded smaller crops of soy beans and corn, CALM's primary feed ingredients, which in turn caused feed costs to be higher. CALM's bottom line results are highly contingent upon their COGS which are directly related to their feed costs. If CALM topped revenue estimates during this recent quarter in light of higher feed costs, they will be even more profitable with lower feed costs. And just how low can we expect feed costs to be?
Out of 1,350 soybean and corn farmers surveyed, 84% said corn prices will be lower next year; they are potentially starring at $4-$4.50 corn prices, 30% lower than 2013's prices. Soybean prices likewise are looking to take a similar plunge in price. The USDA increased their soybean plantings forecasts saying they believe soybean prices could fall from the current average of $14 a bushel, to $10.75-$11.00 a bushel, also a 30% drop in price.
The importance of looking ahead and positioning a trade idea for CALM from these forecasted commodity prices cannot be more emphasized. Companies which in large part have their bottom line affected most greatly by their COGS, especially if it's due to a commodity, give an investor an incredible edge in predicting where the stock could go. As an example, see my article from September titled Coffee: Short the Commodity, Long the Companies - An International Insight. The overall thesis from the article was that companies whose bottom line depended greatly upon coffee prices would continue to benefit greatly. The correlation is clear. Starbucks (NASDAQ:SBUX) is up over 40% this year, while the iPath Dow Jones Coffee ETN (NYSEARCA:JO) is down over 30% due to legendary low coffee prices. In fact, when you read through SBUX's 10-Q you see a repeated theme throughout: lower coffee prices equals greater profits. I believe the same theme will prove to be true for CALM: lower feed costs will equal greater profits.
Notable Comps From August 10-Q
Forward PE
13.7
Times Interest Earned
18
Current Ratio

3.78

Profit Margin

3.73%

ROE (avg over 5 years)
21%
But Didn't CALM Miss On Earnings?
CALM missed earnings during their recent fiscal quarter, but they still beat on revenue. So what was with this earnings miss? There were two items which evoked an earnings miss for CALM: higher COGS and acquisition costs. The former is a year over year risk affecting CALM's bottom line, the latter was a non-recurring expense. If you look at CALM's recent financial results and factor back in the money from these expenses and then factor in the difference between their forecasted COGS in 2014 compared to 2013, you find a earnings beat for a solid company continuing to expand. And this, as long as feed costs do remain as low as forecasted, is what an investor in CALM will see throughout 2014 making CALM a worthy investment.
4. Variable Dividend
CALM's variable dividend adds extra attractiveness to the stock. As a variable dividend, CALM pays out a third of their net income to investors. But is a variable dividend better than a fixed dividend? Better may not be the right word to use as it's industry determinative. For CALM, I think the word strategic if more fitting. Because of the cyclicality that does exist in the egg industry, there can be a miss on earnings for CALM. It doesn't happen often for CALM. But when it does, as an investor not receiving a dividend that quarter, you'll know CALM's cash flow isn't being further hurt by still paying out a dividend. When they do pay a dividend, you know the company is doing remarkably well and the dividend is a cherry on top.
Variable Dividends paid since the 3rd Quarter 2012
$0.000 per common share for 4th Qtr Fiscal 2013
$0.423 per common share for the 3rd Qtr Fiscal 2013
$0.199 per common share for the 2nd Qtr Fiscal 2013
$0.130 per common share for the 1st Qtr Fiscal 2013
$0.520 per common share for the 4th Qtr Fiscal 2012
$0.364 per common share for 3rd Qtr Fiscal 2012
$0.325 per common share for 2nd Qtr Fiscal 2012
$0.044 per common share for 1st Qtr Fiscal 2012
$0.102 per common share for 4th Qtr Fiscal 2011
$0.470 per common share for 3rd Qtr Fiscal 2011
$0.212 per common share for 2nd Qtr Fiscal 2011
$0.067 per common share for 1st Qtr Fiscal 2011
$0.290 per common share for 4th Qtr Fiscal 2010
$0.48 per common share for 3rd Qtr Fiscal 2010
$0.172 per common share for 2nd Qtr Fiscal 2010
$0.000 per common share for 1st Qtr Fiscal 2010
5. The Effects of Proposition 2
The Prevention of Farm Animal Cruelty Act, otherwise known as Prop 2, was passed in 2008. While this served as a landmark win for animal rights activists, it also served as an industry game-changer for the egg industry. The essential effects for egg farmers is that if they want to do any business in California they will have to meet Prop 2's requirements. This then requires egg farmers across the country to make the switch to upgrading their hen houses, making them larger or transitioning to cage free. What's causes confusion amongst egg farmers regarding Prop 2 is that the bill does not make clear the exact measurements by which a cage must be to be deemed legal for use under Prop 2. Therefore, the egg farmers benefiting most greatly are those who either already were cage free or those who have sufficient capital to make their cages clearly large enough. This will obviously cost millions of dollars in capital expenditures and has to be in place by 2015. While this will affect all egg farmers who have to make these adjustments, some will feel the effects greater than others. From my analysis of egg companies, those especially with less than 1.3 million layers will feel the weight of these expenses most greatly and some could go under, be forced to fully depreciate out their assets, or sell off their customers.
CALM is looking at spending just over $60 million on these necessary capital expenditures (see pages 22-24 of the recent 10-Q). I see Prop 2 benefiting CALM in the long run and here's why: Once the effects of Prop 2 are felt and the dust settles, there very well could be a chance for CALM to consolidate the industry even more than it already has by acquiring competitors at a discount. This is right up CALM's alley as they have been consolidating the industry for some time now, making 17 acquisitions since 1989.
In Summary
CALM presents the following strengths for the investor to consider:
CALM has a grip on over 20% of their industry
They offer a dividend (albeit, a variable dividend)
Lower feed costs in 2014-2015 will benefit their bottom line
As Prop 2 comes into effect, CALM could begin to consolidate the industry even more
Due to these strengths, I see upside of potentially 25% for CALM through the end of the third quarter of 2014.
Disclosure: I have no positions in any stocks mentioned, and no plans to initiate any positions within the next 72 hours. I wrote this article myself, and it expresses my own opinions. I am not receiving compensation for it (other than from Seeking Alpha). I have no business relationship with any company whose stock is mentioned in this article.
Additional disclosure: I am considering opening a position in CALM through February 2014 calls.