(Editors' Note: This article covers a micro-cap stock. Please be aware of the risks associated with these stocks.)
Ballantyne Strong Inc. (NYSEMKT:BTN) is an 80-year old, $68M micro cap theater and lights company that has recently transitioned from analog to digital technology. Like some tech companies BTN is focusing on hardware and software services as its hardware sales decline. The 1st figure shows revenues from the theater services provided in part by its Network Operations Center or NOC, its lighting products and its theater products.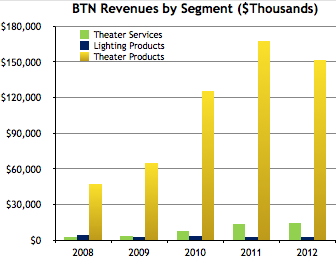 With the 1st of October announcement of its $16M acquisition of Convergent Media Systems from Sony, BTN furthers its transformation into a provider of digital media solutions. The Convergent acquisition gets BTN into the growing out-of-home digital advertising business. BTN believes this acquisition will be accretive to EPS by about $0.10. The market expressed optimism and share price jumped 18% over the next several days.
BTN is a cyclical business and its record of earnings and stock price looks like a roller coaster. In this figure from F.A.S.T. Graphs™, earnings are represented by the orange line and stock price by the black; the blue line represents historical P/E ratio and BTN is trading close to that now.
Business. According to BTN 2012 annual report, its theater business:
monitors remotely and provides services for customers' networked equipment.
distributes NEC and BARCO (OTCPK:BCNAF) digital projectors to North and South America, and overseas.
distributes GDC (GDCT) digital cinema servers to some of these locales.
distributes Dolby (NYSE:DLB) and other digital sound systems.
manufactures 2D and 3D screens for cinemas and for IMAX Corp. (NYSE:IMAX).
Competitors of this BTN business segment include SONY (NYSE:SNE) and Christie Digital Systems USA, Inc.
Strong® lighting, the other business (which provided only 1.7% of total BTN revenue in 2012):
manufactures and distributes its own followspot lighting and distributes that of others.
provides one-of-a-kind lighting solutions for select architectural, entertainment sites, and other special projects (e.g. NASA Space Shuttle, Freedom Tower at the new WTC).
Balance sheet. BTN carries no long-term debt. $45M of cash and short term investments on its balance sheet equal 66% of its market cap, or $3.18/share. Most other BTN assets are receivables and inventories; it has few hard assets in proportion to its sales which have declined since 2010 as shown in the 2nd figure.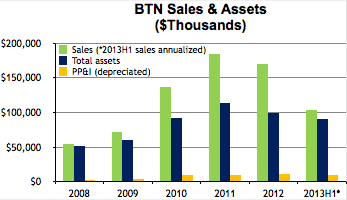 Performance and valuations. As sales declined in 2012, the market priced BTN stock below the company's net current asset value. I discovered the stock on a screen for net-nets. Expectations have risen a bit in 2013 and the rise in its market cap has outpaced the rise in its NCAV for 2013H1 as shown in the next figure.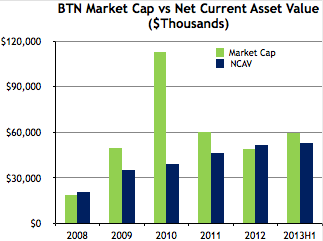 evaDimensions.com metrics show that the market added about $60M to balance sheet capital in 2010 when the economic value of BTN grew, but that growth has subsequently slowed and the market began subtracting in 2011 and 2012. My computations of net operating profit after tax (NOPAT) annualized for 2013 based on the 1st 2 quarters of results, and invested capital computed as 2013Q2 [total assets] minus [accounts payable and other non-interest bearing current liabilities] minus [cash in excess of that needed for current year SG&A] resulted in the $Thousand amounts in the following figure.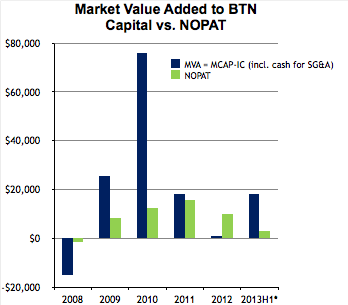 The rising MVA in relation to NOPAT since 2012 in this figure, and the market cap in relation to NCAV in the preceding figure, indicate that the market became more optimistic about BTN in the 1st half of 2013.
Competition and moat. BTN considers its main competitors to be Christie Digital Systems, which is not listed, and Sony. The following table lists 2013 returns and valuation metrics:
% ROE

ttm

P/E ttm

EV/Revenue

EV/EBITDA

P/B

P/S

BTN

4.7%

21.8

0.19

4.6

0.98

0.51

SNE

5.1%

21.1

0.31

7.1

0.6

0.19
BTN ROE and the ROIC (not shown but which I annualized for 2013 at 4% - 7% depending on how much cash was considered invested capital), its few hard assets, and its new venture into digital advertising all suggest that the BTN theater and lighting businesses has a very narrow economic moat.
Summary, comments, and conclusions.
BTN stock is cyclical (1-yr annualized beta = 1.27) and underperformed during the two big economic downturns since year 2000 (the gray bands on the F.A.S.T. Graph above).
Asset-light companies like BTN are not favored by deep value investors during these downturns as they have little liquidation value.
BTN distributes much more than it manufactures.
BTN has lots of cash on its balance sheet and no long-term debt.
Sales outside the U.S. (19% in 2012) fell to $32M from $41.1M in 2011 and the largest decreases occurred in China.
Like stocks in the tech sector, BTN is trying to move away from heavy dependence on its declining hardware sales toward services through its NOC and its acquisition of Convergent Media
Growth of its technology services (9% of total revenue) may not be enough to offset the decline in sales of hardware, a familiar theme in the technology sector.
Short interest is 5%, inside ownership 2%, and among 4 individual institutional owners listed at morningstar.com, allocations range from 0.01% to 0.84%.
BTN could do well as the U.S. economy and discretionary stocks rise, but it has not done well so far this year - yet the market appears to be fairly - in one sense of the word - optimistic about BTN.
BTN may be a good stock during times when discretionary spending in the U.S. and China are on the rise, but I would not want to own it during the next recession.
Disclosure: I have no positions in any stocks mentioned, and no plans to initiate any positions within the next 72 hours. I wrote this article myself, and it expresses my own opinions. I am not receiving compensation for it. I have no business relationship with any company whose stock is mentioned in this article.