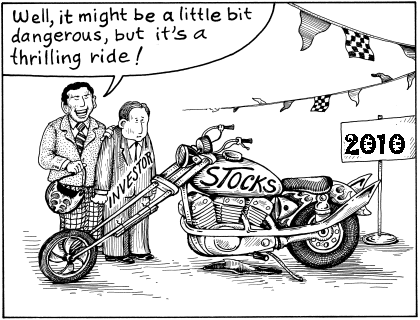 CEF Weekly Review: The 13 closed end fund (CEF) types on average posted a 0.2% increase for the week ending 1/15/10. On an aggregate, unweighted basis, the weekly average price change for the 504 CEFs was essentially flat.
The weighted 49 CEFs comprising the Claymore CEF Index registered a decrease of 0.8% for the week. The S&P 500, as measured by the SPDR S&P 500 ETF (NYSEARCA:SPY), decreased 0.8%.
(Click here for YTD CEF performance. The table is based on a 276 CEF sample size as all the data fields are not available for the CEF universe.)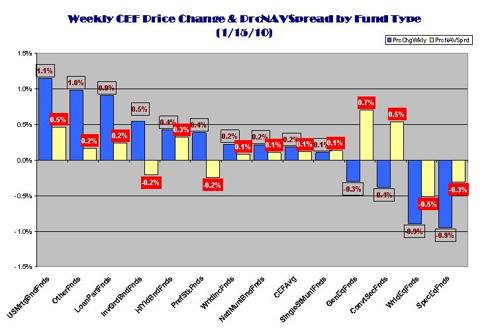 The Eqcome CEF Fear Index was essentially flat with a bias toward greater caution as prices rose less than NAVs. The CBOE Volatility Index (VIX), which typically moves inversely with the stock market, ended flat on the week despite its mid-week swoon. The last time the VIX was in this territory was November of 2008. This was prior to the plunge of the S&P 500 which bottomed out in March of 2009. Expect a spike in the VIX. S&P 500 volume increased 3.3% from the previous week to 4.36 million shares daily.
CEF Weekly Fund Type Performance: Signs of a defensive posture were evident this week. The average price performance for the CEF fund types edged up 0.2% on the strength of the fixed-income oriented funds. Equity-oriented funds retreated.
USMrtgBndFnds led with a 1.1% advance. Investors may have sought the mortgage group as a "least bad" option. The alternative could be a 66% spike (1.26% to 2.09%) in the benchmark Cost of Funds Index ("Cofi"). Cofi is the benchmark from which many adjustable rate mortgages are priced. This increase in the benchmark could lead to higher revenues for this group.
The PrcNAVSprds[1], which typically move in the direction of the stock prices, saw several divergences. On average, both InvGrdBndFnds and PrefStkFnds saw their prices rise while NAVs rose even greater. In the case of GenEqFnds and ConvSecFnds, while prices declined, NAVs declined even more. Not necessarily a happy trend for CEF equities if extrapolated.
CEF Winners and Losers: One of the CEFs with the greatest positive PrcNAVSprd for the week was Putnam High Income Securities Fund (NYSE:PCF). PCF price increased 4.1% while its NAV declined 0.1%. This was substantially greater than the 0.3% PrcNAVSprd for the HiYldBndFnds. PCF declared its regular monthly distribution of $0.0439 per share late in the week. PCF did experience heavier volume post its dividend announcement.
This week's CEF with the greatest negative PrcNAVSprd was Morgan Stanley China (NYSE:CAF). CAF experienced a price drop of 8.8% while its NAV declined 2.2% for a PrcNAVSprd of -6.6%. China was buffeted by negative news of tightening banking reserve requirements and Google's threat to pull out of China due to alleged government hacking of dissidents' "g-mail". Google's threat appears toothless and would be equivalent to a self-inflicted wound.
Economic & Earnings Outlook: (Click here for next week's economic calendar; click here for earnings announcements and estimates.)
ETFs: (Click here for ETF YTD sector performance.)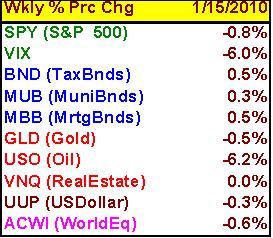 Insider Trading: The Horejsi Group continued its relentless insider buying in Boulder Growth & Income Fund (NYSE:BIF) adding an additional 182,401 shares with a market value of $1,085,052. Its cumulative acquisitions for the initial two weeks of the month are 290,119 shares with a value of $1,688,840. Horejsi has accumulated a 7,266,310 share position in the stock currently valued at $42.5 million and representing 28.5% of the outstanding shares.
It has been speculated here before that Horejsi may be positioning itself for the re-establishment of a managed distribution strategy that would propel the stock price to a premium so as to facilitate the orderly sale of its holdings over an extended period of time.
Of course this is pure conjecture. However, for those with further interest in this story see the following article written earlier last year: The Curious Case of Insider Buying at BIF: A Case of Manipulation or Hallucination? (5/7/09).
With a week's hiatus, Horejsi resumed its insider buying of its other favored CEF target. Horejsi picked up another 6,098 shares at $14.22 per share of Denali Fund (DNY) for investment outlay of $86,714. The group owns 3,125,890 shares of DNY representing approximately 75% of the CEF.
Two officers of MVC Capital (NYSE:MVC) added to their positions this week. The more important of the two was its chairman and director, Michael T. Tokarz, who added 20,000 shares to his position for a total capital outlay of $244,600. This brings his total shareholdings up to 678,375.
MVC is a business development company that provides private equity to small/mid cap companies. MVC was included in the "CEFDogs" at the end of 2009. (See report: CEF '09 Year-End Strategies, Part 1 ("CEFDogs").
There was other insider buying of a deminimous nature. (Click here for a hyperlink to the Joe Eqcome CEF Weekly Insider Report.)
CEF Distribution Announcements This Week: The following is a link to a table of CEF distribution announcements this week as well as the previous week's with yet expired ex-dividend dates. The list is not intended to be inclusive. (Click here for weekly CEF distribution announcements.)
CEF Corporate Events: Kayne Anderson MLP (NYSE:KYN) raised an additional $124 million of equity through a 5.5 million follow-on offering at $23.61 per share. The shares trade at a 9.4% premium.
Nuveen Insured Fund (NYSE:NEA) issued $75 million of MuniFund Term Preferred Shares (NYSE:MTP) to repay its outstanding Auction Rate Preferred Securities (ARPS).
Western Asset Variable Rate Strategic (NYSE:GFY) commenced a "measuring period" to determine whether to proceed with a tender offer as required under terms of an agreement dated February 4, 2009. The stock trades at an 8.6% discount to NAV.
Claymore Dividend & Income Fund (NYSE:DCS) announced at-par redemption of the remainder of its 30 million ARPS. The previous week, DCS announced a like-kind tender for approximately 45% of it shares outstanding.
Van Kampen announced that 12 of its municipal CEFs announced partial redemption of its ARPS.
CEFs Focus for the Week: The focus stock of the week continues to be Gabelli Utility Trust (NYSE:GUT). A fundamental analysis of GUT would indicate that the stock is vastly over-valued.
GUT had the highest 2009 premium year-end at 72.1%. Over its 11 year operating history GUT has traded at an average premium of 27.5% with a standard deviation of 19.5%. Statistically, its ability to maintain that premium is very small. Its previously highest year-end premium was 40.6% in 2003.
At the end of last year there were 4 CEFs with a premium of over 40% (GUT, PGP, CRP and CFP) with an average premium of 53.3%. The last year where any CEF premiums were over 40% was in 2006. That year there were three CEFs (CRF, CLM and CUBA) with an average premium of 83.6%. The following year, 2007, those three stocks' premium on average declined to 8.1% and related stock prices dropped 38.8%.
While history may not repeat itself, its sure does rhyme. Investors need to bet on an acceleration of the NAV to compensate for any decline in the premium or for the premium to continue to rise. Both appear to be risky bets at these levels.
Consider it food for discussion.
Disclosure: Author owns a diversified portfolio of CEFs including a long position in BIF and no position in GUT.
---
[1] A positive PrcNAVSprd can be interpreted as negative because it typically signals a share price movement less favorable than the NAV. All things being equal, price and NAV should move in tandem. A price movement greater than the NAV may indicate the stock is overvalued relative to its NAV which in theory is the stock's intrinsic value. The opposite would be true for a negative PrcNAVSprd.