2009 was a fantastic year for emerging junior gold producers and stocks in the Gold Stock Strategist Emerging Junior Gold Producers (GSSX) Index ©. The GSSX Index© outperformed GLD, XAU, HUI, and the TSX Venture Exchange.

The GSSX Index© powered ahead 123 percent, beating the yellow metal, beating the HUI gain of 30%, beating the XAU gain of 36%, and even beating the TSX Venture Exchange of 92%.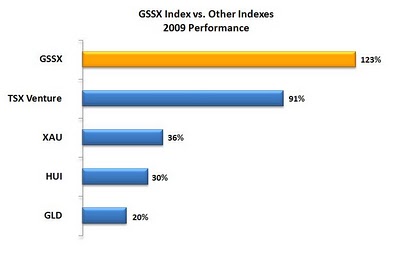 Data from Yahoo Finance

Components of Comparison Indexes

The XAU is a capitalization weighted index comprised of 16 large cap precious metals mining companies traded on the Philadelphia exchange. Companies in the index include: Agnico Eagle Mines (NYSE:AEM), Anglogold Ashanti (NYSE:AU), Barrick Gold (NYSE:ABX), Freeport-McMoran Copper and Gold (NYSE:FCX), Gold Fields (NYSE:GFI), Goldcorp (NYSE:GG), Harmony Gold Mining (NYSE:HMY), Kinross Gold (NYSE:KGC), Newmont Mining (NYSE:NEM), and Pan American Silver Corp. (NASDAQ:PAAS).

The HUI—AMEX Gold BUGS (Basket of Unhedged Gold Stocks) is a modified equal dollar weighted index comprised of 15 major gold mining companies including Agnico Eagle Mines, Barrick Gold, Compania de Minas Buenaventura (NYSE:BVN), Coeur d'Alene Mines (NYSE:CDE), Eldorado Gold (NYSE:EGO), Gold Fields, Goldcorp, Golden Star Resources (NYSEMKT:GSS), Harmony Gold Mining, Hecla Mining (NYSE:HL), IAMGOLD Corporation (NYSE:IAG), Kinross Gold, Newmont Mining, Yamana Gold (NYSE:AUY) and Randgold Resources (NASDAQ:GOLD).

The TSX Venture Exchange index represents the 2,300 companies listed on the TSX Venture Exchange. The TSX Venture Exchange is a public venture capital marketplace for emerging companies who have not yet met the requirements for listing on the TSX, which deals mostly with well established companies. The TSX Venture index is a much broader index sector-wise than the others and includes companies other than gold miners such as junior natural gas explorers and other companies—primarily in the natural resource sector.

Finally, GLD is an ETF designed to track the price of gold. However, GLD was up 20 percent in 2009, trailing the actual price of gold. In 2009, the price of gold closed the year out by rising from a close of $884.30 on December 31, 2008 to $1096.50 on December 31, 2009, registering a 24 percent gain.

Composition of the GSSX Index©

As I have indicated in previous reports, the composition of the GSSX is subjective, as are all indices. Nevertheless, the GSSX is a fair representation of the universe of emerging junior gold producers.

Here is a list of the 18 companies included in the GSSX Index©.

Alamos Gold (AGIGF.PK)
Alexis Minerals Corp. (AXSMF.PK)
ATW Gold (ATWGF.PK)
Aurizon Mines Ltd. (AZK)
Capital Gold Corp. (CGLD-OLD)
Gold Resource Corp. (NYSEMKT:GORO)
Gold-Ore Resources (OTC:GREXF)
Jaguar Mining (NYSE:JAG)
Jinshan Gold Mines (OTCPK:JINFF)
La Mancha Resources (OTC:LACHF)
Metanor Resources (MEAOF.PK)
Minefinders (MFN)
MDN Inc. (MDNNF.PK)
New Gold Inc. (NYSEMKT:NGD)
New Guinea Gold (NGUGF.PK)
Richmont Mining (NYSEMKT:RIC)
San Gold Corp. (OTC:SGRCF)
Timmins Gold (OTC:TMGOF)

Originally, the GSSX was comprised of 20 stocks. Two companies in the index were bought out during 2009—Kinbauri and Castle Gold.

The 20 companies included in the original index represented about 40% of all emerging junior gold producers and about 1.3 million projected ounces of gold produced in 2009. Each company represented 1/20 of the total index. It was not—and is not—weighted by market capitalization. I removed Castle Gold and Kinbauri from the index for the end of year calculation in this presentation, so each company represents 1/18 of the total index.

GSSX© Component Performance

The top performer by far for the year in the index was La Mancha Resources, with a whopping 724 percent gain. Other high flyers include San Gold (237%), Gold Resource (221%), Timmins Gold (190%), New Gold (160%) and Jaguar Mining (131%). The average gain for the year was 123 percent. The only company that did not register a gain for 2009 was MDN Inc. (0%). One interesting item of note is that after conducting a sensitivity analysis by removing a clear outlier, La Mancha, and adding back in the returns for Kinbauri and Castle Gold the results are nearly identical at about a 120 percent or so gain.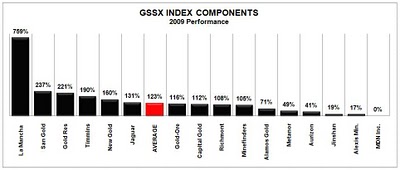 The GSSX Index©, will have 3 to 4 new component companies added for 2010 and will be updated more regularly.

Disclosure: Long GREXF.PK, JAG, MEAOF.PK