As we head into the third quarter earnings release for NQ Mobile ("NQ", or the "Company") on Tuesday, 11/12/13, we wanted to take a brief break from our due diligence (DD) in China to remind investors of where things stand with the allegations that Muddy Waters ("MW") issued about NQ two weeks ago.
If you recall, MW spewed several exceedingly bold allegations in their latest hit job on their way to declaring NQ a "zero." Let us list them so we can grade them:
NQ has no cash
Payment Service Provider ("SP") Yidatong ("YDT") does not exist, not even physically, because it is NQ
YDT manufactures most of NQ's revenue by roundtripping cash because YDT's SAIC financials don't add up (per MW GAAP)
NQ has no real partners in China
NQ has practically no users in China
NQ's software basically sucks and nobody wants to use it
Although MW will not get too many Christmas cards from NQ this year, the self-proclaimed short sellers extraordinaire with the 0-7 track record of uncovering fraud in IPO'd companies did manage to get an open invitation to visit NQ's headquarters in Dallas and Beijing. There, NQ is willing to open all its books for MW to examine. (Incidentally, our good friends at CNBC reminded us that we missed Standard Chartered, so perhaps MW is actually 0-8, but who's counting?)
Sadly, MW did not take the Company up on its generous offer of complete transparency, an offer we have never seen extended to a short seller by a target company. One wonders why.
Nevertheless, we and several other large shareholders who do not subscribe to the remote due diligence practices of MW surely did take NQ up on its generous offer (Jim Oberweis of Oberweis Asset Management and anchor investor Atlantis, one of Asia's most prominent investment firms, are among those who have been identified on the ground).
Let's see how MW is doing so far after week 1 of our three-week DD expedition in China.
The Value of Perspective
The first thing we felt while on the ground was a heightened sense of perspective. Indeed, the context that results from seeing, touching, and hearing the evidence makes a world of difference in perspective. We submit the following pictures for your consideration:
Picture 1 - The Myopic View (of NQ's Beijing headquarters, courtesy of MW's hit job report):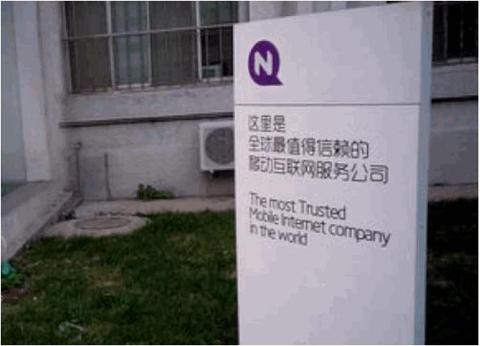 Picture 2 - The Big Picture View: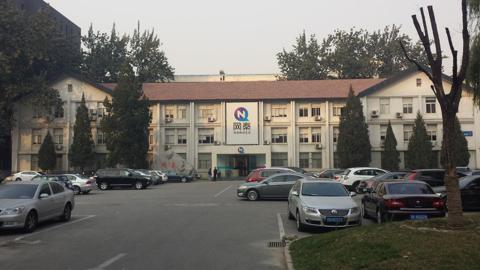 Who would you want taking pictures at your wedding, the guys who took Picture 1, apparently with blinders on, or the handsome photographers who took Picture 2?
Photography, MW Grade: F
Allegation 1: NQ Has No Cash
"NQ Has No Cash" will go down in history as MW's single greatest whiff, topping the charts and trouncing such dandies as "FMCN Is the Olympus of China", "Olam is the Enron of Singapore", and "EDU: Summa Cum Fraude". High-quality entertainment at its best.
It took NQ all of three business days to decide to wire the supposedly non-existent, risky, illiquid, and fraudulent Level 2 cash right to a Standard Chartered Bank account for all to see. With 103 million American now sitting pretty at Standard Chartered (MW can call it Level 1000 for all anyone cares at this point), verified by numerous investors, investment banks, and apparently also Big 4 auditor Deloitte and global law firm Shearman and Sterling, it is safe to say we can stick a fork in this one.
To think that the MW accounting all-stars called PWC "sloppy" because they signed off on NQ's cash… How hilarious was that?
Allegation 1, MW Grade: F
Allegation 2: YDT Does Not Exist
We forget how many of MW's 81 pages were dedicated to the nonexistence of YDT, which was impossible to find despite trying "extremely hard."
We checked out the addresses that MW claims were ghost offices ourselves. We found that the first five, i.e. all the ones in Beijing, are old addresses! The first three are from so long ago that YDT was not even under CEO Rong Xu's ownership when they were valid, i.e. she had not bought the business yet. The next two were later updated by YDT as it relocated. We would expect that the new filings with the state will show 9H's current address to reflect the update. The rest of the addresses represent regions in which YDT does business but has no physical presence (it is, after all, an Internet-based business…), as noted by NQ in their 97-page rebuttal. Moreover, YDT has been collocated with 9H since Rong Xu presided as CEO over both businesses, something the would-be Sherlocks at MW clearly missed when they went on their wild goose chase.
Perhaps MW should have tried simply contacting the company to get its address, because after we did, it took us something like 40 minutes door to door to find this building…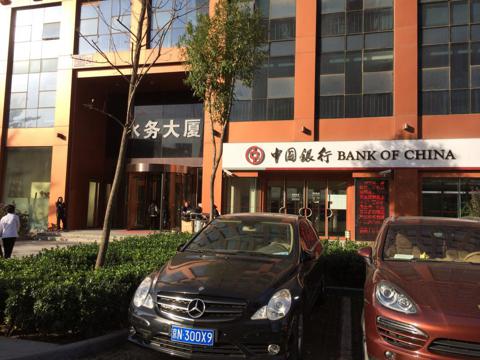 ... with this sign in it…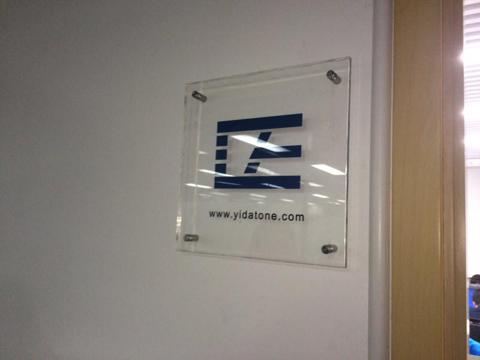 … with these employees processing payments…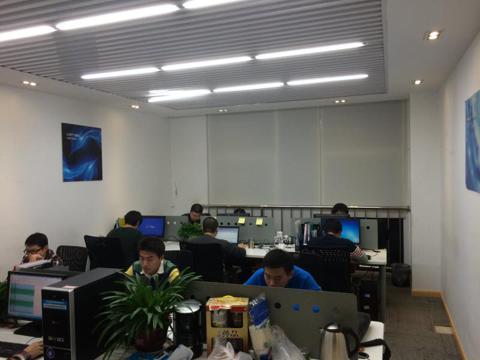 ... for the six customers that YDT actually has (as opposed to the alleged one customer, NQ, that MW claims).
Then, to provide statistical evidence that YDT is not a real business, the undoubtedly objective and trustworthy anonymous folks at MW claim to have conducted field tests in which 22 consecutive attempts to purchase NQ security apps resulted in zero payments through YDT. Some have rightfully questioned the inappropriateness of the sample size of 22 for a field study in a country with 1.34 billion people, mostly concentrated outside the major cities in which short sellers and their local conspirators (some, perhaps, "customers"?) tend to dwell.
But not us. We replicated the field tests ourselves from Beijing, one of NQ's worst markets, with two new SIM cards inserted into two different smartphones, one Samsung and one Coolpad.
Here's video of Attempt 1: Success!
And Attempt 2: Success!
After going two for two, we stopped for obvious reasons. YDT does in fact exist and it does in fact process payments for NQ.
Allegation 2, MW Grade: F
Allegation 3: YDT's Numbers Do Not Add Up
Aside from the futility of using SAIC filings to attempt to uncover financial chicanery, on this third allegation, MW runs into a more formidable roadblock: the inconvenient reality that the numbers do in fact appear to add up. Even the local accountant contacted by Bloomberg, MW's loudest media megaphone so far, agrees the numbers seem to be "kosher" (see 00:06 - 00:22 and 02:10 - 02:21).
Undaunted by the inescapable reality that SAIC financials are worth about as much as the paper they're written on, the dutiful MW accounting all-stars continue to obsess over numbers that do not mean much, not letting the law get in their way (Section 3, Article 14 states in no uncertain terms that business tax is calculated on a net revenue basis). After all, given the figures in question, hell, why not invent the law as you go?
MW's entire argument keeps revolving around the fallacy that gross, and not net, revenue is the basis for business tax, but only for the middleman, the service provider (NASDAQ:SP). Throughout the rest of the value chain, it's net. Notwithstanding the fact that the government would then be taxing the majority of the total transaction consideration twice (with the SP paying not only its portion, but also the Content Provider's portion of the business tax, only to have the CP pay its portion again), that simply flies in the face of the written law.
To finally put this issue to bed, we went ahead and interviewed two of the largest SPs in all of China, UMPay (a JV between leading mobile carrier China Mobile and transaction processing leader UnionPay) and Unisk (a wholly owned subsidiary of carrier China Unicom).
Not only did we confirm that NQ was a good partner (six years with UMPay and over a year with Unisk) in good standing with a "robust business" and "steady growth", we also confirmed that YDT should pay business tax on a net revenue basis, i.e. business tax is split across the value chain between the carrier, the SP, and the content provider, all of whom pay business tax on only their portion of the total revenue. (What a concept!) We also confirmed that YDT issues a voucher for the gross amount back to the carrier for their records.
The names of the kind gentlemen who assisted us were withheld below, but their business cards show that they might know a thing or two about the SP business in China.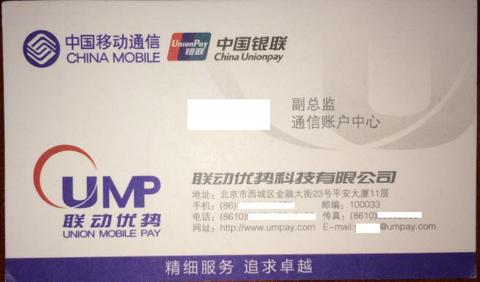 Title translated from Chinese: Deputy Director of Billing Account Department.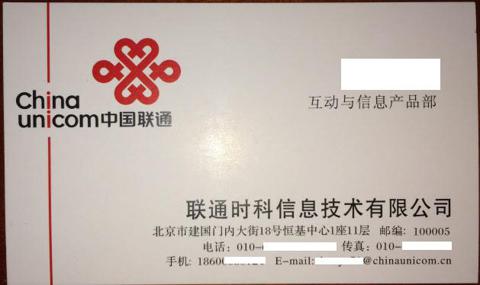 Title translated from Chinese: I&P Department
For the sake of beating this dead gross revenue horse some more, we looked through the 20-F filings of KongZhong (KONG), a company with a substantial SP business. One of their largest customers, Sky-Mobi (NASDAQ:MOBI), describes its CP to SP relationship with KONG as follows in its 2012 20-F:
In the three years ended March 31, 2013, we collected most of our revenues through the billing channels of mobile service providers…. Our relationships with mobile service providers are critical for us to collect proceeds under the payment process described above… Key service providers we work with include Shenzhen Xunhong, Kongzhong and Rock.com. We select mobile service providers based on the coverage of the networks to which they have access, proceeds sharing arrangements and their track record of revenue collection.
And look at what we found in KONG's corresponding 20-F:
The subsidiaries and VIEs incorporated in the PRC are subject to the sales tax at rates of 3% to 5% on PRC taxable revenues, as defined by the related tax rules and regulations. When determining the PRC taxable revenues for sales tax purpose, the subsidiaries and VIEs adopted a 'net' basis, i.e. deducting profit sharing with content providers from revenues.
We'll be damned. The law actually is the law after all.
How this is not plain common sense to all is a mystery to us.
And regarding the advances to YDT that allegedly make up the smoking gun behind NQ's fraud via roundtripping, we remain similarly perplexed by a couple of seemingly obvious facts:
How does the fact that the advances were fully paid off by the end of 2010 jive with a 90%+ overstatement of revenue by NQ in 2012 and 2013?
Even if we assume the roundtripping occurred… where, pray tell, did all the net cash that NQ generated since its IPO come from (not to speak of the cash generative period since the balances were paid off to the IPO listing date)?
Below is a conservative estimate of how much net cash NQ has generated since its IPO even if we assume that MW is right (NQ has practically no revenue):
This estimate effectively ignores cash generated from operations that was then reinvested, e.g. in NQ's growing 600+ employee base, its two headquarters and various field offices, marketing and business development, etc.
Did the Tooth Fairy make frequent pit stops at NQ? The Easter Bunny, perhaps? Or, maybe, Santa Claus?
While it is possible to cook the books by roundtripping cash back and forth to manufacture revenue, exactly how does one roundtrip their way to making new cash, which has been verified numerous times in the past week alone? If the MW accounting all-stars have figured out a trick to manufacture cash out of thin air, hallelujah, maybe they can finally do something useful and go work for Janet Yellen, who needs that trick worse than MW needs a fraud to break out of its 0-8 slump.
To make matters worse for the MW accounting all-stars trying to figure out where the cash came from (hint: operations?), their fearless leader flatly suggested in a Bloomberg interview that NQ raided the balance sheet for even more cash by putting "more money into the fraudsters' pockets" with all-equity acquisitions (see 02:35 - 03:00). Isn't it pretty hard to take cash out of transactions that involve no cash? Even if one could use the aforementioned "make cash from thin air" trick, isn't it hard to pocket anything when you're locked up, as the entire management team of NQ is, and have yet to sell a share despite an IPO and a follow-on financing?
As Homer Simpson famously said….
Allegation 3, MW Grade: F (Is there such a thing as F-?)
Allegation 4: NQ Has No Partners in China
Aside from the fact that we were able to verify the original contracts, signed and stamped with corporate seals, between NQ and all its major partners from 2012 and 2013 (as of last week), here are some official statements made by NQ's partners in the Chinese media that affirm NQ's relationships with the four largest Chinese handset manufacturers:
11/1/2013: Lenovo affirms its partnership with NQ
11/6/2013: ZTE affirms its partnership with NQ
11/6/2013: Huawei affirms its partnership with NQ
11/8/2013: CoolPad affirms its partnership with NQ
As opposed to the drivel that passed as journalism referenced in some contributors' sensationalist and misleading articles (e.g. this one), the references above were official statements that we were able to confirm in person. These proclamations of support for NQ were issued after the MW allegations came out and were not taken down immediately by the publishers, as was the case with the aforementioned drivel, no doubt because it contained false information.
Although press releases announcing partnerships are fairly common, such statements are usually issued by the partners providing service to these larger companies (e.g. NQ's press releases). It is rare to have any of these large companies take proactive measures to issue public statements affirming the status of any of their partnerships in China. To see all of NQ's major Chinese partners step up in unison so quickly after MW's fraudulent allegations is beyond rare; we have never seen anything like it in over a decade of involvement in China's capital markets.
It is not just the handset industry that is stepping up to support NQ. After the MW hit job, both China Mobile and China Unicom extended their partnership with NQ to include Music Radar (the "Shazham of China") and Family Guardian, respectively:
11/4/2013: China Mobile (new Music Radar)
11/6/2013: China Unicom (new Family Guardian partnership)
We were granted the rare opportunity to meet with these state-owned enterprises to discuss their relationship with NQ, and we look forward to sharing the results of our meetings, the first of which will occur in Guangzhou on Monday, 11/11.
Several more partners will affirm their relationship with NQ in person during the upcoming earnings call and during NQ's annual investor day conference. We encourage skeptics to attend in person to verify these partnerships for themselves.
In consideration of all this overwhelming evidence…
Allegation 4, MW Grade: F
Allegation 5: NQ Has Practically No Users in China
NQ has something like 250,000 users, per MW's count. (We won't ask how that gets you to only 90% fraudulent revenue.) As evidence, the remotely due-diligent folks at MW point to selectively chosen third party research and "Muddy Waters's own survey-based research" performed by anonymous local collaborators.
Interesting. During MW's embarrassingly failed attempt to uncover fraud at FMCN, another company "just like CCME" (nothing like calling a delisting right before a takeout by some of the best investors in the world), MW went to great lengths to discredit the use of market data from third-party research firms, going as far as to claim that such firms could simply be paid off to publish fraudulent data. MW even dedicated an entire report to the topic of how unreliable Chinese third-party market research really is.
Like a well-greased weathervane, MW has since done a complete about-face on the usefulness of third-party data. In an effort to discredit NQ's user figures, MW references numerous times the very third-party research from China that it previously condemned.
Of course, when third-party research actually supports NQ's user figures (e.g., SinoMR and Frost & Sullivan, neither of which is Chinese), MW conveniently dismisses it as the work of shills.
How consistent and unbiased of them. One can only imagine the unquestionable veracity and rigor with which they then conducted their field work. The US Census Bureau must be hulking out with green envy.
To test MW's 250,000 user figure, we started our DD offline in the shopping area of the Beijing district known as "China's Silicon Valley."
Despite MW's inability to find but one allegedly "exclusive" vendor of NQ prepaid cards in Beijing (remember, they tried "extremely hard"), we somehow found this one…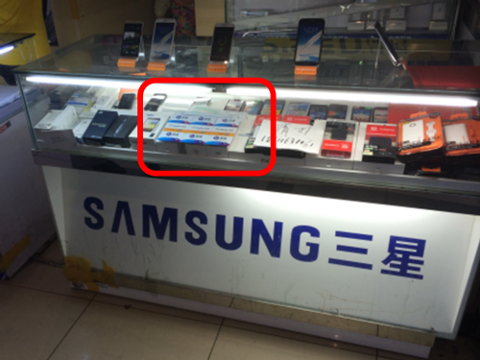 And this one…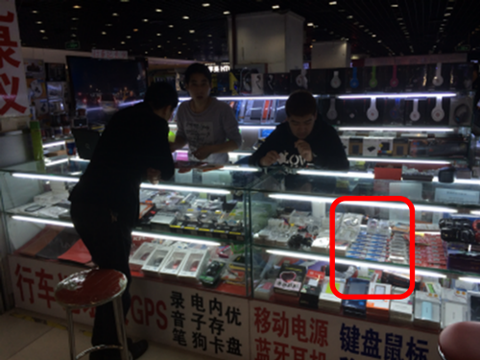 And this one…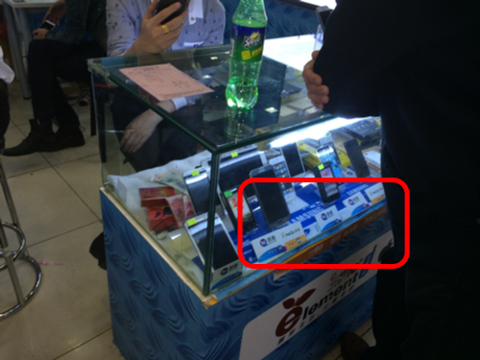 And this one…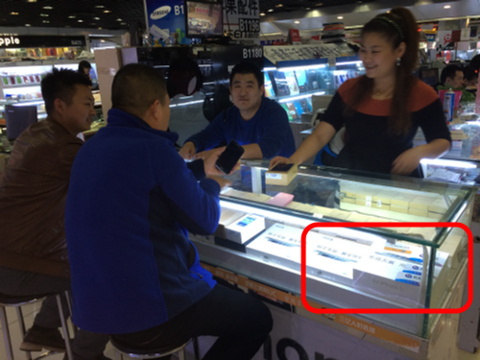 And…
There were more, but you get the point. We spent less than an hour looking once we were on premise, by the way.
And then we literally walked across the street via an overpass into one of the many stores run by DXT (English abbreviation of Chinese name in Pinyin), a national network of ~5,000 "Best Buys of China."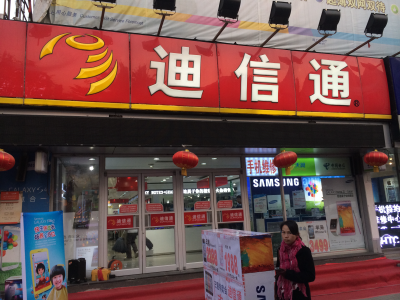 This particular DXT store did not carry the individual prepaid cards, but they did carry the following bundled product, which they referred to as their "best of breed" bundle comprised of a chip, a prepaid card for one of China's most popular card-based mobile games, a prepaid card for one of China's most popular "lottery" apps, and a prepaid card for China's hands-down most fraudulent security software vendor, good old NQ.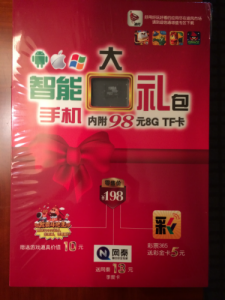 The salesperson we interviewed at this particular store estimated that DXT sells between 10-20 of these bundles per week in her store. 5,000 stores x 52 weeks x 10-20 bundles = a hell of a lot more users than MW claims NQ has in the entire country. Now let's assume that as many as half the users who buy the bundle do not actually use the security software they just paid for (admittedly, a pretty stupid assumption). And since we are sure that if we walked into 10 other stores, we might get 10 different answers, let's give MW the benefit of the doubt… Maybe our friendly clerk was off by a factor of, what, 10-15??
Remember, this is just DXT.
But let's move on, because prepaid cards contribute but a tiny percentage of NQ's revenue anyway.
The confirmatory epiphany that validated all our assumptions about NQ's position in the Chinese smartphone value-added service (VAS) market (basically, the app market) hit us over the head with the subtlety of a sledgehammer during our meetings with the following executives from leading Chinese handset companies Coolpad (#3 in handset distribution) and Gionee (#10 domestically and the largest by international share of distribution, with approximately half its handsets shipped outside of China).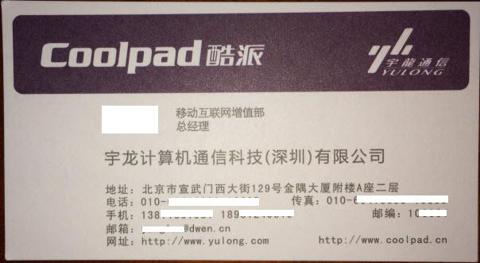 Translated from Chinese: General Manager, Mobile Value-Added Internet Group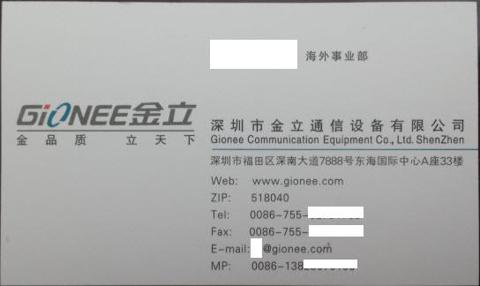 Title translated from Chinese: Overseas Department
Key takeaways from these two meetings follow:
Laughter (really) at the mention of any Chinese third-party research study that attempts to accurately analyze the mobile VAS market
There are two primary channels for distribution of apps and other mobile VAS in China: online and offline, and both are of equal importance
Online consists mainly of three different types of app stores: carrier-operated (e.g. China Mobile's Mobile Marketing store), OEM-operated (e.g. Xiaomi's app store), and third-party-operated (e.g. QIHU's 360, BIDU's recently-acquired 91Wireless, etc.). Estimates ranged from 40/30/30 to 30/45/25, respectively, though it is impossible to determine exact share since carrier and OEM stores do not publish their usage data
Offline consists mainly of four channels: OEM pre-install, handset distributor pre-install, carrier pre-install, and "design house" pre-install (design houses are custom handset manufacturers that sell cheap handsets to branded distributors who package and private-label the design houses' unbranded handsets). Nobody dared to guess the share split, but both approximated that about 40% of total distribution happened offline
It is brutally difficult if not impossible to get a read outside of Tier 1 and the largest Tier 2 cities, where access to users and willingness of users to be surveyed falls of a cliff from the Tier 1 demo
This means that the various third-party studies MW referenced are myopically focused on approximately 30-45% of 60% of the overall market, or the 18-27% of the total market that is mostly Tier 1, where NQ is not focused
Tier 1 cities skew more heavily online, Tier 2 cities skew more heavily offline, and Tier 3+ cities skew much more heavily offline (and are practically impossible to track accurately)
The fastest growth is happening in Tier 3+ cities
Coolpad shipped about 20 million handsets in China in 2012 through the first quarter of 2013 in China. 70% of them had NQ products pre-installed
Gionee will ship about 12 million handsets in China in 2013 and another 12 million handsets outside of China. NQ products were pre-installed in about 40% of the domestic handsets and 100% of the international handsets.
IQ test: Guess which regions and channels our fraudulent friends at NQ leverage the most heavily.
We had done extensive analysis of this distribution reality and NQ's market share and competitive positioning (Part 3 to this series), all of which we feel are largely lost on the market, but alas, DD beckoned. We may still get to it at some point.
Until then, based on the fact that two meetings and 1.5 hours strolling the streets of Beijing unearthed about 31 million likely users of NQ security software already from offline distribution alone (recall NQ's distribution breaks to roughly 40/30/30 offline/online/viral, and we have yet to consider all of NQ's non-security businesses such as gaming, enterprise, search, and messaging,)… we have to mark the MW report card thusly yet again:
Allegation 5, MW Grade: F
Allegation 6: NQ Software Sucks and Nobody Wants to Use It
The Coolpad and Gionee meetings, as well as a thorough review of all of NQ's 2012 and 2013 contracts and a telephonic interview with the lab group at the MIIT (we will meet them in person next week), generated the following key findings:
China's Ministry of Industry and Information Technology (MIIT), the government body that regulates the TMT sectors, uses NQ technology and advisory services exclusively to ensure that all apps that get pre-installed on Chinese handsets are properly screened for security issues
All five of China's top 5 OEM manufacturers pre-install NQ on their handsets
Aside from the MIIT, both Coolpad and Gionee also rank NQ highest in the security category
China Mobile's own app store, Mobile Marketing, uses NQ security software (China Mobile is the largest mobile carrier with the largest carrier app store)
Including Mobile Marketing, not one but three divisions of China Mobile are in partnership with NQ, spanning the entire suite of consumer offerings NQ has available
Note that we are only about 30% done with our DD and still have over a dozen meetings left, so these are merely preliminary insights.
The Gionee story is worth more mention due to its uniqueness. Gionee's initial foray into smartphones came later than most of its top 10 peers'. As a way to differentiate its offering, Gionee entered the market as a security specialist, marketing its products as the most secure in the market. Gionee's phones feature not only antivirus protection, but also secure messaging, secure browsing, and secure media storage. Most notably, Gionee might be the only Chinese OEM that has as much as half its smartphone distribution outside of China.
After using NQ's competitors' software for several years, Gionee switched to NQ in April of 2011 after running a multi-month bake-off. Like all of the NQ partners we have met so far, Gionee, which prides itself as the maker of China's "most secure smartphones", validated NQ as the top security player in China. NQ "lags in user interface and animation" (translated quote), but is the top security player based on "features and functionality, breadth of security coverage, breadth of security offerings (including private messenger, media vault, secure browser), and willingness to customize software." Aside from its underwhelming UI, the only other notable weakness was that "NQ would be even better if all its products were free."
Both Coolpad and Gionee considered NQ to be the market leader internationally. For Gionee, NQ is one of the most popular and most requested apps internationally, with four countries so far proactively requesting that Gionee pre-install NQ security on its handsets before shipping to them (India, Italy, Romania, and Zimbabwe).
And let us not forget that Samsung, the global handset leader by a large margin, appears to agree with their Chinese peers and partners. Not content to merely include NQ's security products in their consumer-facing products, Samsung recently announced integration between its enterprise platform KNOX and NQ.
So who do you believe, MW's team of anonymous "top-flight engineers", or the MIIT of the PRC, leading mobile carrier China Mobile, China's five largest handset leaders, China's "security phone" specialist Gionee, and global handset leader Samsung?
Tough choice, isn't it?
Based on a hunch that MW's top-flight engineers are probably related to the MW accounting all-stars, we'll go with the domestic and global leaders.
Allegation 6, MW Grade: F
Conclusion
MW said NQ has no cash. NQ backed a proverbial truck loaded with it right into Standard Chartered.
MW said YDT does not exist. The very next day, Bloomberg found it. A few days later, a group of handsome photographers showed you exactly where.
MW said YDT's numbers do not add up. But they do, if you want to believe the SAIC filings are even worth looking at in the first place. And all that noise about YDT not even being functional? See the video proof above for yourself.
MW said NQ has no partners in China. A few days later, they all showed up to support NQ in prominent Chinese media. Two of them extended their partnership to include more NQ products beyond NQ's core security software-yes, the fraudulent ones that supposedly do not exist either.
MW said NQ has about 250k users in China. Meanwhile, the two handset partners we have already interviewed in person so far in week 1 of our DD, with four more partners to go, swear up and down that over 16 million of their handsets have NQ software on them-and that's just in China (a lot more if you include international, but we will not even go there at the moment…). The handset partners we will interview do not even include international handset partners who also sell a massive number of handsets in China… such as the little company named Samsung where Omar Khan used to work as CTO of its flagship smartphone model.
MW said NQ software is crap. Meanwhile, the Chinese government uses NQ software to regulate security threats for China's entire pre-installed application industry, all of China's top handset manufacturers use NQ's security software, and several foreign countries are proactively requesting that some of NQ's handset partners preinstall NQ security before shipping to them.
In other words, this is starting to look a lot like the Dark Knight scene (01:21-02:45) from the famous Monty Python movie.
Exactly who is the fraud, again?
We found so much fraud in MW's hit job report in just one week of DD that we could go on for another few dozen pages.
Here's another one just for kicks: Who do you believe, the anonymous local phone callers MW employed to "confirm" that Alipay is not in business with NQ, or the guys who work in the office marked in red below?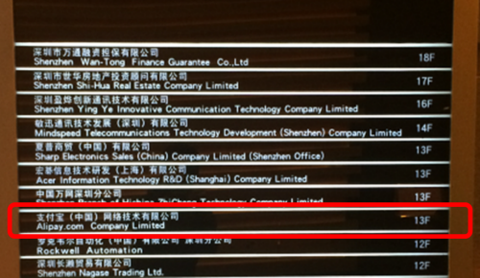 Did MW do due diligence ("DD") or doo-doo diligence ("DDD")? You decide.
Even investors who have never set foot in China are starting to catch on. In a mere two weeks, MW went from "NQ has no cash" to "NQ missed a month of employment history six years ago, those lying bastards." Talk about unprecedented de-escalation.
And then there's the fact that despite MW's 81 pages of drivel, launched less than three weeks before NQ's earnings announcement, NQ is still going to announce on time. One would think that a company under NQ's intense scrutiny would be forced to delay, whether or not it had anything to hide, as its Big 4 accountants whose reputation is tied at the hip to their client might need more time to look into all the fraud that's allegedly going on. But no, despite all the noise about embezzlement and roundtripping and all the conspiracy theories that get more fantastic by the day, PWC appears undeterred. We confidently assume that their experience doing DD on MW's DDD was like our experience so far, like shooting fish in a barrel.
And from the press release, it sounds like NQ will be joined by some of its friends that MW alleges NQ doesn't actually have. NQ's team must be talented indeed to be able to make not just cash, but also friends, out of thin air.
As we wait for the independent committee to release its findings, we will let the readers make up their own minds as to how accurate MW has been so far.
In our opinion, the incompetence that pervades MW's so-called research is so severe that we are left asking ourselves an important question. Can a group of adults (we can only assume, given their anonymity) really be this bad at what they proclaim to be expert in? Or is their stunning ineptitude a front for something more pernicious? With these curiously timed "articles", replete with fraudulent information, taken down as quickly as they were planted in China… the obviously falsified field tests conducted by anonymous sources that are bandied about as gospel… the completely speculative nature of the purported "evidence" so desperately presented in place of the reiteration of MW's core allegations, which are falling like lead dominoes… and the interesting trading dynamics of the last three weeks, one does wonder….
Perhaps MW might do itself a favor by not wishing for an SEC investigation too much. After all, one must be careful what one wishes for, because Santa might deliver. In that case, being just ignorant might indeed be bliss given the alternative, and we aren't just talking about remedial accounting 101 and top-flight engineering 101 classes.
Final MW Grade: F, with the possibility of a long detention
Disclosure: I am long NQ. I wrote this article myself, and it expresses my own opinions. I am not receiving compensation for it. I have no business relationship with any company whose stock is mentioned in this article.
Additional disclosure: Refer here: toroip.com/disclaimer-nq.html