Abiomed (NASDAQ:ABMD), a leading provider of novel percutaneous cardiac assist devices that are designed to enable the heart to rest by improving blood flow and/or performing the pumping of the heart, has seen its revenues increased by more than 100% in the last four years.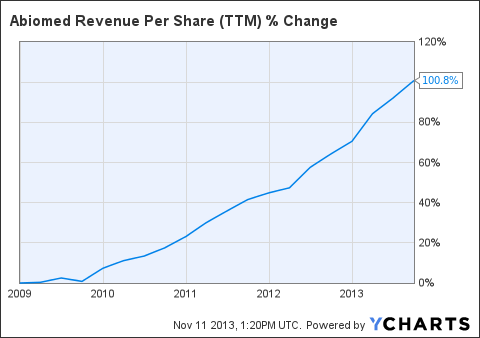 ABMD Revenue Per Share (TTM) data by YCharts
Abiomed's Impella range of heart pumps has enormous growth potential in the treatment of cardiovascular diseases. Although the stock price of Abiomed has more than doubled itself in the last one year, I believe there is still some room for price appreciation over the medium term. In this article I will analyze the future prospects of Impella, Abiomed's lead product and its potential impact on the company's stock price.
Business Overview
Abiomed is a leading provider of breakthrough heart support technologies. The company generates most of its revenues (more than 80%) by selling its Impella range of heart pumps. It offers the following products:
Impella 2.5 catheter (a percutaneous micro heart pump with integrated motor and sensors that provides partial hemodynamic support)
Impella 5.0 catheter (a percutaneous micro heart pump with integrated motor and sensors that provides full hemodynamic support)
Impella CP (a higher flow micro heart pump delivered on the same platform as the Impella 2.5)
Impella LD (a percutaneous micro heart pump with integrated motors and sensors for use primarily in the heart surgery suite)
The company also manufactures AB5000 circulatory support system for temporary support of acute heart failure patients in profound shock. In addition, it offers Symphony, a synchronized minimally invasive implantable cardiac assist device designed to treat chronic patients with moderate heart failure by improving patient hemodynamics; and AbioCor implantable replacement heart. The company sells its products through direct sales and clinical support personnel in the US, Canada, Germany, France, UK and internationally.
Why Abiomed is Worth Looking Into?
Healthcare professionals and cardiologists are increasingly adopting novel percutaneous cardiac assist devices over the past few years. These devices are not only important as a bridge to cardiac transplantation, but may serve as a critical therapy for patients with reversible cardiac dysfunction as a bridge to recovery. Such devices are expected to create a paradigm shift in the manner in which the following patients are approached:
Patients with advanced heart failure
Patients with acute myocardial infarction (with or without cardiogenic shock)
Patients undergoing high-risk PCI (percutaneous coronary intervention)
I believe that Abiomed's Impella range of catheter-based pumps have some distinct competitive advantages in some cases over similar technologies, such as either intra-aortic balloon counterpulsation ("IABP") or TandemHeart centrifugal flow pump, which I will discuss in the following paragraphs. Impella uses a miniaturized axial flow pump that can be inserted via a standard catheterization procedure through the femoral artery into the ascending aorta across the valve and into the left ventricle, simulating normal physiology.
Why Impella?
There are three types of cardiac assist devices: ventricular assist devices ("VAD"), intra-aortic balloon pumps ("IABP") and total artificial heart ("TAH"). Among them, VADs are the most valuable tools for patients with severe hemodynamic instability and cardiac dysfunction. A VAD is a mechanical circulatory device that is used to partially or completely replace the function of a failing heart. Some VADs are intended for short-term use, typically for patients recovering from heart attacks or heart surgery, while others are intended for long-term use (months to years and in some cases for life), typically for patients suffering from advanced congestive heart failure ("CHF").
Full support VADs like Thoratec's (NASDAQ:THOR) HeartMate, World Heart's Novacor and Arrow International's (privately held) Lionheart are used for both short-term and long-term support. It is noteworthy here that in 2012 HeartWare International (NASDAQ:HTWR) acquired World Heart for $8 million in an all stock transaction. The newer turbine technologies such as Jarvik Heart's (privately held) Jarvik 2000 and Thoratec's HeartMate II are also available for cardiac support and provide a smaller implantable option. Finally, Impella and CardiacAssist's (privately held) TandemHeart are now available for temporary hemodynamic support that can be placed percutaneously reducing the morbidity of surgical placement and explantation. Thoratec directly competes with HeartWare. Abiomed is not a direct competitor of either Thoratec or HeartWare because Impella's technology is different.
Impella, a kind VAD, is the world's smallest mechanical cardiovascular support system. Impella 2.5 is a tiny pump of only 5 mm in diameter. It has an electric motor that can pump approximately 2.5 liters of blood per minute, sustaining the heart for up to 7 days. Recent interventional meetings and literature have both seen significant coverage of the debate about how high-risk PCI or post-arrest cardiogenic shock is best supported with haemodynamic assist devices -- Impella or IABP. The devices work very differently -- the IABP increases coronary perfusion pressure and reduces the end-diastolic pressure/afterload; whereas the Impella produces continuous flow from the left ventricle thus directly increasing cardiac output and reducing cardiac work. A report published by the American Heart Association claims that the Impella 2.5 has emerged most beneficial in high-risk PCI. Here's an excerpt from the report:
In the case of high-risk PCI, in which we have the most observational and randomized data, the threat of hemodynamic collapse due to prolonged ischemia or coronary complication is an overriding concern. In such patients, the procedure is most often elective, and therefore patients are hemodynamically stable at the start of the procedure. Therefore, a device with superior ability to increase oxygen supply and decrease oxygen demand would be preferable to one that prioritizes hemodynamic support (CPO). In addition, a device with widespread familiar implantation technique, minimal access sites, and smaller profile would be ideal. Recently, however, the IABP was tested in this context and was preliminarily found to provide no significant benefit in high-risk PCI despite fulfilling most of these criteria. As a result, the Impella 2.5 device has emerged as on balance most beneficial, providing stronger mechanical anti-ischemic therapy while maintaining ease of use.
Furthermore, for postcardiotomy cardiogenic shock patients (those who have developed heart failure as a result of heart surgery or a heart attack), when both hemodynamic support and myocardial protection are taken into consideration, Impella 5.0 (capable of delivering up to 5.0 L/min of forward flow blood from the left ventricle to the aorta) appears to outperform the TandemHeart device. However, since TandemHeart can be inserted either by cardiovascular surgeons in operating rooms or by cardiologists in cardiac catheterization laboratories, whereas the larger Impella 5.0 may require surgical collaboration and thereby may cause delay in the institution of therapy, TandemHeart may prove to be the best initial option. Eventually, reduced caliber of Impella 5.0 over time, to a size that permits routine percutaneous placement without surgical assistance, may elevate Impella 5.0 as the preferred option, according to the American Heart Association.
Cost-Effectiveness of Impella vs. IABP and No Support
The field of cardiology is evolving toward the treatment of more complex patients with minimally invasive procedures while the caregivers increasingly recognize the benefits of more complete revascularization, improved quality of life and cost-effectiveness. Cost scrutiny and comparative effectiveness research are playing a growing role in cardiovascular treatments. A study demonstrated a gain in quality of life for Impella patients over IABP, at an incremental cost-effectiveness ratio (ICER) of $39,400, below the $100,000 threshold commonly used in the US. The economic study results were consistent with overall PROTECT II 90 day clinical outcomes. In the 90 days following initial hospitalization, Impella patients experienced:
50% lower re-hospitalization costs compared to the IABP (p=0.023)
58% reduction in hospitalizations due to repeat revascularization (p=0.024)
Two fewer days in the hospital (p=0.001)
"The cost-effective message is directly tied to the financial impact of these better clinical outcomes for patients treated with Impella," said Jeffrey Popma, MD, the director of the angiographic Core Laboratory at Beth Israel Deaconess. "If one is to do extensive revascularization, there is an additional advantage for the Impella device compared with the balloon pump. We want to fix as much as we can, and we can do that more safely with the Impella device," Popma added.
The PROTECT II Economic Study revealed that Impella hemodynamic support is meaningfully cost-effective for patients receiving elective high-risk PCI. It has also been included as a class 1 recommendation for cardiogenic shock. The study showed significant reductions in length-of-stay and readmissions for repeat revascularizations in the Impella arm compared to the IABP patients.
Preliminary results show that Impella-supported AMI (acute myocardial infarction) patients experience 0.6 fewer days in the hospital than IABP-supported AMI patients or a 7% relative reduction. Equally important, Impella-supported AMI patients experience 41% fewer readmissions at 30 days compared to both the IABP-supported patients and to the patients receiving no hemodynamic support. These economic measures have significant operational and health policy implications.
Positive Catalysts for the Stock
From a long-term perspective Abiomed is focused on transforming the company to a full-fledged Impella company by achieving its regulatory approvals in the US and Japan and advancing the FDA study on the Impella RP, its new technology. The following catalysts are expected to drive the stock higher over the medium to longer term:
With over 16,000 US patients supported domestically, Impella is now the most widely used ventricular assist heart pump that has been cleared or approved by the FDA.
Abiomed aims at achieving significant patient and revenue growth. It has grown double-digits for 16 straight quarters. In the most recent quarter, patient utilization achieved a new peak. As a percentage of total case mix, prophylactic and emergency circulatory support represented 49% and 40% respectively with 11% in the all other categories of total usage.
The company continues to preserve its discipline to limit quarterly new site openings and maintain low customer inventory levels. Impella is now incorporated into five different guidelines and has government and society approved payments for both hospitals and physicians. The company's focus on clinical publications along with cost-effectiveness data differentiates Impella as a critically needed technology.
In November 2012, the company received Investigational Device Exemption ("IDE") approval from the FDA for the use of the new Impella RP (sight-side percutaneous) in a pivotal clinical study in the US. The Impella RP is a breakthrough percutaneous heart pump that is implanted through a single access site in the patient's leg and deployed across the right side of the heart without requiring a surgical procedure.
Abiomed recently announced that the Impella RP RECOVER RIGHT study has enrolled more than 50% of the required patients and as a result, HDE approval is forecasted for February 2015.
Valuation and Projected Stock Price
Abiomed's revenues increased by more than 100% in the last four years. The company's revenues are primarily generated from its Impella line of products. Revenues from non-Impella products, largely focused on the heart surgery suite, have been lower recently as the company's management strategically shifted its sales and marketing efforts towards Impella products and the cath lab.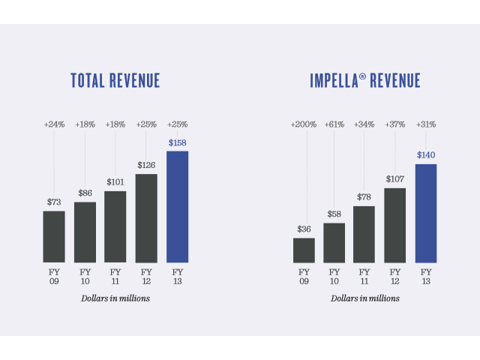 Image Source: Abiomed
Abiomed is a debt-free company with cash and cash equivalents of $10.12 million as of the end of September 2013. The company ended the second quarter of fiscal 2014 with cash, short and long-term marketable securities of nearly $97 million. The company's book value per share is $3.84.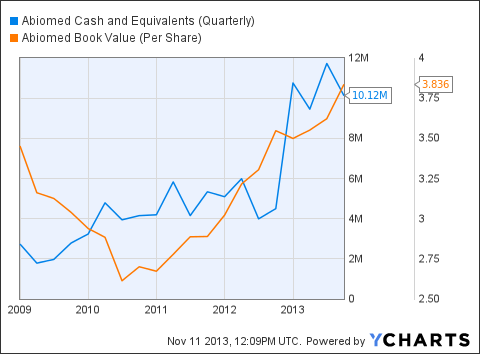 ABMD Cash and Equivalents (Quarterly) data by YCharts
Abiomed's earnings are expected to grow at a CAGR of ~60% for the next three years. The company is trading at a Price to Book of 7x. Among its peers, Thoratec and HeartWare International are trading at 3.6x and 7.7x respectively in terms of P/B ratio. However, given Abiomed's tremendous growth potential, I feel that the company deserves a higher multiple of at least 10x for the next twelve months. Assigning a P/B of 10x on the company's book value per share of $3.84, I get $38.40 as Abiomed's one year target price.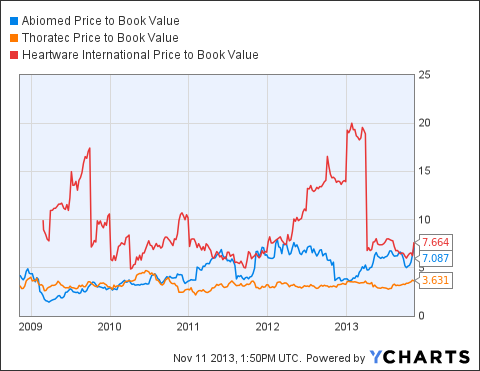 ABMD Price to Book Value data by YCharts
Fiscal
Year End
Consensus
EPS Forecast
High EPS
Forecast
Low EPS
Forecast
Number of
Estimates
Mar 2014
0.16
0.39
0.09
6
Mar 2015
0.43
0.56
0.30
5
Mar 2016
0.66
0.80
0.56
3
Abiomed Yearly Earnings Forecasts
Summary: Reasons to Buy
Impella 2.5 and 5 are seeing growing adoption and the higher flow Impella CP is expected to see strong demand going forward.
The cost-effectiveness of Impella devices compared to IABP is playing a growing role in increased adoption of Impella.
Impella 2.5 has emerged more beneficial than IABP, providing stronger mechanical anti-ischemic therapy while maintaining ease of use.
Impella 5.0 appears to outperform the TandemHeart device for postcardiotomy cardiogenic shock patients.
Impella RP, Abiomed's new breakthrough percutaneous heart pump, received IDE approval from the FDA a year ago for use in a pivotal clinical study in the US.
Abiomed's stock is trading at a P/B of 7x. Given the company's huge growth potential, the valuation appears cheap.
Potential Risks
Thoratec's HeartMate PHP (percutaneous heart pump) is a new venture into the minimally invasive cath lab space and the device could become Impella's potential competitor. The company purchased the technology in 2010 for $8.5 million from Swedish company Getinge AB, the parent company of IABP maker Maquet GmbH.
Another company developing a catheter-based pump is start-up German company Cardiobridge. The company has collected data on its first 30 patients who received the Reitan Catheter Pump ("RCP"). The device, another potential competitor of Impella, uses a 10 French catheter for low insertion profile, but once deployed expands out with folding propeller blades and a protective cage.
Maquet received FDA 510(k) clearance for its new Mega 7.5 French 30 cc and 40 cc intra-aortic balloon catheters in May 2012. The larger volume balloons could be a threat for Impella's growth, as the balloons displace more blood, allowing clinicians to provide patients with greater hemodynamic support, regardless of their height.
The Bottom Line
The comparative merits of Impella over other devices and the hazards of each device ultimately await further randomized and observational data. However, there is no doubt in my mind that Impella is here to stay and Abiomed is a stock every growth investor should own.
Disclosure: I am long ABMD. I wrote this article myself, and it expresses my own opinions. I am not receiving compensation for it (other than from Seeking Alpha). I have no business relationship with any company whose stock is mentioned in this article.