Twitter (NYSE:TWTR) unlike many other stocks did not get a chance to become a bubble inflating over time. Thanks to a lot of Wall Street hype and mass confusion, of what constitutes a stock worth investing in, Twitter was born a bubble out of the IPO.
Not because it rose over 70% on the first day of trading, but because Twitter's valuation is already discounting the company's good performance at least a decade ahead. In other words, investors buying Twitter today have already bought all the good news the company has to offer for many years ahead.
If analysts have it right, this year (2013) Twitter will have revenues of about $638 million (data from yahoo). If analysts are also correct for next year (2014), Twitter will book revenue of $1.15 billion. Now I am not sure how many years ahead the market is discounting Twitter's revenue will double every year, but there are not that many companies (if any) that have such a record.
So if you believe that Twitter's revenue will double every year over the next 3-5 years, then I can probably find some sort of mathematical investment formula that can justify buying the stock at current prices, it not, then I think the stock is ahead of itself.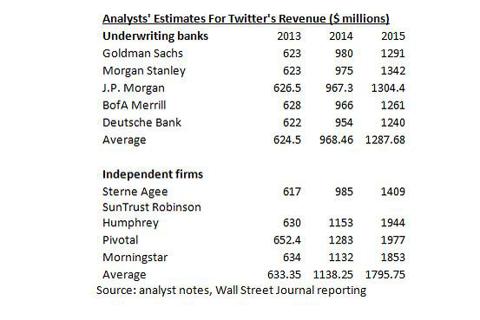 As you can see from the above table, if the major Wall Street firms are right, Twitter for 2015 will do about $1.3 billion in sales. So I doubt if anyone thinks that Twitter's revenue will double every year. And if Twitter's revenue rises only by about 30% after 2015, then I doubt that it can sustain today's valuation.
So how much are shareholders paying for the privilege to own Twitter? Well let's look at some metrics. As far as a multiple currently there is none. Twitter is estimated to lose $0.17 per share this year and $0.02 per share in 2014. Any estimate beyond that is probably not worth much. But even if Twitter manages to make any money in 2015, it will probably not be much. So looking three years ahead, this stock will probably remain very expensive.
Again assuming analysts are correct, please take note that even by Twitter's 2015 revenue estimate, Twitter today is trading at around 20 times revenue. And if we compute today's Price/Sales ratio, it comes out to around 35. Now I don't know about you, but I would feel very nervous owning a stock with these kind of metrics. Call me old fashion or even conservative if you want, but I do not think anyone buying Twitter at today's levels will make any money over the next 2-3 years, unless some kind of a miracle happens and the company's revenue is significantly revised upwards.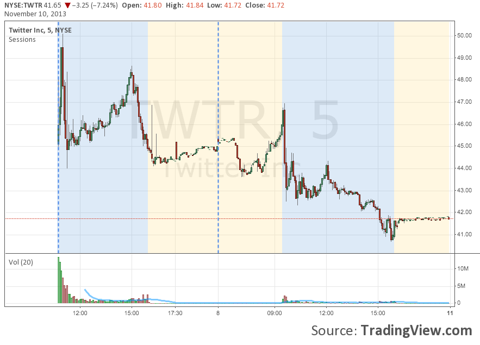 In fact, if we look at the intraday chart of Twitter's first two trading sessions, there already investors who are losing almost 20%, if they were unlucky enough to by at the open at almost $50 a share.
Bottom line
I like Twitter don't get me wrong. I use it every day, but its valuation is simply too rich for me. And don't go comparing it with Facebook (NASDAQ:FB), because Facebook is another bubble stock also.
I don't know when this social media bubble will burst in everyone's faces, but eventually it will. I don't have anything against people trading these stocks, but I do have an objection against long term buy and hold. I might turn out to be wrong, but given the valuation metrics, until something changes, I think that investors who decide to hold Twitter for the long term, will probably lose money.
Disclosure: I have no positions in any stocks mentioned, and no plans to initiate any positions within the next 72 hours. I wrote this article myself, and it expresses my own opinions. I am not receiving compensation for it (other than from Seeking Alpha). I have no business relationship with any company whose stock is mentioned in this article.