On Friday, November 8, it was noted that sharply higher interest rates have a number of mREITs hitting fresh 52-week lows. Of those mREITs hitting new lows, shares of Annaly Capital (NYSE:NLY) fell 3.44% and as a result of Friday's performance, I wanted to take a look at a number of reasons why I'm staying bearish on shares of this particular mREIT.
#1 - Dismal Recent Performance & Trend Behavior
On Friday shares of NLY, which currently possess a market cap of $10.10 billion, a beta of 0.29, a forward P/E ratio of 3.14, a P/E ratio of 7.76 and a current dividend yield of 15.01% ($1.40), settled at a price of $10.66/share. Based on their closing price of $10.60/share, shares of NLY are trading 9.43% below their 20-day simple moving average, 8.41% below their 50-day simple moving average, and 16.58% below their 200-day simple moving average.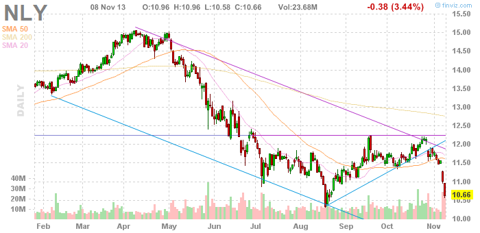 These numbers indicate a short-term, mid-term and long-term down trend for the stock which generally translates into a moderate selling mode for most near-term traders and longer-term investors. In the case of Annaly Capital I think it's imperative to look at the recent performance of the stock as an indicator that the company's current 15% isn't all it's cracked up to be. Why? In the chart above we can clearly see that shares are off about 45% from their mid-May highs, and as a result of that particular drop, the company's 15% yield isn't as attractive as some income-driven investors would like it to be.
#2 - Q3 Results Are Certainly Nothing to Write Home About
On Wednesday, November 6, Annaly Capital reported its Q3 2013 results and the company's EPS of $0.28/share not only missed estimates by $0.06/share, but demonstrated a $0.01/share decline versus Q2 2013 and a $0.02/share decline versus Q3 2012. With that said, there are a number of other concerns I have with the company's Q3 2013 performance. For example, the company's book value per share and interest rate spread fell by considerable amounts on a year-over-year basis. Annaly's book value per share dropped by a margin of $0.33/share ($12.70 Q3 2013 vs. $13.03 Q2 2013) and its interest rate spread demonstrated a decline of 1 basis point on a year-over-year basis (1.01% Q3 2013 vs. 1.02% Q3 2012).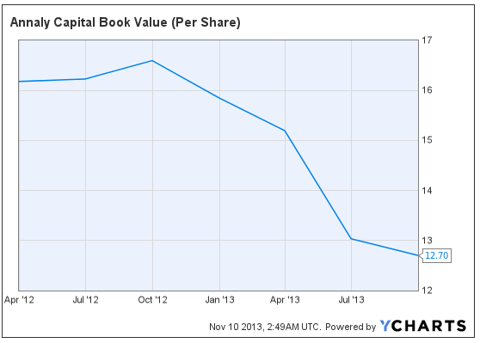 If the Federal Reserve continues to maintain its spending behavior as has been the case throughout QE3, there is a very good chance that both book value per share and interest rate spread may continue to fall on a year-over-year basis and thus the company's profit may continue to suffer.
#3 - A Declining Dividend That May Fall Even Further
Since June 28, 2011, Annaly Capital has decreased its quarterly distribution six times over the last nine payable quarters from a peak payout of $0.65/share to its most recent low of $0.35/share. From an income perspective, the company's forward yield of 15.01% ($1.40) coupled with a payout ratio of 52.00% would normally make this particular stock a very viable income option for long-term investors in search of higher-yielding play in the mortgage REIT sector. However, I strongly believe the company's double-digit yield fails to tell investors how bad both the company's stock and dividend have fallen over the last 24 months and may continue to do so as long as the Fed continues to maintain the spending initiative that was implemented when QE3 was launched in September 2012.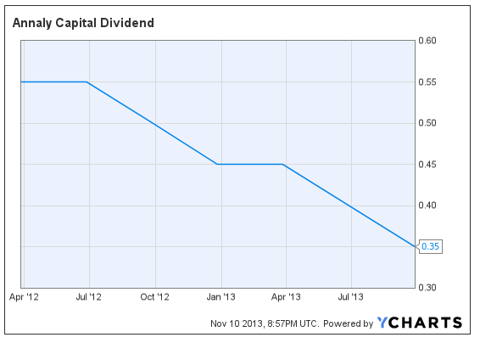 #4 - Risks Factors To Consider
Are there any risk factors associated with an investment in Annaly Capital? According to NLY's most recent 10-K, there are a number of risk factors all investors should consider. These factors include but are not limited to various types of volatile market conditions for mortgages and mortgage-related assets as well as the broader financial markets can result in a significant contraction in liquidity for mortgages and mortgage-related assets, which may adversely affect the value of the assets in which Annaly invests, and any potential limit or wind down of the role Fannie Mae and Freddie Mac will play in the mortgage-backed securities market may adversely affect the company's business, operations and/or financial condition.
Conclusion
When it comes to those who may be looking to establish a position in Annaly Capital, there are a number of things to keep in mind before investors establish an entry point at $10.66/share.
For example, if the company fails to increase its interest-earning assets over the next 12-24 months, shareholders could be in for another bumpy ride and subsequent dividend decreases may occur over the next 1-2 years. Secondly, the near-term behavior of the 10-year Treasury yield could impact the performance of the stock, and as a result I'd be hesitant to establish a position in NLY as long as the 10-year remains at a level of 2.70% or higher. Lastly, all eyes must continue to be kept on the Fed especially if the Fed decides to ease up on its current QE3 spending program and raise interest rates in the process, the effects may not necessarily benefit Annaly as spreads have a very good chance of narrowing rather than widening.
Disclosure: I have no positions in any stocks mentioned, and no plans to initiate any positions within the next 72 hours. I wrote this article myself, and it expresses my own opinions. I am not receiving compensation for it (other than from Seeking Alpha). I have no business relationship with any company whose stock is mentioned in this article.