It has been a very rough year for real estate investment trusts (REITs) across the board. The threat of a taper and a focus on higher growth stocks has beaten this industry down for much of 2013. And with the latest jobs report coming in well above expectations, speculation could build again that a bond taper is coming soon.
In this environment, many REITs have faced trouble, but a few have stood out for their poor performances, and their especially sluggish outlooks. In particular, investors may want to avoid American Campus Communities (NYSE:ACC).
ACC in Focus
American Campus Communities owns and operates a variety of student housing options across the U.S. The company has properties in a number of states and when including total owned and third party managed locations, has a portfolio of 193 properties.
One might think - and rightfully so - that the student housing business is pretty recession proof. However, thanks to a high debt load and rising rates, interest expenses have surged for ACC, calling into question how the company will do if rates continue to move higher.
Recent Earnings, and Earnings Projections
This is best evidenced by the most recent earnings report from ACC, as the company missed once again. In fact, the firm missed by over 9%, marking three straight misses for ACC, and pushing the average surprise over the past four quarters into the negatives.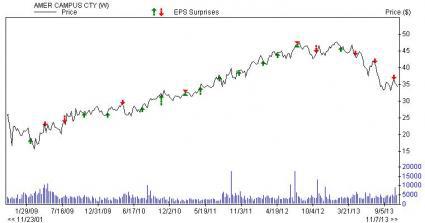 Thanks to this miss and the sluggish environment for REITs with high debt loads, many analysts have pushed down their earnings estimates for the stock, and not a single analyst has actually moved their projections higher for either this quarter, or this full year in the past 60 days.
These revised estimates have also moved the consensus lower too, as the current consensus has moved down for all periods we study, including a move from $2.54/share 90 days ago for the next year figure, down to $2.40/share today. Clearly, analysts are becoming more bearish on this company, and are not very keen on their prospects either in the short or long term.
Thanks to these factors, ACC has earned itself a Zacks Rank #5 (Strong Sell), and it could continue its sluggish run. After all, the stock is down more than 25% this year, and with the current trends in the market, one has to consider avoiding REITs like this one for the time being.
Better Choices
While the broad REIT space isn't exactly looking great, the REIT Residential Zacks Industry has a rank in the bottom third, but there are some solid REIT picks still out there. However, you may have to look into the retail segment instead for more favorable picks.
This industry currently has a rank that puts it in the top 30%, and only two of the 31 companies in the segment have Ranks of 4 or worse. Some of the top choices in this segment include Agree Realty Corp. (NYSE:ADC), General Growth Properties (NYSE:GGP), and Simon Property (NYSE:SPG).
All three of these have a Zacks Rank of 2 (Buy), and this is actually an improvement from a week ago, as all three had Ranks of 3 then. This means that all three are moving in the right direction, and any of the trio could be better picks than the struggling ACC at this time.