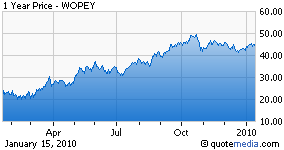 We initiate coverage of Woodside Petroleum Ltd. (OTCPK:WOPEY) with a buy recommendation for long-term growth in Australian liquefied natural gas. We like the strategic appeal of investing in a non-U.S., high-growth natural gas stock for the next decade. At the same time, a McDep Ratio near 1.0 and high unlevered cash flow multiple (EV/Ebitda) of 12.5 times imply that the company's immediate prospects are recognized by investors.
As a result, there may be no urgency in building a position in Woodside stock, yet it looks like a timely long-term idea. An investment in WOPEY could rebuild the natural gas exposure that the McDep Energy Portfolio automatically loses as XTO Energy (XTO) becomes part of ExxonMobil (NYSE:XOM). Moreover, Australian LNG is sold into a global market that offers more flexibility for opportunistic transactions than North American natural gas sold into a pipeline constrained market. On perhaps a third the scale, Australian LNG in 2010 offers profit and growth potential analogous to oil sands in Canada in 2003. It is also subject to the risks of completing large scale projects and to unexpected government action.
Pluto, Sunrise and Browse among Industry Projects
Cash flow should jump in 2011 with the completion of the A$13 billion Pluto I facility. Further expansions at Pluto and new projects Sunrise and Browse may boost equity capacity 7-fold to about 5% of expected world capacity by 2020 (see slides below, Woodside LNG and Long-Term Demand). Owned 34% by Royal Dutch Shell (NYSE:RDS.A), Woodside is expanding in the same area where Chevron (NYSE:CVX) is pursuing its $40 billion Gorgon project. Woodside stock may offer the most concentration of LNG production capacity among large companies (see slide below, LNG Equity to Market Cap).
NPV of US$44 a Share Concentrated 78% on Natural Gas
Considering that LNG projects have long life and recognizing that Pluto and new projects do not yet contribute to cash flow, we estimate that Net Present Value (NPV) of $44 a share is concentrated 78% on natural gas. Helping to balance the heavy capital requirements of LNG, Woodside generates more of its current cash flow from oil production. Long-term oil price influences LNG pricing as does short-term natural gas price. An uptrend may be confirmed early next year for natural gas price compared to the 40-week average of six-year futures at $6.71 a million btu. The latest settlement is $6.64. Finally, we place WOPEY in our renamed Australia/Brazil/China/Russia group in the McDep Energy Portfolio.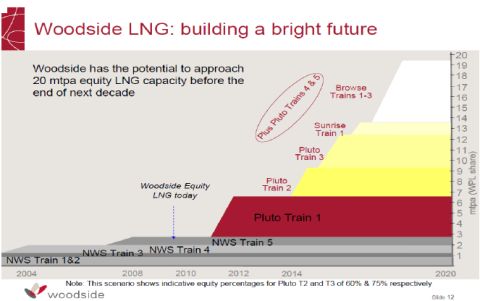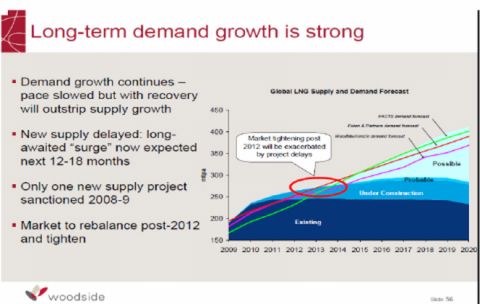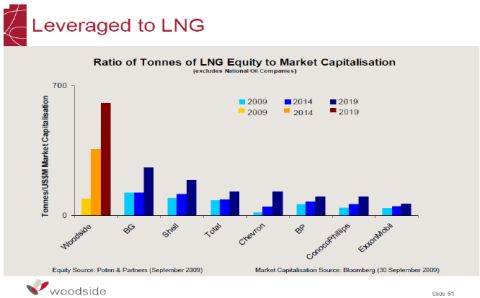 Originally published on December 29, 2009.