Orion Energy Systems OESX NYSE/MKT in great position to take advantage of the $100 billion LED opportunity
Orion Energy Systems announce stellar Fiscal Second Quarter 2014 results.
Orion Energy Systems
Orion Energy Systems, Inc. (NYSEMKT:OESX) is a leading power technology enterprise that designs, manufactures, and deploys energy management systems consisting primarily of high performance, energy efficient high intensity fluorescent (HIF) and light emitting diode (LED) lighting platforms, intelligent wireless control systems, and direct renewable solar technology for commercial and industrial customers without compromising their quantity or quality of light. Since December 2001, Orions' customers benefited from Orion's technology reducing customers':
Energy demand by 847,602 kilowatts, or 29.4 billion kilowatt hours
Energy costs by $2.3 billion
Indirect carbon dioxide emission by 19.0 million tons
The Focused Stock Trader first recommended Orion Energy Systems to readers in July when Orion' stock price was $3.17 and again in September. Since the initial recommendation Orion's stock price increased by 70%. At the close on November 8th, 2013, Orion Energy Systems has a market capitalization of $114 million. At the end of FQ2 2014, Orion had cash of $17.5 million, short term investments of $1 million, total debt of $8.4 million for a total net cash position of $10.2 million. In addition Orion has an unused credit line of $15 million. Orion's net cash position provides us at The Focused Stock Trader assurance that Orion does not have to do a new financing in the near future.
What is Orion Energy Systems' Value Proposition?
Orion Energy Systems offers HIF and LED lighting platforms as well as solar technology for commercial and industrial customers. HIF accounts for approximately 62% of revenues. Solar accounts for 33% of revenues. LED, the fastest growing segment, accounts for 5% of revenues up from 1.5% of revenues in the first half of FY2013. Orion's LED revenue grew by 364% over the past year.
Orion Energy Systems products offer significant cost savings to their customers. As illustrated above, since December 2001, Orion saved customer $2.3 billion in energy costs and reduced carbon dioxide emission by 19 million tons.
Orion offers lighting solutions to the industrial and commercial segments. In the Industrial segment, the traditional lighting source is High Intensity Discharge (HID). An industrial customer switching from HID to Orion's fluorescent lights saves 70% on energy. An industrial customer switching from HID to Orion's fluorescent lights with smart controls saves 84%. If an industrial customer switches from HID to LED savings are even greater. Compared to HID, Orion's LED with smart controls offers industrial customers over 90% operating cost savings. The significant cost savings from using Orion's products leads to a payback in just two to three years. According to the EIA, the industrial sector spends approximately 24% of sales on energy costs. In the commercial sector, whose energy costs are primarily electricity, energy costs account for 8.3% of sales. These high level of energy costs provide Orion's customers a significant opportunity for cost savings. In addition to significant cost savings, Orion's products are high quality with Orion's products providing an increase in light quality by 50%.
The strength of Orion Energy Systems' value proposition is confirmed by the quality of their customer base. Orion provides energy management solutions to some of the largest companies in the world, including Coca Cola (NYSE:KO) (391 facilities), PepsiCo (NYSE:PEP) (169 facilities), General Electric (NYSE:GE) (44 facilities), Sysco (NYSE:SYY) (116 facilities), Toyota (NYSE:TM) (9 facilities), Anheuser Busch (NYSE:BUD) (104 facilities), Kraft Foods (KRFT) (97 facilities), Office Max (NYSE:OMX) (20 facilities) among many others. Orion has won many awards, including Coca Cola Supplier of the Year and Sysco Facility Supplier of the Year (2x), providing additional evidence of not only the strength of Orion's products but the strength of their customer service as well.
What is Orion Energy Systems' Market Opportunity?
Currently, LED lights alone occupy 18% of the $66 billion global lighting market. Lighting industry estimates show the LED lighting industry growing some 34% annually, reaching over $100 billion by 2020. A report on the lighting industry from McKinsey states over 70% of lighting worldwide will be LED-based by 2020. Given the Orion Energy Systems products' potential for cost savings and Orion's strong customer relationships, Orion is well positioned to grow with the LED market growth, if not faster.
Why Buy Orion Energy Systems Now?
There are a number of reasons to buy Orion Energy Systems now. First, Orion shuffled its management team at the end of 2012. The board of directors appointed John H. Scribante, the former President of Orion's Engineered Systems, as the new Chief Executive Officer. At the time, management refocused the sales effort and initiated a significant cost cutting program. During the second half of FY2013, Orion Energy Systems identified and cut $5.2 million of operating expenses. This focus on costs allows Orion to be profitable even at extremely low levels of utilization. Management estimates current utilization levels are below 20% and their current infrastructure could support sales of $250 million or just under a 300% increase over FY2013 sales. This means as Orion takes advantage of the opportunity in front of them any additional dollar of top line growth after accounting for cost of goods sold leads to operating profit without any additional investment leading to wider margins, better returns on capital and a larger stock market multiple.
Second, on July 1, 2013, Orion Energy Systems completed the acquisition of Harris Manufacturing and Harris LED for $10 million. Combined Harris Manufacturing and Harris LED had 2012 revenues of $14.5 million and net income of $0.9 million. Harris Manufacturing and Harris LED engineer, design, source and manufacture energy-efficient lighting systems, including fluorescent and LED lighting solutions, and day-lighting products. After a few months, management is realizing this acquisition is much more complimentary to Orion's business than initial estimates. Harris is very strong in the commercial segment, which includes Government entities, Healthcare customers and office complex customers complimenting Orion's strength in Industrial. Harris has a focused sales team and Harris's products are well regarded and further enhanced by Orion's engineering and design.
The Harris acquisition strengthens Orion's LED product line. The acquisition also signals Orion's strategic push into LED. LED revenues were only 1.5% of revenues in the first half of FY2013. LED revenues increased to above 5% of revenues in the first half of FY2014. LED revenues grew by 364% in the last 12 months. With the continued growth in the LED market and Orion's strong position LED revenues should grow to over 25% of Orion's revenues in the next 3 years and well over 50% of Orion's revenues in the next 10 years.
Third and finally, Orion Energy Systems just reported extremely strong FQ2 2014 numbers. Orion sales grew 42% year on year and 32% sequentially. Product revenue grew by 25% year on year. More importantly service revenue increased by 155% year on year. Service revenues are a byproduct of direct sales. This increase in service revenues illustrates the execution of the Orion's renewed focus on direct sales. LED as a percentage of total revenues grew from 1.5% of revenues in FH1 2013 to over 5% in FH1 2014 representing growth of 364%, LED is becoming a much larger and meaningful portion of sales illustrating the strength of Orion's LED product line.
Also, Orion returned to profitability in FQ2 2014 generating $0.2 million of income from operations compared to a loss of $4.1 million in the same quarter last year. This profitability illustrates the execution in cost cutting by Orion with operating expenses decreasing by 23% year on year.
This quarterly report illustrates strong execution on Orion's sale effort, cost cutting effort and strength in the LED segment.
What is Orion Energy Systems worth?
Orion has a tremendous market opportunity in front of them. According to McKinsey, the LED Lighting Market will grow by over 30% annually and be worth over $100 billion in 2020.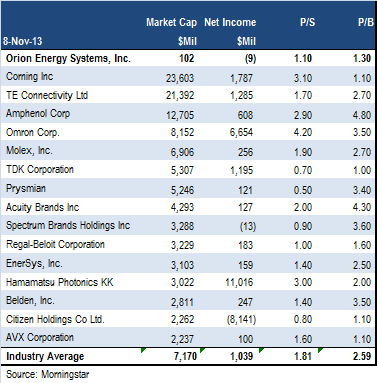 The comparables table above illustrates Orion's competitors and their valuation metrics. The Focused Stock Trader uses Price to Sales. Price to Sales are best for companies with negative earnings which are turning positive and growing significantly. These valuation metrics are less subject to cycles so they provide a less volatile target price. Orion's peer group have an average value of 1.81x Price to Sales, while, Orion's current Price to Sales is only 1.1x. If Orion's Price to Sales converged with its competitors over the next year, Orion's share price would reach $10.80.
The Focused Stock Trader also values Orion Energy Systems using a Discounted Cash Flow valuation (DCF). Assuming a weighted average cost of capital (WACC) of 14%, which is extremely conservative given the highest quality companies will have a WACC of 7%, sales growth in-line with the LED Lighting Market growth of 34% over the next 5 years and fading to 5% in 10 years for conservativeness, and a long term operating margin of 15%. Orion's target price is $12.20.
The Focused Stock Trader averages these two target prices to get a target price for Orion of $11.50.
Technical Analysis by Harry Boxer (TheTechTrader.com)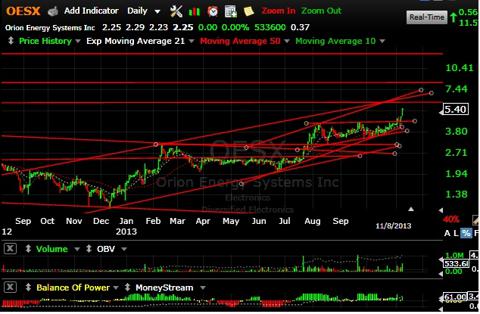 Orions' chart displays a very bullish trend. Just a year ago, the stock was completing a 5 year downtrend by double bottoming near the 1.12-1.15 level. It then reversed its trend higher, breaking out with a price volume thrust in January of this year, moving up over $3 by March . That was followed by a 4½ month bullish consolidation setting it up for a 3rd leg up beginning in June which saw it surge to 4.30. The current wave up has seen it run to a $5.40 close last Friday, but much more seems apparent. Our projected targets are $6.50-6.75 short term, $8-8.25 intermediate and $10 + on a multi week/month basis, although a price in the low teens wouldn't surprise us.
Conclusion
Orion Energy Systems is in a great position to take advantage of a $100 billion LED Lightning Market. Orion's products have a very exciting value proposition and Orion has a strong management team in place to execute. Orion's recent acquisition of Harris strengthens their LED product line. Orion's sales force is expanding to take advantage of the LED opportunity in front of them and LED revenues continue to grow in importance. Orion also has a cost structure which is profitable at 20% capacity utilization which will drive significant margin expansion and allow them to take advantage of LED opportunities.
Disclosure: I am long OESX. I wrote this article myself, and it expresses my own opinions. I am not receiving compensation for it. I have no business relationship with any company whose stock is mentioned in this article.
Additional disclosure: I was assisted writing this article by Mars Melendez. Harris Shapiro, the Editor of The Focused Stock Trader is managing director of Brite Idea's LLC. that is a Sales Rep of Orion Energy Systems.