On November 1, 2013, the detailed results of Acadia Pharmaceuticals' (NASDAQ:ACAD) Phase 3 "-020" trial of pimavanserin for Parkinson's disease psychosis (PDP) was published in the Lancet. This disclosure comes at the end of a long year of share price appreciation, starting with the November 2012 disclosure of the top-line results of the -020 trial, followed by the April 2013 disclosure that the FDA had agreed that the results of this single trial would suffice to form the basis of a New Drug Application (NDA), and continuing with a gradual share run-up peaking at $28.77 per share in October. In this article, we'll examine the detailed results of the -020 trial as published in the Lancet, to assess the drug's potential for high market penetration in PDP. We'll also examine data bearing on pimavanserin's potential in Alzheimer's disease psychosis (ADP), to assess the justification for the company's current $1.94 billion dollar market capitalization.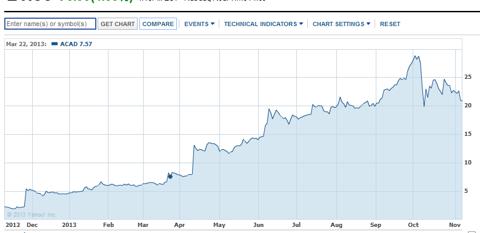 Therapeutic Rationale for Pimavanserin, the First Non-Dopaminergic Anti-Psychotic
Parkinson's disease is a neurodegenerative disorder in which a loss of dopaminergic neurons in the mid-brain causes difficulties in initiating and controlling movement. Approximately 1 million people in the United States are affected. Up to half of these will experience psychotic episodes including hallucinations and delusions. These episodes have historically been treated with second generation "atypical" antipsychotics. This approach is unsatisfactory, however, because traditional antipsychotic drugs block dopamine receptors and thus can worsen Parkinson's symptoms. This is somewhat less of a problem with clozapine, but this drug has important hematological toxicities that limit its use, and the package insert includes a black box warning of increased mortality in elderly patients.
While all currently approved antipsychotic drugs target dopamine receptors, Acadia's pimavanserin was designed based on the hypothesis that an inverse agonist of the serotonin 5-HT2a receptor would have useful antipsychotic effects as well. The rationale for such an approach is particularly strong in PDP, given the undesirability of dopamine blockade in Parkinson's and the observed association of increased 5-HT2a receptors in the visual processing areas of Parkinson's patients with visual hallucinations. Similarly, in Alzheimer's disease psychosis hallucinations have been linked to polymorphisms in the 5-HT2a receptor. The latter market is considerably larger than that for PDP, we estimate about five-times the size, with approximately 41% of the 5.2 million Americans with AD experiencing psychotic episodes.
Clinical History
Pimavanserin was examined in several clinical trials in PDP and schizophrenia prior to the -020 trial. In 2006, Acadia announced the results of a Phase 2 trial of pimavanserin in PDP. This trial enrolled 60 patients randomized to treatment with pimavanserin or placebo for 28 days. The trial demonstrated no negative effect of pimavanserin on motor function per the Parts II and III of the Unified Parkinson's Disease Rating Scale (UPDRS), and a statistically significant improvement in hallucinations and delusions in Part I of the UPDRS. Evidence for anti-psychotic efficacy was also provided by a trend (p = 0.09) toward improvement in the Scale for Assessment of Positive Symptoms (SAPS). A second Phase 2 trial performed around the same time, provided evidence that adjunctive pimavanserin augmented the anti-psychotic activity of low-dose risperidone, providing efficacy similar to a higher dose of risperidone with less weight gain.
Two Phase III trials of Pimavanserin in PDP were completed as part of a partnership with Biovail in 2009-10. In the first of these trials "-012", 298 patients with PDP were randomized to 6 weeks treatment with 10 mg pimavanserin, 40 mg pimavanserin, or placebo. This trial missed its primary endpoint of mean change in SAPS from Day 1 to Day 42. In this trial, pimavanserin performed similarly to its results in the Phase 2 trial, providing a -6.7 point change in SAPS in the 40 mg dose group and a -5.8 point change in the 10 mg group. The placebo group, however, responded much more strongly than in Phase 2, with a -5.9 point change in SAPS that was not significantly different from the treatment groups. Pimavanserin was safe and well tolerated, with the frequency of adverse events similar in the treatment and placebo arms. A similarly designed trial, "-014", compared a 20 mg dose of pimavanserin to placebo and also failed to demonstrate statistical significance against the SAPS primary endpoint.
Change From Baseline in SAPS Score For Previous trials of Pimavanserin in PDP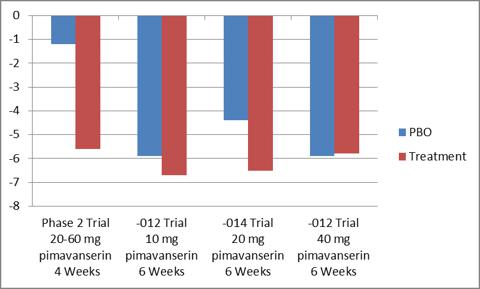 The problem of exaggerated placebo response in anti-psychotic trials is well known and has become a major problem in recent years. The graph below shows the increasing rate of placebo response in anti-psychotic trials over the last 20 years. Using the PANSS (Positive and Negative Symptom Scale) widely used as the primary endpoint in schizophrenia clinical trials,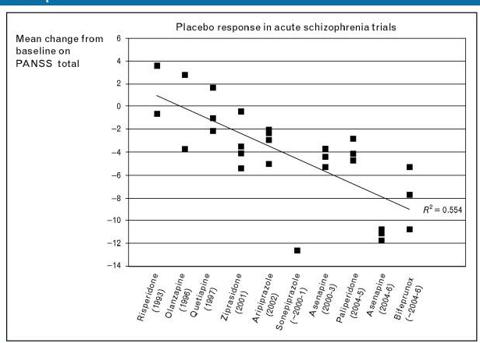 Design of the -020 Trial of Pimavanserin in PDP
In an innovative and ultimately highly effective effort to reduce the size of the placebo effect in the -020 trial, Acadia employed a design in which all trial subjects underwent 2 weeks of psychosocial counseling after randomization. These counseling sessions were designed to help elicit any placebo response prior to beginning therapy. Compared to the earlier trials, the -020 trial also enrolled patients with more advanced disease, and only patients in the U.S. where standard of care was more consistent. The trial randomized 199 patients to placebo or 40 mg of pimavanserin once daily. The primary endpoint of the trial was antipsychotic effect at Week 6 on a modified version (SAPS-PD) of the SAPS scale that was focuses on symptom characteristic of PDP. The nine-item scale included seven items assessing individual symptoms, a global hallucinations score, and a global delusions score. A limited number of raters evaluated the patients by videoconference, thus reducing statistical noise arising from inter-rater variability. Secondary outcomes included the change by Week 6 in clinical global impression severity (CGI-S) and clinical global impression improvement (CGI-I) scales, completed by the investigator who was blinded to the SAPS-PD scores. The effect on Parkinson movement-related symptoms were evaluated using the UPDRS II and III
Efficacy Outcomes
Efficacy outcomes are shown below, statistically significant effects were seen on the primary endpoint of SAPS-PD (p=0.0014), SAPS-H (hallucinations subscale, p = 0.0032), SAPS-D (delusions subscale, p = 0.0325), CGI-I (p = 0.0011), and CGI-S (p = 0.0007). Effect sizes (difference from placebo divided by the standard deviation of the baseline scores) were 0.45 to 0.5 for all of the preceding efficacy endpoints except for SAPS-D, which gave an effect size of 0.33. This is somewhat smaller than the antipsychotic effects seen with clozapine, but the clozapine trials were done in more patients with more advanced disease.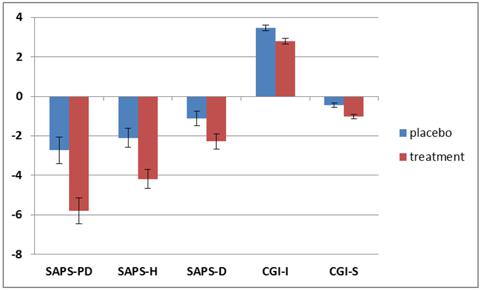 Safety
Pimavanserin was well-tolerated, as expected based on the results of the previous trials. Ten patients in the pimavanserin arm discontinued due to adverse events (four due to psychotic symptoms experienced during the first 10 days of active treatment), as did two in the placebo group. Small and statistically non-significant effects were seen on movement in the UPDRS II and III scores.
OK, That's Great! But Will it Work in Alzheimer's Patients?
All happy families are pretty much the same, but every unhappy family is unhappy in its own way. So an important question is whether the positive results obtained for pimavanserin in PDP have any relevance to ADP. Alzheimer's disease fundamentally differs from PD in that the loss of function arises from synaptic loss in the cerebral cortex rather than from loss of dopaminergic neurons in the mid-brain.
However, we believe that several pieces of evidence point to a successful outcome in the upcoming ADP Phase 2 trial. In the present trial, there was no difference in clinical benefit observed in patients with cognitive impairment (mini-mental exam scores as low as 21). A serotonergic dysregulation has been described in the ADP literature, suggesting a conserved mechanism of psychosis across PDP and ADP. A role for the 5-HT2a receptor in AD is supported by the association of 5-HT2c polymorphisms with psychotic symptom severity and response to atypical antipsychotic drugs (Angelucci 2009).The activity of pimavanserin seen in the Phase 2 trial is suggestive of broad role for 5-HT2a antagonism in the treatment of psychotic symptoms. Pimavanserin has shown activity in animal models of ADP, specifically muscarinic receptor knockout mice and those treated intra-cerebrally with AB peptide (Price 2012).
Valuation
…Parkinson's Disease Psychosis…
PDP is a high unmet medical need and a debilitating effect on patients with Parkinson's disease. There truly are no effective medications for patients with PDP. Clinical management of PDP starts with primary prevention; but PDP progresses rapidly as the Parkinson patient deteriorates, and often ends with the undesirable use of atypical antipsychotics.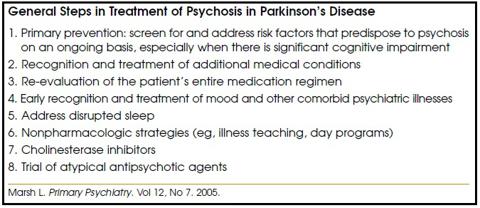 Prescription tracking data shows that half of Parkinson's disease patients are taking antipsychotic agents to control PDP, which may lead to worsening Parkinson's symptoms. We see pimavanserin as serving a fairly high unmet need. We know of no other drug under late-stage development for PDP, and believe that pimavanserin should have meaningful market exclusivity upon launch. As such, we think that Acadia could capture up to a third of the market. At a price similar to antipsychotics, pimavanserin offers a $900 million U.S. opportunity.
$900 Million = 1 Million PD patients x 50% with Psychosis x 30% Penetration x $6,000 per year.
…Alzheimer's Disease Psychosis…
The phase 2 ADP program, dubbed -019, is expected to start imminently. There are an estimated 1 million Parkinson's patients in the U.S. There are an estimated 5.2 million Alzheimer's patients. Data shows the rate of psychosis per patient population, and thus the target opportunity for pimavanserin, is similar. Therefore, we see the ADP market as five-times that of PDP. Therefore, given the massive run in Acadia shares over the past year based on the PDP results, there is still significant upside left today.
Specifically, once approved in PDP, we expect significant off-label use in ADP. Physicians that treat both Parkinson's and Alzheimer's patients are already using antipsychotic agents like quetiapine off-label, so we see little impediment to the use of ADP off-label assuming Acadia can generate the same type of data in the planned phase 2 ADP program that just so recently impressed analysts, investors, and the U.S. FDA.
We value the company assuming an 85% probability of approval in the PDP indication, with peak sales of $900 million in 2019; for the ADP indication we assume a 65% likelihood of approval with peak sales of $4.5 billion in 2023. We apply a P/S multiple of 4x to the PDP indication, and a lower P/S ratio of 3x to the ADP indication, in view of the aging of the patents. Discounting back at 20% we obtain a valuation of $2.50 billion, or $27 per share.
This article was co-authored by Edny Inui, PhD., and John Tucker, PhD.
Disclosure: I have no positions in any stocks mentioned, and no plans to initiate any positions within the next 72 hours. I wrote this article myself, and it expresses my own opinions. I am not receiving compensation for it (other than from Seeking Alpha). I have no business relationship with any company whose stock is mentioned in this article.