I have said many times, there's only one Bakken. It is the most important oil discovery in the past 50 years. It's massive, one of the largest pure oil resource plays in the world, and we have de-risked 3,800 square miles for multiple benches. It's onshore American, it's 85% oil, and it has one of the most consistent, high quality crudes anywhere in the world. And it's just getting started. Bakken will soon surpass 1 million Boe per day of production, and I expect that to double again within ten years.

- Harold G. Hamm, Chairman and CEO of Continental Resources, the company's Q3 2013 Earnings Call
It is truly remarkable how quickly the concept of high-density development in the Bakken - on tight spacing, in multiple stacked horizons, and using new-generation super-intensive fracs - has gone from a futuristic theory to actual reality.
It has been just one year since Continental Resources (NYSE:CLR) made public its discovery of the lower benches in the Three Forks interval and suggested that the Bakken System may be producible from as many as five independent reservoirs stacked on top of each other.
It has been just one year since Continental Resources launched its daring downspacing pilot with horizontal wellbores spaced at previously unthinkable density for the Bakken: eight per 1,280-acre unit, in each of several horizons.
It has been just one year since a new generation of stimulation techniques found its way from the Eagle Ford into the Bakken and inspired a renaissance (using EOG's term) in radical experimentation in the area of stimulation design.
With close to two hundred rigs continuously running in the play, a lot of progress can be accomplished in a short period of time. Last week, Continental announced that, based on positive initial results from its pilots, the company is accelerating its transition towards full development and is launching what is going to be the first in the Bakken full-development project.
Continental Goes "Ears Back" In Antelope
Continental provided a preview of what full development in the Bakken may look like in the not so distant future. The company plans to drill ~350 wells on its ~32,000 net acres in the highly productive Antelope area in the next 4-5 years (approximately 14 wells per spacing unit, on average). All the drilling will be on large multiple-well pads with up to 30 wells on a pad. Drilling will target four stacked intervals: the Middle Bakken and the top three benches of the Three Forks. The company's plan calls for 51 of those wells to be drilled already in 2014, including two mega-pads with 14 wells on each.
Continental is capitalizing on the success of its Hawkinson density drilling pilot in the area (the slide below) and will be using it as a prototype. On the 1,280-acre Hawkinson unit, Continental has drilled a total of 14 wells in four producing horizons. Maximum IPs from the 14 wells added up to an impressive 14,850 Boe/d. Importantly, the 7 lower-bench Three Forks wells had an average IP of 1,070 Boe/d, confirming strong commercial potential of the lower benches. Also importantly, TF2 and TF3 well performance was "remarkably similar."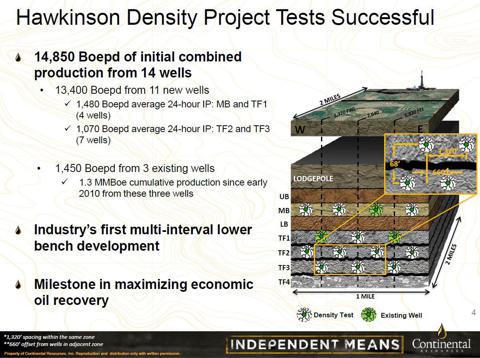 (Source: Continental Resources' November 2013 Investor Presentation)
Continental's choice of the Antelope area (slide below) for its first full-scale development project is driven by several factors. The Antelope, which is located between the Parshall-Sanish area on the east and the Nesson Anticline on the west, is one of the most productive and well proven areas in the Bakken. The Three Forks formation that underlies the acreage is characterized by significant thickness. Continental already has extensive success in the Antelope with 40 gross producing wells (Continental's Angus well is one of the strongest TF2 tests in the play to date, with EUR estimated at 900 MBoe).
Continental has material and largely contiguous acreage position in the Antelope area which is an important factor given the new infrastructure requirements. Continental has also accumulated extensive petro-physical insight in the area's geology via core data, deeper Three Forks tests, and the results from its density pilot. All these components have given the company's technical team high confidence that the entire stack has strong productive potential on the Antelope prospect and dense "array fracking" with multiple wellbores would likely provide an uplift to average well productivity and maximize recovery from the spacing unit.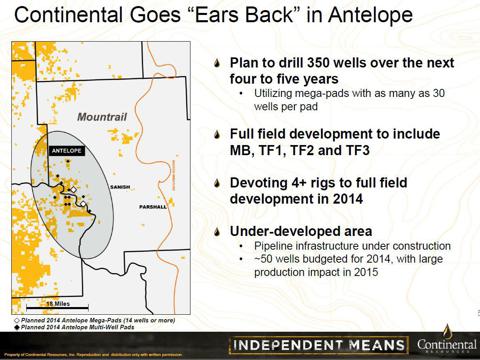 (Source: Continental Resources' November 2013 Investor Presentation)
Continental has developed what it refers to as the "Ears Back" plan for the area (the name associates with a horse running "ears back," i.e. going all out). Continental intends to run 4 operating rigs in the Antelope already next year. Based on its current plan, Continental expects the project to add ~50,000 Boe/d of production by 2017 when the development will be close to complete. Peak production may end up even higher if the development is accelerated or higher well densities are implemented (current plan is for 1,320-foot offsets between wellbores in the same horizon). The production ramp will be significant starting in 2015.
In order to accommodate such a tremendous production volume coming from a very compact area, Continental and its midstream partners have been working hard to build out sufficient infrastructure which will ultimately include high-capacity oil, water, and gas lines. Continental commented that topographically this area happens to be very challenging to work in. Still, significant progress has already been made and the company expects all necessary infrastructure for the 2014 activity to be in place by the time the development begins.
To better manage its well-in-progress inventory, Continental plans to segregate mega-pads into sub-areas that will be batch-drilled and batch-completed using SIMOP operations. As a result, 7-8 wells would be brought on production at a time, sequentially. The approach should help to reduce "inventorying of capital" and smooth out production spikes.
Potential For Cost Efficiencies
The mega-pad "manufacturing" mode should provide Continental with an ability to drive down costs and enhance drilling returns. Continental has already achieved significant cost reductions in the Bakken and is currently completing wells for ~$8 million, a substantial improvement from the $9.2 million in 2012. Lower well costs have already provided a ~10%-12% estimated uplift to drilling returns (slide below).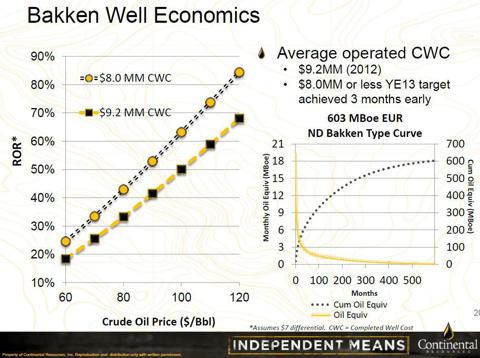 (Source: Continental Resources' November 2013 Investor Presentation)
Completion Design Will Evolve
Many operators in the Bakken have been experimenting aggressively with completion techniques.
EOG Resources (NYSE:EOG) has been at the forefront of completions innovation in the Bakken, having transferred to the play some of its successful approaches initially developed in the Eagle Ford.
Whiting Petroleum (NYSE:WLL) during its third quarter conference call two weeks ago provided details of the significant completion modifications that it is implementing, including cemented liners, increased number of frac stages, and much greater amounts of proppant used to maximize fracturing of the rock around the wellbore (the slide below).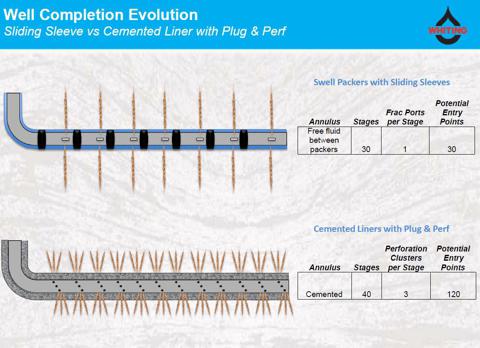 (Source: Whiting Petroleum's November 2013 Investor Presentation)
Halcon Resources (NYSE:HK) has been actively testing slickwater completions and reported strong improvements in well performance.
CLR has been relatively conservative in the area of completions. The company has a well established completion design that it has optimized over the years and believes to be highly successful. The company typically uses swell packer, 30-stage type completions. Completion standardization has helped Continental to achieve significant efficiencies and cost savings. However, similar to many peer operators in the play, Continental is now giving greater attention to experimenting with its completions. In its 2014 drilling program, the company plans to carve out about 20% of its planned well count to try some different approaches to completions that will range from more slick water jobs to cemented liners to very significant increases in the size of the frac job.
Over the last year, Continental has already tested slickwater completions (with "variable results thus far") and has used cemented liners in some of its wells that are now being monitored to establish differences in productivity versus the company's traditional approach. Modifications to the completion techniques are obviously prone with additional costs that need to be taken in to consideration. Cementing liner, for example, may add $200,000 to $300,000 incremental costs per well, while some of the slick water jobs may be adding $1-$1.5 million per well, according to Continental.
Search for the optimal completion technique in the Bakken is a collective effort, with inevitable dissemination and adoption of best practices, via various channels. Continental commented that it has the ability to monitor industry developments in completions area via its participation in about 400 gross non-operated wells per year and "get a chance to see what others are doing":
We really benefit from that. We can see not only what the actual results are, but also what the actual cost is, as well.
Disclaimer: Opinions expressed herein by the author are not an investment recommendation and are not meant to be relied upon in investment decisions. The author is not acting in an investment advisor capacity. This is not an investment research report. The author's opinions expressed herein address only select aspects of potential investment in securities of the companies mentioned and cannot be a substitute for comprehensive investment analysis. Any analysis presented herein is illustrative in nature, limited in scope, based on an incomplete set of information, and has limitations to its accuracy. The author recommends that potential and existing investors conduct thorough investment research of their own, including detailed review of the companies' SEC filings, and consult a qualified investment advisor. The information upon which this material is based was obtained from sources believed to be reliable, but has not been independently verified. Therefore, the author cannot guarantee its accuracy. Any opinions or estimates constitute the author's best judgment as of the date of publication, and are subject to change without notice.
Disclosure: I have no positions in any stocks mentioned, and no plans to initiate any positions within the next 72 hours. I wrote this article myself, and it expresses my own opinions. I am not receiving compensation for it (other than from Seeking Alpha). I have no business relationship with any company whose stock is mentioned in this article.