Here is the list of covered call opportunities from my screener for February 2010 expiration. With earnings season upon us, I eliminated all calls with earnings announcements before February 19 - the last trading day. I still have listed 30 stocks and 9 ETFs with call options meeting my criteria.

Topping the list is PAAS (NASDAQ:PAAS) which is a great silver play, Foster Wheeler (FWLT) and Petrohawk (NYSE:HK) are good plays on energy while Garmin (NASDAQ:GRMN) and ERTs are plays on electronics.

Personally, I like CSX (NYSE:CSX), Southwestern Energy (NYSE:SWN) and Petrobras (NYSE:PZE) these are more conservative plays in this market.

The metals are heavily concentrated in the ETFs as the GDX gold miners (NYSEARCA:GDX), XME (NYSEARCA:XME) and SLV (NYSEARCA:SLV) at the bottom of the chart.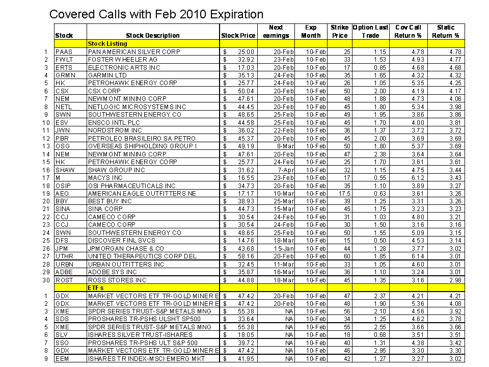 Author's Disclosure: Long with covered calls - PBR, CSX, SWN, PAAS & FWLT