The last 5 years have been a complete disaster for anyone invested in dry bulk shipping.
While we have watched the market rebound to all-time highs, shipping stocks have languished in Davie Jones locker.
The volatile Baltic Dry Index (BDIY) made a low of 652 on February 2, 2012, seven months later, on September 11th that low was retested, holding at 662. Day rates for all classes of ships remained at multi decade lows for the remainder of 2012 and into the first half of 2013. The index currently sits at 1581 as of November 8th, 2013, up over 243 percent.
In 2012 shipping stocks followed, hitting multi-year lows. Rates plunged to a 25-year low, with "Capes" earning a mere $3600 a day. DryShips Inc. (NASDAQ:DRYS) stock fell to an all-time low of $1.46 a share, from a high of $132 a share in 2007. On July 24th, 2012, Diana Shipping Inc. (NYSE:DSX) fell to a new all-time low of $5.89 from a high of $42 in 2007.
In the spring and summer of 2013, dry bulk stocks retested multi-year lows, DryShips sunk to $1.65, while Genco Shipping & Trading Ltd. (NYSE:GNK) touched $1.12 on bankruptcy fears. Most shipping stocks reversed and have since more than doubled, DryShips rallied to $4.00 a share, Genco Shipping and Trading rallied to $4.98, and Dianna Shipping hit $13.24 in September.
DryShips is growing revenue at an astounding rate with their 59.4 percent wholly owned subsidiary Ocean Rig UDW (NASDAQ:ORIG), an international offshore drilling contractor providing oilfield services for offshore oil and gas exploration, development and production drilling. Ocean Rig UDW owns and operates 10 offshore ultra-deep water drilling units, comprising of 2 ultra-deep water semi-submersible drilling rigs and 8 ultra-deep water drill ships, two that will be delivered in January and February of 2014, and one slated for 2015 delivery.
Ocean Rig Mylos recently deployed on November 4th under a 3-year $667 million contract, giving the company a nearly $6 billion backlog. I believe Ocean Rig UDW is the main reason to be invested in DryShips.
Quarterly revenues blew out analysts estimates coming in at $404 million for the quarter, with a mere $76 million coming from voyage revenues. Shipping fundamentals appear to be improving, the company reported Brazilian and Australian iron ore exports up 15.8 percent from the same period a year ago, while Chinese iron ore imports increased 16.9 percent and coal imports up 21.4 percent respectively.
On the conference call, the CEO George Economou stated that Ocean Rig UDW will be forming an MLP and distributing a cash dividend of $25 million per quarter starting in the second quarter of 2014. Ocean Rig UDW saw the price of its stock pop 12% to $20.09, it held the gain all week. In the meantime, DryShips Inc. stock price dropped over 15% to $2.84 on November 7th. Is the price drop warranted?
DryShips reported EBITDA for the quarter of $183,626 million, versus $141,017 million from a year ago, up 30 percent. Even though the company posted a loss of .07 cents per share, including one-time items, future earnings are on the rise. DryShips currently have 17 of their "Panamax" vessels on spot, which will give them a significant boost to the dry bulk side with rising rates. The company may also get a full refund on the four Ice class "Panamax" vessels slated for delivery next year, as the shipyard in Korea appears to be unable to deliver. This would reduce their remaining CAPEX by $25.8 million in 2013 and $98.6 million in 2014. Management states they are examining all options. The company has approximately $11.5 million CIP on deposit in a Chinese bank. DryShips will be entitled to a full refund of all deposit monies paid, if the ship yard is unable to deliver.
Shipping rates have increased dramatically over the last few months with cape rates going to $40,000 a day in September, "Panamax" rates tripled since July to $16,000 a day. Both have since pulled back but finding equilibrium at much higher levels.
I believe it's time to see some upgrades as shipping looks like it has finally bottomed. Let's take a look at a long-term weekly chart.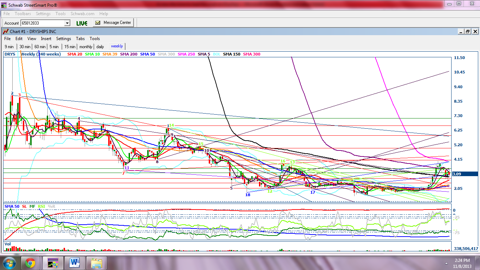 As you can see, DryShips broke a long-term downtrend line on heavy volume in August of this year, the stock price jumped from $1.87 to $4 a share in 28 trading sessions. A secondary $200 million ATM, knocked the stock down for a few weeks. However, the latest earnings announcement of an MLP formation through Ocean Rig UDW and a $25 million quarterly dividend has investors taking notice. DryShips management is in final talks to relax their covenants, which will allow them to take $55 million from restricted cash and pay their next 5 quarterly installments. This will buy the company the time they need, reducing their CAPEX by $55 million in 2014. The final agreement is expected to be finalized by the end of November.
In looking at the chart, the stock price appears to be consolidating and possibly ready to make another run at a double top breakout. If the stock clears the $4.00 level on high volume, look for it to run to the $5.43 level. That is the 18th trend line drawn from the low on November 3rd 2011 to present. That's a rally back to where the stock was trading on April 26th, after the deep water Horizon disaster of April 20, 2010.
Do your own diligence, check your long-term weekly and monthly charts. In my opinion, it is clear to see that a long-term downtrend in shipping has been broken.
DryShips is dramatically growing revenues because of Ocean Rig UDW and rising rates in the whole dry bulk segment. They are no longer a standalone shipping company. With an increase of 17.8 percent top line growth, on revenue of $404 million in the last quarter, DryShips may be a great investment to add to your portfolio.
Disclosure: I am long DRYS. I wrote this article myself, and it expresses my own opinions. I am not receiving compensation for it (other than from Seeking Alpha). I have no business relationship with any company whose stock is mentioned in this article.