After the market close on November 18th, Brocade (NASDAQ:BRCD) will report its fiscal 4th quarter 2013 earnings. The consensus estimates are for revenues of $555 million and earnings of $0.18 versus revenues of $578 million and earnings of $0.17 one year ago. Do not let the expected decrease in revenues put a damper on the good things coming out the company as it exits 2013. Brocade has an enormous stock buyback in place, the CEO is delivering on his promised cost reductions and increased cash generation, and he is focusing on delivering new products and taking market share in growth areas. I believe we will see Brocade return to its year 2000 heyday as the CEO and the company continue to deliver in the quarters ahead.
Here's why I'm buying a 1/2 position in Brocade pre-earnings:
Buyback:
Brocade raised its share buyback to $1 billion. On the last conference call, the company announced a follow on buyback to the already large $300 million share buyback it had in place. Many companies announce buybacks, but never actually follow through with the repurchase of shares. Brocade is different; already this year it has repurchased $240 million worth of stock. With the CEO's focus on cost cutting and cash generation it will have the funds available to continue the buyback quarter by quarter.

Cost Cutting:
Brocade's CEO has stayed firm on cutting $100 million in expenses by year end. Last quarter, "we achieved $15 million of savings in operating expenses… In total, this has resulted in annualized savings of more than $60 million." I expect the other $40 million will come ahead of schedule and I expect to hear on the upcoming earnings call that it has good cost controls in place. The $100 million in annual cost savings should assist in providing more cash flow going forward.
Cash flow:
Brocade should generate $500-$535 million in revenues in FY2014 which will allow it to continue to buyback stock, pay down debt and make incremental acquisitions that back its core business strengths. As the CEO noted, "Since the first quarter of fiscal 2011, we have returned approximately 50% of our free cash flow to our shareholders. Including the $351 million paid on the term loans, we have returned 80% of free cash flow to all investors over that 3-year period." Clearly the CEO has his eye on Brocade's cash flow and is using it to benefit shareholders.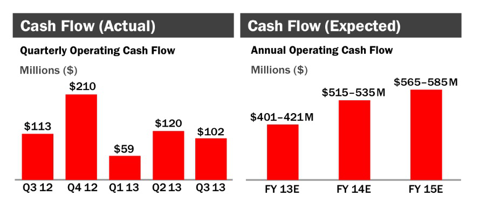 Focus on Growth:
The CEO stated that Brocade's strategy "is to continue our focus on data center networking. Within this space, we're prioritizing markets, in which we can be most successful and where we hold a market share position of meaningful size." It has seen some success here as, "According to IDC, Brocade holds a strong #2 position in worldwide market share in data center networking. In markets such as Japan, Brocade is #2 at 29%, while the #1 competitor's at 31%. Our investments in technology such as Ethernet Fabrics, 40 and 100 gig ethernet, SAN innovations and SDN will provide additional opportunities for market share gains in the data center."
Valuation:
Brocade trades at 1.64 times FY2014 revenues and 9 times my $0.90 earnings estimate for FY2014 and 7.86 times my $1.05 earnings estimate for FY2015. This is a company that in its prime that would trade at 5 times revenues and 20-30 times EPS. The fact the company is going to drop non-core businesses and focus on its core strengths bodes well for multiple expansion in the next 12 months. I have a 3-month price target of $10, a 6-month price target of $14, and a 1-year target of $18.
Chart: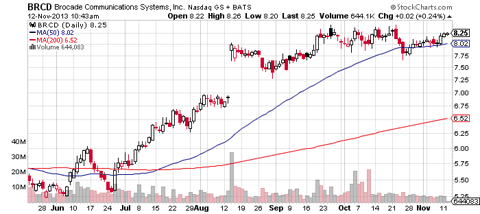 As we look at the daily chart, we can see that Brocade has been trading sideways in a trading range from $7.25 to $8.50. As it finds support at its 50-day moving average, the chart is telling us the stock is ready to break out on its next attempt at $8.50. A close above $8.50 should be followed by a quick run up to $10.00.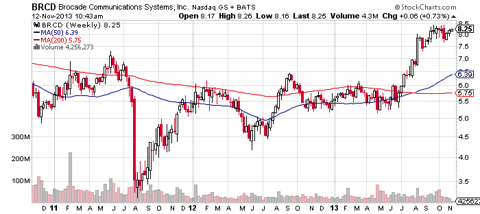 I've included the weekly chart as the recent break out at $6.00 was forecast by a Golden Cross when the 50-day moving average crossed above the 200-day moving average. This is a long-term buy signal and would warrant a move to at least $14.00.
Acquisition Target:
Brocade's CEO, Lloyd Carney is about one year into his tenure where he has set a course for growth based on its core strengths. In fact, he has demonstrated his focus on growth with the recent acquisition of Vyatta a leader in cloud networking software. Carney's past success speaks volumes of the direction I believe he's taking Brocade. As CEO of Xsigo Systems he oversaw its acquisition by Oracle (NYSE:ORCL) and as CEO of MicroMuse he oversaw its acquisition by IBM Corp. (NYSE:IBM). I believe that we will see further strategic small acquisitions that will position Brocade as an attractive target for the likes of Oracle, IBM, Cisco Systems (NASDAQ:CSCO), Dell, or EMC Corp. (EMC).
Disclosure: I am long BRCD. I wrote this article myself, and it expresses my own opinions. I am not receiving compensation for it. I have no business relationship with any company whose stock is mentioned in this article.