It's almost like we're about to repeat - I mean re-tweet - the Facebook (NASDAQ:FB) IPO again! With Twitter (NYSE:TWTR) jumping a staggering 73% percentage points just to fall by 7.8% in the next session many of you should be worried. Twitter may fall even further in valuation. After all, it's what happened to Facebook. Except with Facebook, we had our doubts when it came to mobile monetization. But upon overcoming that hurdle Facebook's stock price blasted off.
Anyhow, I'm writing a quick summarization of what I think about the Twitter IPO and how investors can better position themselves given what we know about price action following IPOs of major web 2.0 companies. Also a quick analysis on user metrics and overall trajectory of the business seemed very appropriate given the fact that the company has finally divulged data to the public about its operations. Mining this information was a bit of a painstaking process.
Here's a quick run-down on Twitter
At first I wanted to grab a wrench and throw it at Twitter's Investor Relations. Here's why - the company put its investor relations onto a Twitter account. Is this appropriate? No, obviously not, and it's a frustrating experience for those who dig through digital reports for financial data on a regular basis. In summary, here's what I think, #FAIL.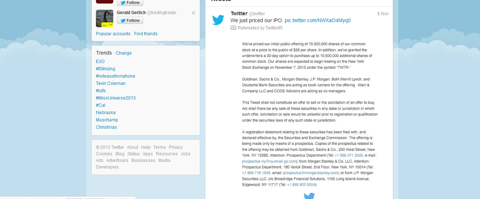 Source: Twitter
So here's the S-1 document. This will help if you're looking for a reliable source of information to check facts against.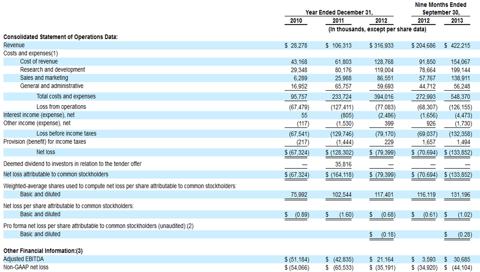 Source: SEC
Currently Twitter narrowed its loss from operations to ($0.18) per share in fiscal year 2012. Similar to Facebook, Twitter has been able to successfully monetize its platform in mobile. The company grew revenue from $28 million in 2010 to $316.9 million in 2012. The growth in revenue is quite significant and is indicative of how fast a social network can monetize its user base assuming the company does an effective job of managing the user experience through the early growth stage. All the major social networks (Facebook, Twitter, LinkedIn (LNKD) and YouTube (GOOG)) are trying their best to avoid the fate of Myspace, which was eventually sold to News Corporation for a significant discount.
The success of mobile monetization happened at about the same time for both social networks. Twitter and Facebook held back on advertising to mobile and desktop for as long as possible. After all, the stickiness of the platform has to improve significantly prior to plaguing the experience with advertising. This is how Twitter and Facebook was able to generate user growth and revenue growth at the same time. The global scale of Twitter and Facebook may not be easy to replicate, and any sister social network that is on track for significant growth could be snapped up by the major three social networking sites (Facebook, LinkedIn and Twitter). Of course, Twitter got really angry when it couldn't buy out Instagram. I'm guessing a blue bird dropped some poop on Facebook's windshield. This is because Instagram has over a hundred million users, which is a great source of data and eyeballs (the ultimate currency by which social networks thrive on).
The 7% price drop following the Twitter IPO is almost reminiscent of Facebook when it first went public. Facebook stock fell by 18% in its first week of trading. So investors who are buying Twitter stock in the first week of the IPO should think about whether they can handle added downside before a sustainable trend in the price of the stock emerges. This is because, in the driver seat, we all think we can handle volatility, but in hindsight we actually close positions on an investment the moment we're hit with double digit price swings.
Twitter's durable advantage
Warren Buffett often reminds investors to look for a durable advantage when investing in a company. This is helpful when determining the bankable opportunity of an investment. Favorable financial metrics are certainly helpful, but when a company generates multi thousand percentile revenue growth over a three-year period, value investment metrics are really pointless to implement. Plus, any change in information is immediately priced into the stock.
While qualitative analysis is a little touchy-and-feely, I believe that a Seeking Alpha contributor earlier in the week captured the essence of what makes Twitter so freaking sticky. Vikram Rangala thinks that Twitter is an unstoppable idea:
And that is the simple, elegant and transformative business model of Twitter. The problem is loneliness. The demand is for a way not to have to suffer alone, or go through joys without sharing them. The supply? A simple way to share our life and thought and not be alone. It is a demand that won't go away.
In essence, social networks help to tackle the challenge of being lonely. This in of itself could be somewhat of a durable advantage. It's a utility that helps to centralize information sharing in a format that a simple text message could not accomplish. Plus, if you have something major going on in your life like marriage, or a new job, you would want to share that on your social feed. After all, it's extremely impractical to text everyone everything that you're doing at the exact moment.
Of course, not every social network succeeds. There have been a lot of imitators of Facebook that have failed miserably. Facebook is likely to remain the most flexible social network for getting in touch with friends and family. It's highly unlikely that another generalized social network like Facebook will ever crop up. On the other hand, there are other opportunities for niche players like Snapchat, Twitter and LinkedIn.
Twitter recently raised the brows of investors as teenage activity on Twitter has increased. This led investors to question whether Facebook has lost a bit of its cool factor. However, David Ebersman (CFO of Facebook) tried his best to reassure shareholders that teens were still a solid demographic:
Our best synopsis on youth engagement in the U.S. reveals that usage of Facebook among U.S. teens overall was stable from Q2 to Q3. So we did see a decrease in daily users specifically among younger teens.

We won't typically call out such granular data, especially when it's of questionable statistical significance given the lack of precision of our age estimates for younger users. But we wanted to share this with you now since we get a lot of questions about teens.

We are pleased that we remain close to fully penetrated among teens in the U.S., our monthly user numbers remain steady and overall engagement on Facebook remains strong.
Facebook currently has 94% market penetration into the teen demographic. In comparison Twitter has 26% market penetration of the teenage demographic. This implies that Facebook is the dominant network. In fact, Facebook's market share makes Google's dominance in search look like a joke. On the other hand, there's always the possibility that Twitter will steal engagement figures from Facebook going forward. Over the long-term, this is unlikely to hinder the success of Facebook. It takes less time to check a Twitter social feed than a Facebook social feed. Reading a Twitter status takes less time than reading a Facebook status, and plus you can private message and chat with friends on Facebook.
Twitter isn't the "main social network," making it dubious for investors to jump on the "Twitter will beat Facebook" bandwagon (if it ever existed). The average user spends 22 minutes on Facebook, in comparison the average user currently spends 12 minutes on Twitter (per day). User growth on Facebook is significantly greater than Twitter, meaning that Facebook is the most well positioned. Twitter's user growth lags because it can only saturate small pockets of a diverse locational demographic. Despite this fact, Twitter has been able to prove that it can turn its niche into a lucrative business for many years to come. After all, it serves a very particular need that other social networks simply can't replicate with much success.
Anyone who wants to read short blurbs will browse through their Twitter social feed. Plus the occasional re-tweet from Justin Bieber or a tweet back from Lady Gaga couldn't hurt. Then there's the value of intimate interaction on Facebook. You can literally do anything on Facebook. Of course, amongst kids, Facebook isn't the go-to spot for sharing life. Plus, anything that seems too personal seems to be sent over Snapchat and becomes a buried memory once the timer goes off on the message. Job hunters have a LinkedIn profile. Those who want to share their Guitar Hero skills could always hit the upload button and put the video onto YouTube. Almost every sharing need has been programmed into existence.
Currently web users have their own website, search queries have become better, and data upload speeds have gotten to a point where cloud based programs are the new norm. Web pages for every form factor have been accomplished with the exception of wearable computing. Of course, the brainy geniuses of Silicon Valley are working around the clock to make applications just as functional for wearable computing devices. It seems that there's near limitless potential in Silicon Valley. In this backdrop Twitter, Facebook, YouTube and LinkedIn continue to jump through hoops to ensure compatibility and usability across all form factors. For now, the companies seem to be successful at juggling the form factor ball.
The main players for social networking have been adequately established. The solutions to human communication problems have been adequately fulfilled. The market is becoming both saturated and segmented. So if anything the established winners in the space are likely to stay. Sure the composition of the web may change, but it's highly doubtful that Web 3.0 technologies will threaten the business of social networking.
If anything, Google is in the toughest position among web 2.0 companies. Google has to be the first search engine to come up with a way to retrieve search queries that are fully compatible with human logic. Thankfully, computer artificial intelligence is still a long ways away from reaching the complexity of human logic. Therefore, we can safely assume that web 3.0 won't materialize for quite a while.
Conclusion
Usually I try to quantify the opportunities of a stock in an article. However, I want to let the volatility of the stock play out before I completely jump onto the tweeting bandwagon. The stock price is extremely subjective, and anything could cause the stock price to swing a couple digits outside of anyone's respective comfort zone.
Long-term investors have to keep an eye on Twitter. This is because Twitter has a durable advantage. Of course my definition of a durable advantage could be different from yours. But based on economies of scale, market segmentation and trends in technology, I'm not going to have a heart attack just because the price of the stock fluctuates a lot. In fact, I'm almost certain the price will move all over the place.
But so as long as humans want to share something over 140 characters, I couldn't care what the talking heads in the media think. It's still a compelling opportunity if you're patient enough.
Disclosure: I have no positions in any stocks mentioned, and no plans to initiate any positions within the next 72 hours. I wrote this article myself, and it expresses my own opinions. I am not receiving compensation for it (other than from Seeking Alpha). I have no business relationship with any company whose stock is mentioned in this article.