Background
China holds the world's largest potentially recoverable reserves of shale gas, according to the EIA. China's possesses estimated reserves of 1,115 trillion cubic feet versus 665 trillion cubic feet for the US.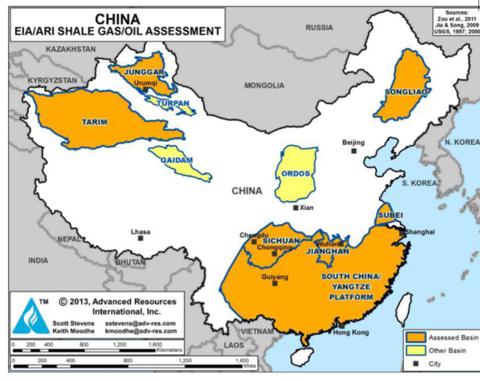 Shale gas currently represents less than 1% of China's natural gas production and the country needs to acquire the technology and know-how to exploit its reserves.
China is still pressing ahead with its shale gas ambitions though numerous hurdles continue to hinder those goals. Shale gas is supposed to boost the nation's natural gas supply which is in direct need. China today draws about 4 percent of its energy needs from natural gas and more than 70 percent from coal.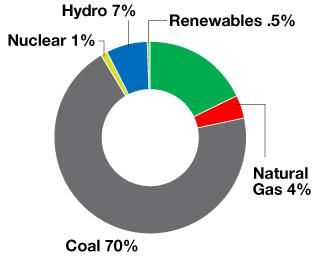 Yale's e360 blog comments on China's efforts to rely more on natural gas and less on coal:
Chinese officials have said that to reduce air pollution the most densely populated parts of Beijing should use only gas heat, which limits the supply of natural gas for smaller cities and forces those cities to rely on coal. Pollution levels in Chinese cities commonly exceed World Health Organization guidelines by 40 to 50 times. The problem is most pronounced in northern China, where air pollution from burning coal has already shortened life expectancy by 5.5 years compared to the southern part of the country. China's natural gas shortage is expected to be 10 percent higher this year than last year, since more users have switched from coal. Authorities are rationing natural gas and prioritizing its use for homes and transportation, but experts don't expect the shortage to subside anytime soon.
With endless bad pollution from coal particulates, the country's National Development and Reform Commission's (NDRC), two years ago decreed that by the year 2020 the natural gas contribution to the energy mix should increase to 10%.
Natural gas shortages have resulted in increased coal use. However, there is some promising news about Chinese shale production. State-owned Sinopec could reignite China shale hopes, because it has started pumping gas in commercial volumes for the first time.
With limited participation from established global service companies such as Baker Hughes (BHI) and Schlumberger (NYSE:SLB), Sinopec's Jianghan team has improved in key areas such as fracturing and logging - the process of making detailed records of geological formations.
At one well, Sinopec Jianghan executed a 22-stage fracturing process at a depth of 1,500 metres - a challenging task for a company with limited experience of such a complex procedure.
The potential economic and environmental benefits present a strong case for shale. In China's 12th Five Year Plan, it set an ambitious target of producing 6.5 billion cubic meters (BCM) of shale gas by 2015 and 60-100 bcm by 2020. This would be part of a target to raise natural gas to 8 percent of total energy consumption by 2015, up from about 4 percent in 2010.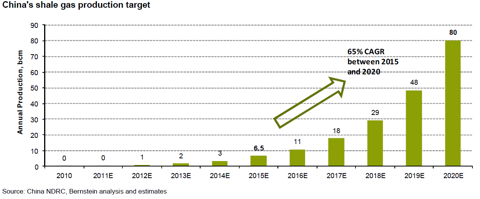 Chinese companies have been investing heavily in shale projects in the U.S., which pioneered the technology, to build up skills as part of plans to exploit their home country's reserves.
Foreign companies including BP PLC (NYSE:BP), Chevron Corp. (NYSE:CVX) and Royal Dutch Shell PLC (NYSE:RDS.B) have partnered with Chinese companies to search for shale gas in China.
Shell has cooperated with CNPC's listed unit, PetroChina Co.(NYSE:PTR), on shale-gas projects for several years. Last year Shell signed a production-sharing contract to explore, develop and produce shale gas over a 3,500-square-kilometer area in the Fushun-Yongchuan block in the Sichuan Basin. A move that fits in with China's overall strategy to bring technical and operational know-how to the development of its untapped reserves of the unconventional fuel.
Investment Thesis
Recon Technology is destined to profit from China's coming shale gas boom.
The Company
Recon Technology, Ltd. (NASDAQ:RCON) is a non-state-owned oil field service company in China. The company has been providing software, equipment and services designed to increase the efficiency and automation in oil and gas exploration, extraction, production and refinery for Chinese oil and gas fields for more than 10 years.
The company is engaged in:
providing equipment, tools and other hardware related to oilfield production and management, including simple installations in connection with some projects;
service to improve production and efficiency of exploited oil wells; and
developing and selling its own specialized industrial automation control and information solutions. The products and services provided by the company include:
High-Efficiency Heating Furnaces
High-Efficiency Heating Furnaces are designed to remove the impurities and to prevent solidification blockage in transport pipes carrying crude petroleum. Crude petroleum contains certain impurities including water and natural gas, which must be removed before the petroleum can be sold.
Multi-Purpose Fissure Shaper
Multi-purpose fissure shapers improve the extractors' ability to test for and extract petroleum which requires perforation into the earth before any petroleum extractor can test for the presence of oil.
Horizontal Multistage Fracturing related Service
The company mainly uses Baker Hughes FracPoint™ system and provides related service to oilfield companies. The Baker Hughes FracPoint™ system provided a completion method using packers to isolate sections of the wellbore (stages) and frac sleeves to direct the frac treatment to the desired stage. The use of this type of completion eliminated the need for cementing the liner, coiled tubing operations, and wireline operations, while significantly reducing overall pumping time.
Supervisory Control and Data Acquisition System ("SCADA")
SCADA is an industrial computerized process control system for monitoring, managing and controlling petroleum extraction. SCADA integrates underground and aboveground activities of the petroleum extraction industry. This system can help to manage the oil extraction process in real-time to reduce the costs associated with extraction.
Financials

Total revenues for the year ended June 30, 2013 were approximately RMB 76.6 million ($12.4 million), an increase of approximately RMB1.0 million or 1.4% from RMB75.5 million for the year ended June 30, 2012. This increase was mainly driven by development of the company's fracturing service business.
Gross profit increased to approximately RMB25.1 million ($4 million) for the year ended June 30, 2013 from approximately RMB24.3 million for the year ended June 30, 2012. Gross profit as a percentage of revenue increased to 32.7% for the year ended June 30, 2013 from 32.1% for the same period in FY2012.
Research and development expenses increased by 35.8%, from approximately RMB6.3 million for the year ended June 30, 2012 to approximately RMB8.5 million ($1.4 million) for the same period of 2013. This increase was primarily due to the increases in R&D expenditures on furnaces and fracturing services.
Net income attributable to ordinary shareholders was RMB39,698 ($6,415) for the year ended June 30, 2013, an improvement of approximately RMB4 million ($0.6 million) from net loss attributable to ordinary shareholders of approximately RMB3.8 million for same period in FY2012.
Final Note
China's growing energy consumption, big reserves and a state push to replace coal power with cleaner gas, makes the country an alluring target for big oil companies and service providers such as Recon Technology .
China is beginning to ease its grip on natural gas prices, which have been kept artificially low for years, and this could spur further investments. Full liberalization of the downstream gas market could have a positive impact on shale gas development.
Industry watchers and some investors have noticed that Recon Technology is involved in successful fracturing projects. This has been beneficial for the average volume (198,009) of the stock and the stock price.
The latest news announcements confirm our thesis that this company is ready to profit from current and future shale gas investments.
On October 18, 2013 Recon Technology announced the successful deployment of a new automation product for extraction of shale using a highly specialized supervisory control and data acquisition system ("SCADA"). This important achievement related to gas field exploitation and production is a huge technology step for Chinese companies.
On October 23, 2013 the company announced that its fracturing projects in China Petroleum and Chemical Corporation's ("Sinopec") Zhongyuan oilfield have been accepted by the client marking completion of the project.
According to Zhongyuan's final assessment report, Recon applied horizontal well fracturing in 12 wells (4 oil wells and 8 gas wells), and achieved a 100% success ratio with no accidents or injuries.
"Our successful introduction and use of horizontal well fracturing lay a solid foundation for Recon's continuous expansion into China's domestic oil and gas service industry," said Mr. Chen Guangqiang, CTO of Recon Technology. Our oil and gas service industry is driven primarily by both capital and technology. In the past few years, Recon has been devoting significant resources to R&D and field-testing with Chinese oilfield companies. To date, we have gained valuable on-site experience and technical knowledge when it comes to customizing proven global technology to fit the specification of our Chinese oil and gas clients. Looking forward, we are very confident that, by delivering advanced technology and customized solutions which enable Chinese oil and gas companies to improve their production, efficiency and safety, we will develop more long term and mutually beneficial business relations in Chinese energy industry.
A successful move forward on shale gas production, will drive demand for related equipment and services. We think Recon Technology is uniquely positioned as a Chinese oil and gas service company within the industry.
Risks
According to some industry experts, China's shale gas goals will take much longer to come to fruition due to lack of infrastructure and logistic capabilities. One thing is for sure: "Gas is the future for China".
Disclosure: I have no positions in any stocks mentioned, and no plans to initiate any positions within the next 72 hours. I wrote this article myself, and it expresses my own opinions. I am not receiving compensation for it (other than from Seeking Alpha). I have no business relationship with any company whose stock is mentioned in this article.