Cisco (NASDAQ:CSCO) is no longer the high-earning technology company that it used to be. In the fourth quarter of the last earnings calendar, guidance was weak and because of a bad global economic climate, CSCO was both unable in recent quarters to really provide the numbers that analysts expected and further announced layoffs in its work force. If CSCO expects to beat analyst numbers in the upcoming quarters, it has to invest more in creating new innovations and establishing a greater presence in the information technology industry. CSCO's competitors, such as IBM (NYSE:IBM) and Hewlett-Packard (NYSE:HPQ) have also stagnated because of the same problems. Information technology companies have to start looking away from countries like China and Brazil, which used to be prosperous locales for information technology growth, and begin looking elsewhere, finding new avenues of engagement.
Cisco is expected to report FQ3 2013 earnings on November 13th after the market close. The information below is derived from data submitted to the Estimize platform by a set of Buy Side and Independent analyst contributors.
The current Wall Street consensus expectation is for CSCO to report $0.50 EPS and $12.337B revenue while the current Estimize consensus from 21 Buy Side and Independent contributing analysts is $0.51 EPS and $12.336B revenue. The magnitude of the difference between the Wall Street and Estimize consensus numbers often identifies opportunities to take advantage of expectations that may not have been priced into the market. In this case, we're seeing a smaller differential between the Estimize and Wall Street numbers compared to previous quarters.
Click to enlarge images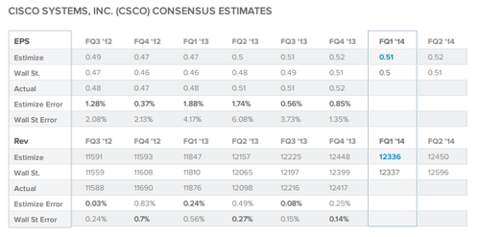 Over the past four months the Wall Street consensus trend for EPS has decreased from $0.51 to $0.50 while Wall Street revenue expectations have dropped from $12.399B to $12.337B. The Estimize EPS and revenue consensus have fallen this quarter with EPS going from $0.52 to $0.51 and revenue decreasing from $12.448B to $12.336B.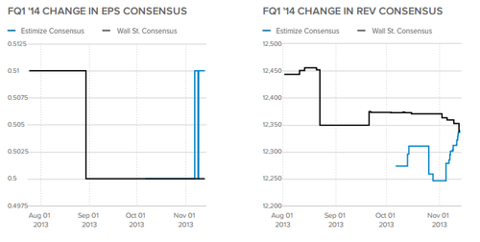 Over the previous 6 quarters, CSCO has beaten the Wall Street consensus for EPS every time and revenue 5 times. Over the same time period CSCO has beaten the Estimize EPS consensus 2 times and the Estimize Revenue consensus 5 times.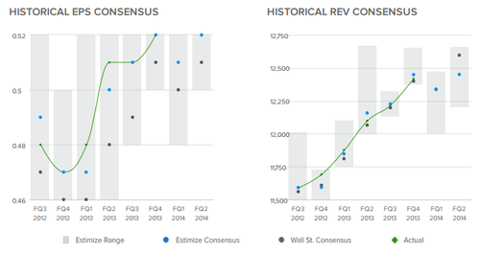 The distribution of estimates published by analysts on Estimize range from $0.48 to $0.53 EPS and $12B to $12.473B in revenues. We're seeing a larger distribution of estimates this quarter for CSCO than normal. The size of the distribution of estimates relative to previous quarters often signals whether or not the market is confident that it has priced in the expected earnings already. A narrower distribution signaling the potential for greater volatility post earnings, a wider vice versa.
The analyst with the highest estimate confidence rating this quarter is Davis who projects a $0.53 EPS and $12.473B in revenue. Estimate confidence ratings are calculated through algorithms developed by our deep quantitative research which looks at correlations between analyst track records and tendencies as they relate to future accuracy.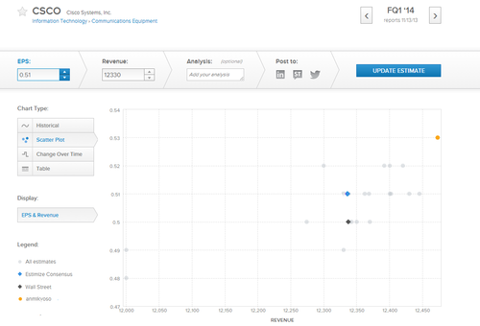 All expectations point to Cisco putting up weaker numbers compared to the last quarter. CSCO's success lies with the big "if" of if it can generate the innovations needed to solidify a bigger stake in the information technology industry. Recently CSCO has moved into cloud-computing and enterprise management. But unless CSCO can actually make something of these recent moves, they'll amount to nothing, considering CSCO's competitors are already following suit. IBM has already also began ramping up its cloud, mobile, business, and analytic departments Therefore, if CSCO wants to post some better numbers in the next quarter, it has to start now with its research and development.