The question is prompted by the following graph from Calculated Risk:

Click here for super sized image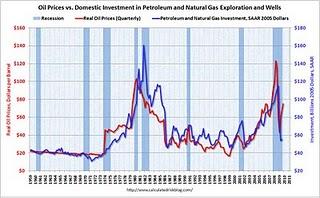 Drilling and other oil service sector companies tend to track rising oil prices upward. There has been no response in this group yet to the rise in oil prices in recent months. Now is a good time to be looking at this industry group. A list of possible investment opportunities will be discussed.
First there are a number of ETFs that invested in the oil and gas services and equipment area. Five are listed in the following table.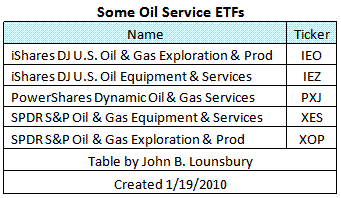 There are some 118 individual stocks in this industry group. I have selected a screen to narrow the field down. The screen parameters are listed in the following table. I have excluded stocks with PE (Price/Earnings ratio) greater than 20. I have also excluded stocks priced under $10. Market capitalization must be greater than $250 million and included stocks must have positive earning for the past four quarters and estimated to have positive earnings for the next four.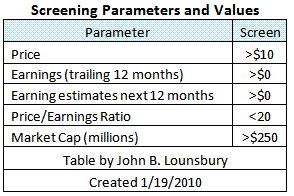 This screen was run in the AAII (American Association of Individual Investors) Stock Investor Professional data base, updated through 1/15/2010. A total of 23 stocks passed the screen and are shown in the following table. They have been ranked in increasing PEG order. PEG is the ratio of the current Price/Earnings ratio to average estimate earnings growth per year for the next five years. The big uncertainty in the PEG ratio is the projected earnings growth. One year is difficult for analysts to project; five years is a real crap shoot. At any rate, this type of screening is a good starting point in stock selection and the PEG is an interesting way to come up with an initial ranking.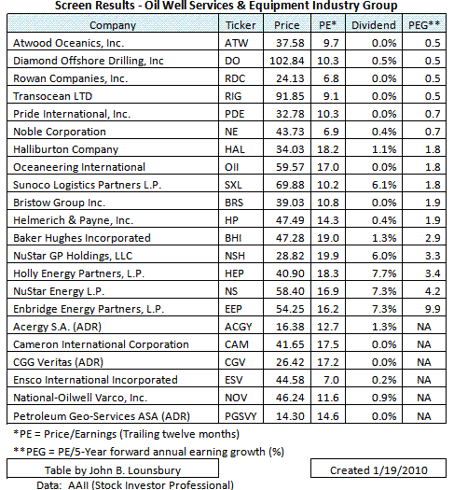 There is a lot more research necessary before final investment decisions should be made. However, this type of screening and ranking process is helpful in developing selected stocks for further research.
Disclosure: No positions