Windstream Holdings Inc. (NASDAQ:WIN) is an American company that provides communication services to its customers. It is based in Little Rock, Arkansas. The company is operating in the telecommunication industry and focuses on serving domestic customers. Its primary business service offerings include integrated voice and data services, multi-site networking, data center services, managed services, high-speed internet, voice services and carrier services. It also provides cloud computing and managed services to businesses nationwide. Windstream generates 58.6% of its revenues from the business segment, which includes returns from integrated voice and data services, advanced data services and traditional voice and long-distance services to enterprises and small-business customers. Consumer service revenues, 21.76% of the total revenue, are generated from the provision of high-speed internet, voice and video services to consumers. Wholesale service revenues (11.5%) include switched access revenues, Universal Service Fund (USF) revenues and voice and data services offered on a wholesale basis. Other service revenues (4.32%) include USF surcharge revenues, revenues from software and other miscellaneous services. Product sales (3.85%) are generated through various types of communications equipment. In short, the company generates a large proportion of revenue from its telecommunication services rather than products.
Market Performance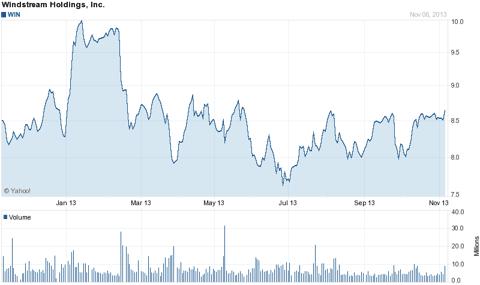 Despite Windstream's revenues increasing during 2012, the EPS decreased because of the cost structure of the company. This explains the declining trend of the share price. The market is responding slowly to the estimates of 2013 and 2014 and we believe that the price will increase if the company manages to match the estimates; Windstream has a pretty good history of matching estimates.
Industry Growth
The telecom industry grew by merely 0.9% in 2013 and is expected to grow by 2.3% in 2014. Broadband will be the main driver of this growth (Gartner, 2013). The expected growth in 2014 seems more promising than the growth in 2013. In absolute terms, the growth is slow and is expected to slow down further in the future. According to IHS, broadband subscribers will grow by nearly 60% by 2015.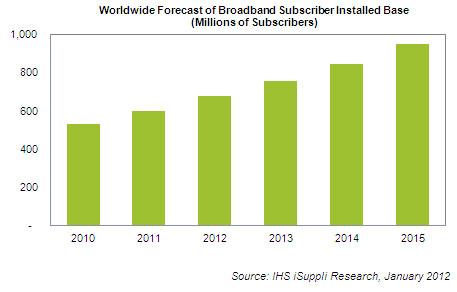 Wireless or mobile broadband (or the LTE technology) is also expected to grow in the future. So, despite the slow growth, there is still some hope for the telecom industry.
Thesis and catalyst
Windstream Holdings Inc. is currently shifting its revenue composition towards enterprises and broadband services. There are certain factors that can play a role in deciding the company's future.
Broadband business
In 2012, the company was awarded 16 broadband stimulus projects in 16 states. For these projects, the company utilized $183 million from the Rural Utility Service broadband fund it received. It added $70 million from its own capital to complete these projects by the next fiscal year. Jeff Gardner, CEO and president said, "Once we build out these stimulus sites, they have very high penetration rates. Well over 50 percent of the homes passed will subscribe to our service."
Evidently, the company is trying to penetrate into the broadband market. However, the growth prospects of broadband in the US are not very bright partly because of new wireless technologies like LTE and partly because most of the consumers are already on broadband. According to Leichtman Research only 1.3% of the population is considering getting broadband but the service is not available. This indicates that overall growth of broadband has deteriorated but with the stimulus program the company can reach new costumers in these areas and can capture the market share before any other competitor can do so.
Windstream is aiming on upgrading the bandwidth in some areas by replacing copper wires with optical fiber and also plans on targeting new rural markets. This could help the company in competing and acquiring new customers.
Broadband currently makes up 8% of the company's revenue. With these projects, Windstream can increase its short-term revenue and consequently the EPS.
Financial Gearing
The debt-to-equity ratio of the company stands at 9.45x approx. As the industry average stands at 5.1x, this is a very high and alarming figure. High debt means high interest costs, which erode the company's earnings and offer no flexibility whatsoever; and if the interest cover ratio is not substantial enough, it can affect the going concern assumption for the company. The interest cover of the company stands at 1.66x as compared to the industry average of 15x, any fluctuation in FCF (free cash flows) of the company could affect dividend yield (11.5), quite high from industry, and share price. On another note, it could also affect the going concern assumption but this is a remote possibility because of the good business prospects of the company.
Overall, the company should consider adjusting its capital structure to an optimal level. This could help resolve investor fears regarding leverage and can drive prices up.
VOIP (Voice over internet protocol) and data centers
The company has been generating most of its business from voice and data center services. Global data center IP traffic will nearly triple over the next 5 years. According to Cisco global cloud index, data center IP traffic will grow at a compound annual growth rate (CAGR) of 25 percent from 2012 to 2017. Windstream holds 27 data centers nationwide. This indicates towards the company's growth prospects regarding the data center business.
Allworx, a Windstream company and award-winning developer of Internet Protocol (IP) based phones systems for businesses is making the switch to bandwidth-based voice infrastructure. This will help the company to compete with the VOIP servers which are depressing revenues from conventional voice services all over the globe in the telecom industry.
Valuation
The mean target price is $7.7 which indicates that the shares are overvalued as of today. The P/E ratio stands at 18.8. Multiplier of 17x is used because the future estimated growth is negative but given the company's improving prospect in broadband and data centers, it is likely to maintain its current performance in the future and the market's perception is not likely to change but a little towards the negative. Hence a slightly lower P/E multiple is used.

It is more likely that share price will fall between high and the mean target. So, according to this valuation, the company's shares are likely to maintain its share price.
Conclusion
The telecom industry is growing slowly. With just 2.3% growth in 2014, it seems there are not healthy growth prospects, but increasing need of data centers, cloud computing and VOIP services provide an opportunity for the companies in the industry to reposition and diversify their operations hence improving their future prospects.
As far as Windstream is concerned, it is generating most of its revenue from voice and data services including data centers. The increased growth of data centers will bring sales and growth for the company in the future. The company is also introducing VOIP services which can help in generating sales.
Broadband service revenues will also grow because of the stimulus projects but the growth of American broadband market is not favorable. The company is, however, likely to increase revenue generation from this sector too.
The financial position of the company is not in a great shape, with high gearing and dividend yield. It is possible that dividend yield will fall down, depressing share price.
Windstream should be able to sustain its market share despite the slow growth in the telecom sector. The data center and VOIP services will help the company to perform at par with a little boost from Broadband services.
The analysis above shows that the company is in a very weak financial situation. However, this failing is not the consequence of an unfavorable market. It is the result of bad capital management. Windstream can recover if the management cuts back on dividends and focuses more on improving the cash position. Therefore, I would recommend that investors avoid this risky investment until the management steps in and does its job.
Risk Factors
Falling short on interest obligations. Risk of going concern assumption being rendered invalid, but the possibility is remote.
Competition from cable providers can affect broadband sales.
Inability to raise further debt in case of new projects. That will force the company to issue shares, signaling the market, this could depress share price.
A threat from alternative voice services and data services.
Disclosure: I have no positions in any stocks mentioned, and no plans to initiate any positions within the next 72 hours. I wrote this article myself, and it expresses my own opinions. I am not receiving compensation for it (other than from Seeking Alpha). I have no business relationship with any company whose stock is mentioned in this article.