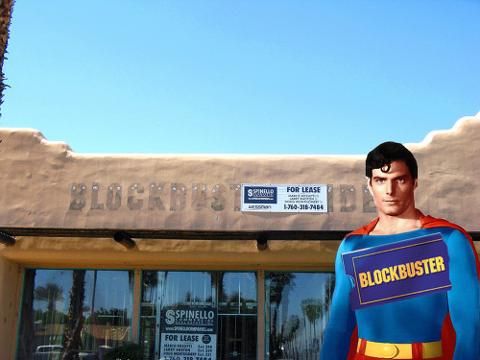 Ten years ago, Blockbuster (BBI) video was on top of the world. They didn't know it at the time, but it was the golden age for the video store. After years of reminders to be kind and rewind, consumers were adopting DVD players en masse and needed a source for their entertainment needs. For better or worse that source was Blockbuster.
With the internet buzz hitting a fevered pitch, Blockbuster was already hard at work creating a digital strategy. Given their dominant position in the video store industry, they even flirted with the idea of buying a small internet start up named Netflix (NASDAQ:NFLX) for a mere $50 million.
With the entertainment world seemingly in the palm of their hand, Blockbuster was positioned to make the jump to digital better than anyone, but over the last decade they've made a series of blunders that now threatens to bankrupt them.
Yet, in looking at their rise and fall, it's easy to make the quick assumption that their problems were a result of technological innovation, but the truth of the matter is that they have no one but themselves to blame for the weak position that they find themselves in today.
Of all their missteps, the biggest blunder was assuming $1 billion in debt, so that Viacom (VIA.B) could collect an obscene dividend payment when they sold the company to a naive public. That debt now hangs over them like an albatross across their neck and has caused them to lose pace with their unencumbered competitors.
With revenues in steep decline, it will only get harder and harder for Blockbuster to continue to meet their obligations under this debt. Without the firepower to compete on a level playing field, their situation will only get worse. With the precariousness of their position becoming increasingly clear, Blockbuster has done everything from paying a high price to refinance their debt to hiring a bankruptcy specialist to help salvage what is left of their business.
Yet, despite the clear and present danger of their situation, Blockbuster has continued to keep their head buried in the sand. Over the years, I've offered my fair share of criticism for how they could improve their business model, but we're now at a point where a tourniquet won't save them, they must do massive surgery and Stat!
In an effort to try and preserve a dying part of the entertainment industry, I present to you, my plan to save Blockbuster.
With the future looking pretty bleak for just about any video store, how can a company like Blockbuster save itself? By sacrificing its media business in exchange for an opportunity to reinvent its retail business.
What I'm proposing would be tricky and the devil really would be in the details, but with the right execution, Blockbuster could shed their legacy of debt, future-proof their business and position themselves to take market share, instead of losing it.
Essentially what they'd need to do is create a "good Blockbuster" and a "bad Blockbuster" to isolate their problems.
On one side you would have their DVD by mail program, their DVD kiosks and their digital business. On the other side, you would have Blockbuster's traditional video store business that so many are quick to write off.
Together, the two businesses are slowly strangling Blockbuster, but split apart, they could free them from the impact of years of stagnation and ineptitude on their part. What I'm proposing is that they spin off their good assets and use that money to pay off their debt.
In the past, Blockbuster tried to launch an aggressive initiative to boost their DVD by mail program, but by doing so, they only ended up cannibalizing their in store customers. As a result, they've all but abandoned the program and have allowed their future to slip away.
If an independent Blockbuster.com doesn't have to worry about that cannibalization, they could focus on going head to head against Netflix. They could create a subscription program for their kiosks that could offer value that Redbox couldn't match. They could be price competitive without having to worry about their legacy stores. The result would be a smaller Blockbuster with less meaningful revenue, but it would represent profitable revenue instead of losses.
Neither Netflix nor Redbox would be able to offer DVD exchanges at the kiosk level and through the mail, but Blockbuster could capitalize on both strengths. Yes, the company would be a mere sapling in the larger entertainment industry, but Netflix was once a sapling and they've been able to grow into a very large oak.
From the video store side of the equation, Blockbuster could focus on what they do best, maximize cash flow while transitioning their stores into a new business. Whether that means turning their stores into modern day Starbucks (NASDAQ:SBUX) or a replacement for the now defunct Circuit City, there are still plenty of opportunities for smart and nimble retailers.
To date, Blockbuster CEO Jim Keyes has made this transition a priority for the company, but when they are forced to forgo tens of millions in capital expenditures, just so that they can service their debt, it limits how quickly they can make this jump. As a result, they continue to face pressure to close stores instead of turning them into cash flow producing machines.
Given all of the negative media attention, it may be hard to believe, but Blockbuster still does a ton of business. For the first 9 months of 2009, Blockbuster brought in over $1.9 billion in revenue. By comparison, Netflix brought in $1.22 billion during the same period. Yet, when you look at the differences in market capitalization, Netflix is over 20 times more valuable than Blockbuster.
Perhaps even more surprising is that Blockbuster would have turned a profit of $38.4 million during that 9 month period, had they been able to ignore their debt. Instead, that $38.4 million profit turned into a loss of $131.6 million for the company. Now you don't need to have a PhD in math to know that losing over $100+ million per year starts to get expensive fast and perhaps even more damaging than the loss of the cash is the effect that these interest payments are having on their competitive ability.
Instead of being able to invest in their future, they've been forced to make cut backs. Instead of retrofitting their stores, they've been closing them instead. Instead of stepping up the marketing, they've been forced to dial back. The result is that more revenue shifts to Redbox and Netflix and their cost to acquire customers has plummeted. If this trend continues, you don't need Dr. Doom to tell you that it will be curtains for Blockbuster. They must stop the bleeding and they must stop it now.
Now I know what you are thinking, if Blockbuster is a penny stock today, how are they going to come up with $1.6 billion to pay off their long and short term debt. Part of it comes from the assets that they are holding today. With $980 million in current assets, they should be able to keep a good chunk of their leverage in check. The remaining $620 million worth of debt would be paid off by spinning off their new media divisions.
According to the most recent data, Blockbuster currently has 1.6 million online subscribers. As of last September, they had deployed 1,000 kiosks, but were anticipating that they would have over 10,000 deployed by the end of 2010. While Blockbuster doesn't break down their digital revenues, I think that it's reasonable to suggest that this division would be worth anywhere between $25 – $75 million based on their market position and intellectual assets.
If you look at Netflix's current valuation, it works out to be approximately $255 per subscriber. Assuming that you discount Blockbuster subscribers by 30%, it would value Blockbuster's DVD by mail business at $285 million.
In February of '09, Coinstar (NASDAQ:CSTR) completed their purchase of Redbox at a valuation of approximately $350 million. At the time, Redbox had 12,500 kiosks suggesting a value of approximately $28,000 per kiosk. Assuming that Blockbuster can get to 10,000 kiosks, even at a 50% discount to what Coinstar paid at the bottom of the market, one could assume that this stake would be worth approximately $140 million without Blockbuster's legacy stores or debt.
What these numbers suggest is that if Blockbuster were to do a spinoff, it's easily conceivable that they could raise at least $500 million in the offering. Assuming that they start to market their DVD by mail and get it up to 2.5 million subscribers, it would value their new media business at approximately $660 million.
If they did the spin off in the form of a convertible bond, I believe that this number goes even higher, because bond investors could be given the option to return to their current position, if the spin off flopped.
While this sort of transaction would create a new competitor for Blockbuster Video, by getting rid of their debt, it would enable their stores to become profitable once again, which in turn would make it easier for Mr. Keyes to raise money for the marketing and store improvements that Blockbuster so desperately needs.
While I believe that this rescue plan could make Blockbuster competitive again, I don't believe that their current management is willing to sell off their future, even if it means saving themselves. Despite all evidence of a dying industry, Keyes continues to insist that the video store is the cornerstone of what they do and has consistently defined Blockbuster's competitive advantage as being able to offer entertainment across multiple channels. While it's easy to point to Netflix and Redbox as the source of Blockbuster's kryptonite, I believe that it is their own unwillingness to let go of the past that is preventing them from being a video superhero of the future. Only time will tell how indestructible they really are, but if they continue down the same path, they'll end up as a mere footnote in the history of the entertainment industry.
Author's disclosure: I don't have any investment positions in any of the companies mentioned in my post.