When I wrote my first article on Ford (NYSE:F) in February, it was trading at just over $13/share. Since then, it has climbed to a 52-week high of $18.02. Right now it's trading at $16.87, giving it a year-to-date growth of 30.4%.
In February, I noticed Europe was Ford's biggest problem, costing hundreds of millions each quarter. However, a quick look at Ford's most recent quarterly results shows this may be changing. Ford is still losing money in Europe, but it is improving, as can be seen in the next graph: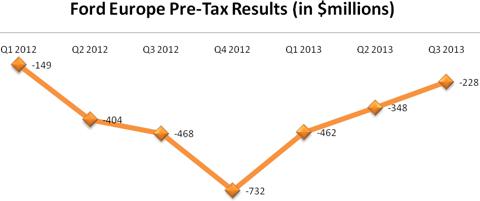 Ford Europe had a great third quarter, with revenues reaching $6.5 billion, $0.7 billion more than in the same quarter last year. With consumer confidence on the rise, I could see Ford's sales increase as the European Union recovers from its financial crisis.
In my previous article, I stated:
"Ford North America is bringing in enormous amounts of money, which will sustain the company as they try to cut costs in Europe."
So far this year, Ford North America's performance has been nothing short of amazing. Revenue in the first 3 quarters totaled $66.4 billion, which is an increase of $8.6 billion compared to the first 3 quarters of 2012. Even though the operating margin for Ford North America dropped from 11.2% to 10.7%, pre-tax results were still over $600 million higher than in the first 9 months of 2012.
Similar results can be found in South America, where Ford had revenues of $8.1 billion in the first 3 quarters, which is a strong increase from the $7.0 billion in revenues they had in the same period last year. Unfortunately, Ford's margins in South America are still very low. Pre-tax results for the first 9 months of the current fiscal year were only $92 million.
Ford's market share in Asia Pacific Africa has increased to 3.7% in the 3rd quarter, which is a quarterly record. The increase in market share was driven by China, where Ford now has a market share of 4.2%. Revenue has gone up to $8.5 billion in the first 3 quarters, compared to $7.2 billion in the same period last year.
So far this year, Ford Automotive Sector has brought in $103.8 billion in revenues (up $11.7 billion compared to last year), and $5.97 billion in pre-tax profits.
Ford's financial services sector has had results comparable to last years, with pre-tax results of $1.3 billion in the first 9 months.
Analysts expect Ford to reach earning per share of $1.85 in 2014. At the current price of $16.89, this gives Ford a forward price to earnings ratio of only 9.1. I believe that, although Ford has already seen its share price go up by over 30% year to date, there is still more to come. With a dividend of $0.10 per quarter, Ford's stock now yields 2.40%. I already own some shares in F but if I didn't, I'd be buying now.
What's your view on F? Please comment below!
Disclosure: I am long F. I wrote this article myself, and it expresses my own opinions. I am not receiving compensation for it (other than from Seeking Alpha). I have no business relationship with any company whose stock is mentioned in this article.