Verizon (NYSE:VZ) has been in the news lately as management has announced a plan to buy the 45% stake in the company that is currently owned by Vodafone. (NASDAQ:VOD) Verizon has agreed to pay Vodafone $130B for their stake, financed by some $65B of new debt, issuance of Verizon stock, and cash on hand. The deal is still subject to shareholder approval at both companies, but this is expected to close sometime during the first quarter of next year.
Once Verizon completes the deal, speculation is they will enter a new market, one with entrenched local operators, one with a government which tightly regulates the market, but one where the citizens pay some of the highest wireless rates in the world. Fortunately for Verizon, this market is close by, and is very similar to the United States in a lot of ways.
The new market in which I'm referring is Canada, a logical place for the company to expand.
Don't be fooled by CEO Lowell McAdam's comments from early September when he stated the company has no interest in coming to Canada. These comments came after months of intense interest from the company, culminating with two almost bids for two of Canada's smaller players, Wind Mobile and Mobilicity.
The Canadian government has rules against foreign ownership of telecoms, limiting outsiders to only holding minority positions in telecoms, both wired and wireless. These rules were recently lifted, with one big condition. A foreign owned company could buy spectrum or an already entrenched telecom, as long as they don't surpass a 10% market share. These new rules give a company like Verizon an easy opportunity to take out Wind Mobile or Mobilicity, the two smallest players who have, collectively, some 900,000 subscribers.
A foreign player has another option to enter the Canadian market, and that's to buy spectrum from one of the existing big three telcos - Telus, (NYSE:TU) Bell Canada (NYSE:BCE) and Roger's Communications (NYSE:RCI) - and operate as a mobile virtual network operator. Verizon also apparently weighed that option as well, before ultimately bowing out and focusing their capital on buying out Vodafone's stake.
While Canada wouldn't appear to make a whole lot of sense for a company like Verizon - since it's essentially 90% empty - there are a number of compelling reasons why entry makes sense. Canada has some 35M people, with 16M of those (46%) residing in the 10 largest markets. The population is centered largely in big cities, making it easier for a new player to focus on a certain type of wireless customer.
Additionally, Canadians pay some of the highest mobile rates in the world. The average monthly bill for Canadians is $60, compared to just a little over $50 for U.S. consumers. Canadian consumers are lucrative, and there's room to undercut the entrenched competition to get market share.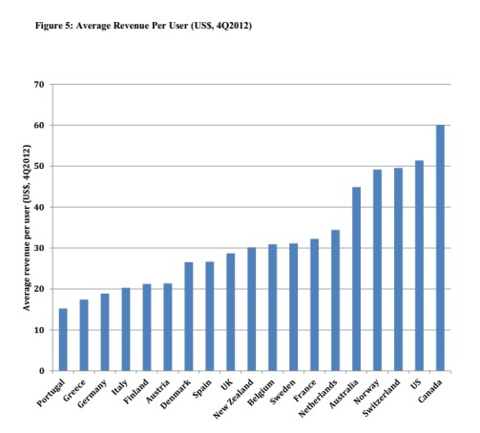 Assuming Verizon does enter the Canadian market, it won't mean much, at least to begin with. Let's assume they can capture 10% of the market, and they manage to get $55 per month per user. Out of 35M Canadians, let's assume 30M have mobile devices.
Verizon would have 3M customers, at $55 per month, or a yearly revenue of $1.98B. Verizon had revenues of $115.2B for FY 2012. Even a 10% market share in Canada would boost revenues 2%. To grow past 10% Verizon would have to successfully lobby the Canadian government to lift foreign ownership restrictions or get a domestic partner.
In conclusion, I think Verizon enters Canada once they get this Vodafone business sorted out, possibly in 2014 or 2015. It's just a matter of time. Ultimately though, it won't move the needle much.
Disclosure: I have no positions in any stocks mentioned, and no plans to initiate any positions within the next 72 hours. I wrote this article myself, and it expresses my own opinions. I am not receiving compensation for it (other than from Seeking Alpha). I have no business relationship with any company whose stock is mentioned in this article.