As mentioned in my Aceto (NASDAQ:ACET) and Ceco (NASDAQ:CECE) articles, there are many stocks that I regret watching double before finally buying for the next leg(s) up. It's fine when I had never even heard of the company, but it's painful when I knew about it early enough to have earned that first double too. Even a blind squirrel stumbles across a nut sometimes so, unlike those other two holdings, Mueller Water Products (NYSE:MWA) is one that I didn't step over by watching too long.
I mention that because MWA was ~$2 when I first bought it and I want to make sure it's clear that I'm not encouraging investors to look for $2 stocks that might become $8 or $10 stocks. But, that's not because I think every stock automatically becomes unworthy at the magical number $2. Besides, everyone knows that 3 is the magic number. Or, perhaps it's because there is no magic number. Every investor has a price range that we buy stocks within, but our ranges are unique and perhaps they also move. What I mean is that today's market is much different from that of a few years ago, so we're (fortunately) far less likely to find profitable companies trading at $2. The risks in most $2 stocks today are usually far more than a few years ago. The bright side is it's still usually easier for a good $8 stock to get to $16 than for an $80 stock to get to $160.
Opportunity Summary
Mueller Water Products was unlucky to have been spun off right before the Great Recession. Most had written the company off so no one was paying attention as it quietly repositioned during those few years after the downturn. Now, Mueller is coming out of its formative years as an independent company at the same time that its end markets are rebounding. Based on valuation, earnings growth and my calculations, I consider MWA a buy in the ~$8.10-$8.50 range and expect it to reach my ~$10.80 price target (~30% return) within 6-9 months. The return is actually ~40% annualized, and that's if it takes the full nine months to reach $10.80. I see minimal downside risk at ~11% below my buy range (~$7.40) and I believe only a much weaker economy or market could cause MWA to revisit that level. I believe the risk/return heavily favors the upside potential, despite the fact that MWA has already come so far.
Important Considerations
2013Q4 adjusted operating income increased 47% year over year
2013Q4 adjusted EBITDA increased 27% year over year
presents at the Goldman Sachs Industrials Conference on 11/14
very strong institutional investor support for a small-cap at 84%
dividend yield ~0.80% upheld throughout the Great Recession
Russell 2000 Small-Cap Index component
aggressive debt reduction making progress
short interest steadily declining, currently half of one year ago
seven research analysts currently rate "buy" and two rate "hold"
D.A. Davidson rated "buy" & raised price target to $11 in October
Wedbush initiated at "outperform" with $9 price target in September
RBC Capital rates "outperform" & raised price target to $9 in August
David Tepper's Appaloosa fund has held MWA since February 2011
Company Overview
Mueller Water Products operates in two segments -- Mueller Company and Anvil International -- as a manufacturer and marketer of products and services for water transmission, distribution and measurement. Due to the broad recognition and reputation for quality of its approximately eighteen brands; Mueller's products enjoy leading market positions in applications including: industrial, fire protection, energy, oil and gas, construction and HVAC. Due to the strong reputation of its brands, Mueller products are specified for use in the U.S. 100 largest metropolitan areas. For more detail see the company website and company profile at Reuters.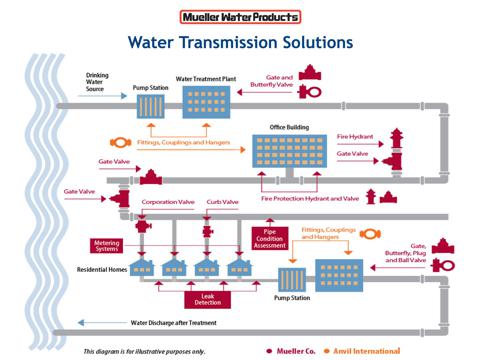 Source: Mueller Water Products
The Upside Opportunity, Downside Risk And Time Horizon
If you've read any of my prior articles, you know that I'm partial to DCF valuations because they're forward looking, which is important when a company gets past a low point wherein trailing numbers are far below current and future numbers. So, if MWA is indeed past its low point, as indicated by all data from the past two years; valuations from trailing data are invalid. For example, relative to its five-year average, MWA trades at an 80% premium to trailing P/E, but at a 45% discount to forward P/E. I consider the future more important.
For that reason, my valuations consider the potential that exists in the various facts summarized here. The trailing-twelve earnings for MWA are $0.22, but next-year earnings are projected at $0.46-0.48. On a year-over-year basis, the most recent quarter earnings growth was 233%. In fact, earnings growth for the fiscal year was 833%. Granted, that extreme growth is leveling off so next-year earnings growth is projected at 40-45% (depending on the source), but I think the 10% five-year earnings growth projection is overly conservative.
Even so, to keep expectations modest, I used the 10% growth rate in my calculations with the $0.47 midpoint of the next-year earnings estimate range. The result is a ~$10.50 fair value. My ~$10.80 price target is based on that fair value calculation, combined with my estimation that MWA will again exceed the 10% growth rate within the five-year projection range, thereby increasing current fair value. The fact that EPS estimates are trending up supports that position.

Source: FinViz
I see minimal downside at ~$7.40, or ~11% below my ~$8.10-$8.50 buy range. The ~$7.40 level is the lowest MWA has traded since the 2013Q3 report when sales and earnings were not yet at current levels reported for 2013Q4. The 200-day moving average is just above $7.05 and the stock has only come close to its 200-DMA one time in the two years since last crossing it (while the share price was below $3.00). At that time, revenues and earnings were roughly one quarter of where they are today.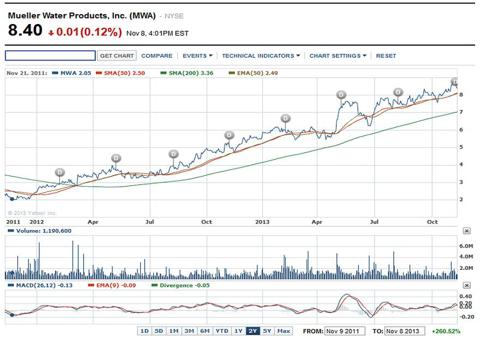 Source: Yahoo Finance
Why The Opportunity Exists
Walter Industries spun off MWA at the end of 2006 and it typically takes a company a few years to find its sea legs once independent from the support of a much larger parent company. As the chart above shows, MWA was progressing well and reached its current all-time high above $19 in June of 2007 -- six months after the spinoff, but only one month before the market high that preceded the Great Recession market crash. In other words, the spinoff timing was particularly unlucky for MWA and that was compounded by the fact that the company is directly impacted by not only the direction of the overall economy, but also the construction market.
As the company states: "Our end markets are subject to economic cycles. Our primary end markets are municipal water distribution and treatment systems, the non-residential construction industry, the oil & gas industry and new water and wastewater infrastructure."
The good news is that those very same issues cut both ways. The bad timing of the spinoff also meant that MWA experienced its most difficult years as a standalone at the same time as the effects of the economic downturn. Just as a severe decline in real estate and the economy pushed MWA down, an economy and real estate market that have nowhere to go but up have put tailwinds behind MWA. And, there are increasing signs that those winds will strengthen for years. So, the compounded effects of multiple negatives have turned into compounding positives. And, there are now additional positives that the company never had before.
Factors That Should Drive Realization Of The Opportunity
As just alluded to, the inverse of each factor that led to the decline of MWA in the first place is becoming a driver of its recovery and growth. There are also a number of other factors that may not move the needle alone, but that become more significant in combination and should help drive continued recovery and further realization of potential for MWA. As a long-term investor who prefers to also see short-term performance, I never buy a stock on a single catalyst and specifically look for companies with many positives, like MWA.
The "Company Overview" section only briefly touches on the end markets so, more specifically, MWA currently derives about 55% of revenues from municipality spending, 35% from a combination of non-residential and residential construction and 10% from oil & gas. Since municipal and construction tend to rebound gradually, I don't expect MWA to reach my price target via a brief run up, though I do think there will be more pops on news and earnings going forward.
I believe now is the best time to build an MWA position because the first quarter is usually the company's slowest quarter, but as mentioned in the Q4 conference call, a major order that was expected in Q4 will start shipping this quarter. News that may cause a spike could obviously come at any time and, while I don't think any such news is pending at the moment, investors should be aware that MWA presents at the Goldman Sachs Industrials Conference in a few days (11/14). When there is eventually more news, it's likely to relate to one of the topics in "Operational Improvements & Expansions." Until then, similar to the past two years, the stock price is likely to see more of a slow grind up as each of the factors below continues to ramp up.
1. Municipal Spending
In 2008/2009, municipalities cut most all spending not considered urgent and that stance continued for the next several years. However, that approach is only practical for relatively short periods of time and also has the unintended consequence of building up demand. Only recently, pent-up needs for infrastructure repairs and replacements are being put back into municipal budgets, which benefits MWA.
As an American Water Work Association [AWWA] study explains: "Because pipe assets last a long time, water systems that were built in the latter part of the 19th century and throughout much of the 20th century have, for the most part, never experienced the need for pipe replacement on a large scale. The dawn of the era in which these assets will need to be replaced puts a growing financial stress on communities that will continually increase for decades to come."
The study reveals that the United States will need to spend $1 trillion on repair and replacement of water infrastructure over the years from 2011 to 2035. That number approaches $2 trillion, if we look further out to 2050. As the graph below shows, the reason the total grows so quickly is that delaying the projects significantly accelerates the rate at which total costs increase due to compounding effects. The graph also shows that costs start spiking up ~2015, increase thereafter and don't level off until ~2040. This report is specifically about drinking water and wastewater infrastructure, not the ports and bridges type of water infrastructure often included in more broad discussions.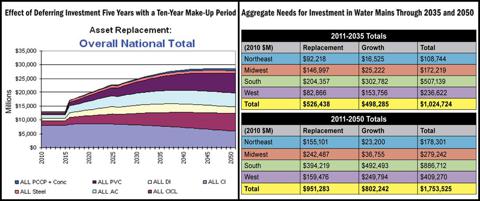 Source: American Water Work Association
Those harsh realities are hitting municipalities all over the country and they are reacting. According to Water & Wastes Digest's 2012 State of the Industry survey with municipal water and wastewater operators, 36% projected budget increases and only 14% expected decreases. Despite state and national budget constraints, the money is being spent. Here are a few of the very many examples:
Arizona/California/New Mexico/Texas: Environmental Protection Agency $65M/year Mexico Border Water Infrastructure Program
Georgia: $69 Million Water & Wastewater Infrastructure Funding
Massachusetts: $512 Million Drinking Water & Wastewater Projects
New York: $451 Million In Clean Water Infrastructure Funding
Pennsylvania: $84 Million Investment In Water Infrastructure
Tennessee: $203 Million Water & Wastewater Construction Loans
Ottawa, Canada: $330 Million Water Infrastructure Funding
2. Construction
About 35% of Mueller revenues are from commercial and residential construction combined, with commercial representing the majority of that amount (30%). Similar to municipality spending, pent-up demand in construction spending is also ramping up. Here are a few looks at what construction industry professionals are discussing:
Construction Recovery Expected to Accelerate Through 2015
Commercial Construction Spending Continues To Increase
Construction Recovery May Gain Steam After Slow Start
U.S. Construction Spending Climbs
3. Operational Improvements & Expansions
Another factor increasing growth for MWA is that the company has been actively improving and expanding operations over the last few years, which actually includes a number of separate initiatives.
In 2012, MWA completed the sale of U.S. Pipe, which had become a significant drag due to its low-margin business. In fact, it had started losing only slightly less than the entire Mueller Co. unit earned. So, the significance of the change can't be overstated and the resulting focus MWA now has on its much better businesses is just beginning.
Advanced Technologies & International Expansion
In 2011, Mueller Water acquired leader in the growth markets of leak detection and pipe condition assessment, Echologics. The unit continues to add new contracts and, also very importantly, already had strong international presence including Asia, Australia, Canada and Europe. The increased global reach is important as Mueller has openly stated that "part of our growth strategy depends on expanding internationally" as well as "acquiring and investing in companies and technologies that complement our existing business."
Echologics' technologies are also very important to Mueller's future because leak detection and water loss management are constant businesses, which will increasingly make MWA less dependent on economic and industry cycles. And, the related products and services are also high-growth businesses. As water continues to become more expensive due to accelerating usage increases and limited supply, loss management continually becomes more important and bolsters infrastructure investment. As Mueller Water Products chairman, president and chief executive officer, Gregory Hyland explains:
"The ability to help municipalities identify where leaks are occurring, as well as diagnose the overall condition of their piping systems, is crucial as they repair or replace their aging water infrastructures and better manage their water resources. Echologics enhances our ability to provide municipalities with the essential products and services needed in the transmission of drinking water."
Even before the Echologics acquisition, MWA had developed and marketed a number of advanced technologies including Automated Meter Reading [AMR], Advanced Metering Infrastructure [AMI] and Automated Leak Detection [ALD] systems. In fact, Mueller last year struck a deal with American Water (NYSE:AWK), the largest publicly-traded water utility in the U.S., to supply its water meters and AMR. For more details on Mueller's advanced technologies, see this website page, listen to this audio interview or watch this video.
Mueller has only had Echologics for two years and has only been rid of U.S. Pipe for one year, so I think it's safe to say that the value of these significant improvements has not yet been fully realized.
Oil & Gas Industry Participation Growth Potential
The oil & gas industry currently only represents 10% of revenues for MWA, but that's also why the industry's incredibly fast growth in North America offers opportunity. I think it's safe to say that the water industry will remain the primary focus for MWA, but in many cases, the specific liquids that customers work with don't necessarily dictate the products needed. A couple of examples are here and here.
There is also the more obvious angle in the fact that the importance of water to the oil & gas industry has exponentially increased in recent years. Relative to traditional oil & gas recovery, much larger amounts of water are used for hydraulic fracturing (aka, "fracking"), as the following article discusses: Water For Fracking, In Context. And, major water utilities are already factoring that into expansion plans: Aqua America (NYSE:WTR) Aims To Grow Fracking Sales. All of that water has to move from sources (municipalities and utilities) to end users (O&G companies), which means more business for MWA.
The point is this trend isn't going away and it will provide increasing opportunity for MWA. One example is that a Denver oil & gas company was recently approved to build a $525 million 80-mile water pipeline, which will require an awful lot of fittings and valves, not to mention leak detection, pipe condition assessment, etc. This isn't the last time that we'll hear about a massive new pipeline to transport water for O&G use and I believe MWA will inevitably get a bigger piece of that growing pie.
Another component of the O&G industry growth opportunity is that Mueller is the nation's leader in fire protection systems (hydrants, valves, etc.). As the O&G industry continues bringing more fields online and building more rigs, they'll obviously have to equip them with the expansive fire protection systems that such facilities require.
4. Financial Improvements
Even though I don't see it as anything to be overly concerned about, I would be remiss not to mention Mueller's $477.2 million net debt. The debt is consistently being addressed aggressively and successfully so I keep an eye on it, but I don't panic over it. In fact, Moody's upgraded the MWA debt rating in August 2012 and again this year, stating that the recent rating upgrade "reflects our expectation that Mueller's credit metrics will continue to improve in 2014 as its end markets are slowly recovering. The ratings also acknowledge the company's strong market position, its substantial installed base of diverse products that can lead to a high percentage of recurring revenues, and the growing and inevitable need to eventually repair and/or replace aging water infrastructure systems and also maintain compliance with EPA regulations. Furthermore, Mueller's asset-based revolving credit facility [ABL], its ability to generate positive free cash flow, and the absence of near-term debt maturities strengthen the company's liquidity position."
What Do Other Investors Think Of Mueller Water Products?
In addition to fundamental and technical analysis, another aspect of my due diligence is basically "what do others think of this company, do I agree and why?" Stock prices are determined by people, after all, so I believe that it's a mistake to ever overlook sentiment.
Along those lines, I want to give credit where due. An article from SA contributor Arne Alsin definitely helped me decide that buying more MWA last year did indeed make sense, and may have even encouraged me to take a closer look at the company in the first place. That's worded a little vaguely because I first bought MWA in 2011 and I think it was early 2012 when I started reading Arne's articles. What I recall very well is that, even though my MWA shares were approaching a triple by late 2012, like most investors, I was still a bit hesitant from all that was going on at the time. By that point I had gone back and read some of Arne's previous articles and realized that not only did we have a few favorites in common, but that he's an excellent stock picker. So, Arne's article is what made me stop second guessing myself, do more research and stick with MWA.
David Tepper's Appaloosa Management has also been long MWA since 2011. In fact, they were the largest holder for much of that year. I don't usually pay attention to what hedge funds do since I'm not one, but there are a few that seem to invest in ways that I like. I developed that opinion the same way I decided to consider any stock that Arne Alsin likes -- after noticing several times that we not only had multiple holdings in common, but they were relatively obscure companies that were also among my absolute favorites out of many holdings. I gradually realized that couldn't be coincidence so there must be things that they look for in companies that are similar to the things I look for. I still don't know what those things might be, but I'm not sure it matters. Both Trinity Industries (NYSE:TRN) and MWA are holdings that I have in common with Appaloosa and have held since they were not talked about at all, let alone nearly as much as they are now. However, there's also divergence since I prefer Manitowoc (NYSE:MTW) in the crane business over Appaloosa's Terex (NYSE:TEX) choice.
Finally, MWA also has strong institutional investor support at 84%, which is especially high for a small-cap. I like high institutional ownership because, as a long-term investor, I have more in common with the institutional approach. First of all, institutions invest for one reason and one reason only -- to make money. That means they're not looking for "sexy stocks" and have no problem at all with "boring stocks" -- like companies that make pipe fittings. Institutions tend to focus on strong companies with strong management that they can get behind for the long haul. As a result, institutional investors don't constantly trade in and out of holdings so I don't have to worry as much about a stock diving 10% in a day because the gamblers got bored and dumped it for no real reason.
Thanks for reading. I researched and wrote this article 11/8-11/11.
Disclosure: I am long ACET, CECE, MTW, MWA, TRN, WTR. I wrote this article myself, and it expresses my own opinions. I am not receiving compensation for it (other than from Seeking Alpha). I have no business relationship with any company whose stock is mentioned in this article.
Additional disclosure: I'm long ACET, CECE, MTW, MWA, TRN & WTR and may buy more shares over the next 72 hours.