Joe Wiesenthal writes at The Business Insider that David Rosenberg, Chief Economist at Canada's Gluskin Sheff, says a housing double dip is underway. Here is Rosenberg's graph: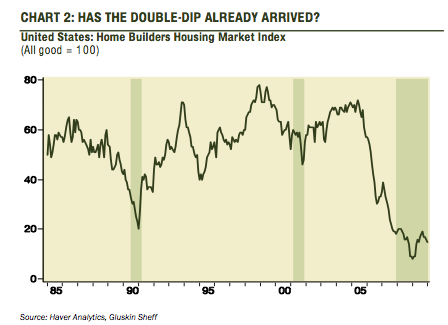 Rosenberg maintains that housing is in a depression and will remain there because:
A flood of foreclosures will arrive in 2010. Rosenberg, citing RealtyTrac, says that 3 million bank repos (repossessions) will occur this year.
FHA lending requirements are tightening.
The government support of the market will fade as tax incentives end and financial support for Fannie and Freddie will wane as the magnitude of losses and future bailouts become apparent.
Rosenberg's full post can be read here.
Last week, my Realty Trac reference quoted the total number of foreclosure filings estimated for 2010 to be about 3.5 million I estimated that this would lead to 1.7 bank repos. When that is added to a carryover of yet to be completed repos from 2009 filings, I estimated 2.4 possible foreclosures completing the repo process to become REO properties in 2010. (REO stands for "real estate owned" by the banks.)
Rosenberg's number (also citing Realty Trac) is 25% larger than mine for foreclosures completing repo in 2010. I stand by my estimate, but the reader should realize that Dave's research department is much bigger than mine.
To illustrate how quickly estimates can be changed, below is the graph I published before the January RealtyTrac report cited above was out.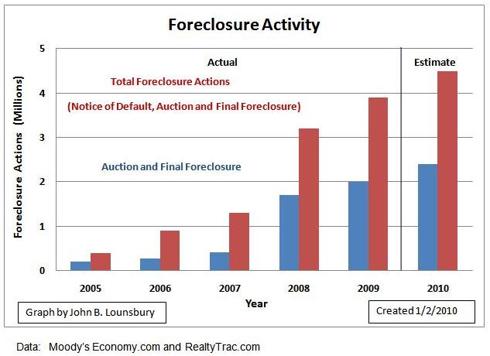 The best data available then indicated an estimated 4.5 million foreclosure filings in 2010. Just two weeks later RealtyTrac issued an estimate one million below that. Maybe I should just average my estimate with Rosenberg's and then wait and see?
Note: See my articles from September and October to see why Rosenberg's opinion does not surprise me.
Hat tip to Phil's Stock World.
Disclosure: No positions.