With various asset classes trading at all-time highs, investors are thoughtfully questioning whether the markets have reached a near-term "top." The Federal Reserve has signaled that a change in policy is forthcoming and interest rate volatility shows that the market is anticipating some form of action. The transition from such an accommodative environment may not be a smooth one for the markets or the broader economy, and it may take some time for the market to adjust. We might be poised for a pullback in the near-term, or an even deeper consolidation. We might also experience a continuation of the slow grind to even higher all-time levels. If you are sitting on an investment portfolio that has appreciated significantly from the 2009 lows, wouldn't it make sense to step to the sidelines with a portion of your profits and wait out any potential storms? Perhaps there is a way to manage your portfolio and almost always ensure that you buy low(er) and sell high(er).
Professional portfolio managers learn early in their careers that trying to time markets is impossible. Often it feels like a guessing game. Any sellers of the S&P 500 (NYSEARCA:SPY) on the peaks of May 2011, September 2012 or anytime in 2013, have at least felt good about the decision for a few weeks. Unfortunately for them, after a brief retracement each time the markets surged higher and investors played catch-up. At the time, it may have felt like the same call in October 2007. Sure, it is easy for unaccountable brokers to use fear and greed to motivate clients to make decisions that ultimately benefit themselves and their institutions, but when was the last time investors were accurately instructed to "get out" just before the crash, or instructed to deploy cash right when the markets began their recovery? Just as painful, how many self-managed investors have sat out the entire cycle merely earning money market or savings rates on their long-term savings? In the past decade, when did you buy or sell?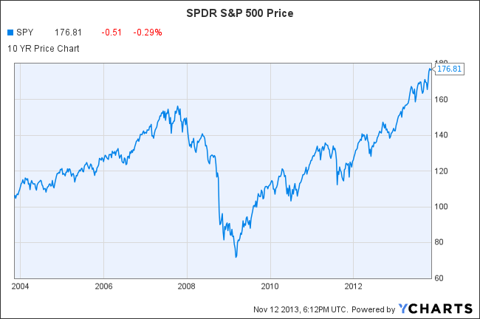 Investors should be both profit-seeking and profit-preserving. While many investors thoughtfully ask themselves the question of when they should preserve gains, they should also be planning when to shift assets into the market for the next leg higher or recovery period. An investment approach that focuses on risk management will answer the questions on timing exits and entries and allow investors to act based upon discipline and not speculation. Would you rather be a gambler of your savings or a risk manager?
A pragmatic risk management strategy is quite simple and only relies on a few straightforward decisions, and a commitment to discipline:
Determining Risk Tolerance: Simply put, this is how much downside in a portfolio an investor can stomach. For example, an investor with a $100,000 portfolio who does not want to see a value below $75,000 (a loss of 25%), should only consider a balance of 50% risk assets and 50% non-risk assets. After-all, wasn't there a more than 50% decline in equities from 2007-2009. 50% declines have happened before and they will happen again. When experienced, most investors cannot stomach as much downside as they think since they project the fears of even lower values into their current losses.
Defining the Level of Risk in Each Investment: When categorizing an investment as "risky" or "non-risky," remember that only cash and short-dated investment grade fixed income have minimal risk. Everything else can and will experience volatility at some point in time. Equities (SPY, EFA, IWM, EEM), Alternatives (GLD, DBC, RWR), Extended Fixed Income (HYG, JNK, ELD, PFF) and even Investment Grade Fixed Income with interest rate risk (LQD, TLT) can move quickly against you and all at once in the same direction.
Creating an Asset Allocation: The goal of creating an asset allocation is to diversify investments within a portfolio by selecting a targeted level of exposure for each asset class or investment vehicle. Some investors only pick a few major asset classes, such as Equities, Fixed Income and Cash. It is easy to construct this simple portfolio with low-cost ETFs or to add a few sub-asset classes and increase the number of holdings. As I remind my three year-old daughter, too many colors of crayons in a drawing and all you see is brown. The same principle applies to asset allocation. Over diversifying a portfolio equals a return close to the broad market, so just own the market and use one ETF (NASDAQ:ACWI).
Implementing a Rebalancing Method: After thoughtfully selecting a level of portfolio risk and building a dedicated asset allocation, the only thing left is to manage the individual positions with discipline and let the markets do whatever they are going to do. Rather than arbitrarily selecting when to trim or add to positions, select a rule for rebalancing. The portfolio has various moving parts and since each asset class does not move in a straight line over time, it will naturally be "unbalanced" at times. Unbalanced might be when the composition of the portfolio has one or more asset class more than 10% over or underweight. For example, Emerging Markets (EEM, VWO) and Small Cap stocks (NYSEARCA:IWM) experience more volatility than Short Duration bond movements. Take a portfolio with an allocation of 6% to EEM and IWM. When EEM or IWM rally and constitute 6.6% of the portfolio, there are profits to be taken and you will naturally be selling high(er). By definition, somewhere else the portfolio is underweight and the excess can often be found in the non-risky assets. In contrast, when either EEM or IWM declines and the portfolio only has a 5.4% exposure, it is underweight and ripe for a low(er) buy and an investor has capitalized on the natural gyrations of markets. Using limit orders and OTC options to manage the risk of the portfolio enhances the effectiveness of the strategy.
Effectively, investors can ensure that they are selling high and buying low, and will often embrace market volatility because of the opportunities it provides. This philosophy has proven to have tremendous benefits, including;
Increased risk/reward during periods of consolidation and heightened volatility, while maintaining market exposures during bull markets
Tax efficiency since the core ETF positions are trimmed or bought at the margins and the underlying capital gains are preserved
Ease of implementation and comfort in risk management decisions
At the end of the day, portfolio management is not about timing, speculation or luck. It is about patience, discipline and common sense. Executing a properly risk managed portfolio removes the need to make the "right" decisions, and focuses on harnessing the unpredictable nature of investing.
Disclosure: I am long SPY, IWM. I wrote this article myself, and it expresses my own opinions. I am not receiving compensation for it (other than from Seeking Alpha). I have no business relationship with any company whose stock is mentioned in this article.