Twitter (NYSE:TWTR) is a real time microblogging service with operations worldwide where its users share ideas and information instantly. The company was founded in 2006 and is headquartered in San Francisco, California.
Twitter has 230+ million monthly active users, and 76% of them are on mobile. It is relevant to state that 77% of accounts are outside the U.S.
Last October 24, Twitter has set an IPO price range of $17-$20 for 70 million shares; that's below the prices reportedly offered for private traders. Then, in November 4, Twitter hiked IPO price range to $23-$25 amid strong demand and a general belief its initial price range of $17-$20 was conservative.
Reports showed that Twitter's IPO was more than 10 times oversubscribed as major hedge funds requested millions of shares.
When Twitter and the main underwriting banks valued the company at $26, news overwhelmingly were already showing an exaggerated enthusiasm from investors.
In the early morning of November 7, Twitter was indicated to open trading at $45-$46. Indeed, minutes later it opened at $45.50 and went on trading in that range. Im my opinion, forecasts do not support the existing level of prices established at the initial days of trading.
Charts courtesy of StockCharts.com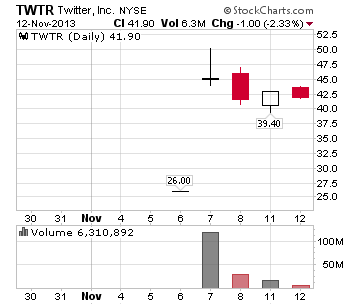 In fact, Twitter's monthly active user base grew 6% between the second and third quarters of this year. That was down from growth of 11% in the same period last year and 19% in the same period of 2011.
As Twitter hasn't yet generated any profits, investors have chosen one metric which provides a good comparison with Facebook (NASDAQ:FB) and LinkedIn (LNKD): price-to-sales ratio (NYSEARCA:PSR).
For the nine months ending September 30, 2013 Twitter had a net loss of $114M, and showed revenue of $422M. Furthermore, it may generate revenue of $620M until the end of the year. Next year, average forecast may lead us to revenue of about $1 billion, and adjusted EBIDTA may climb to around $80 million. In 2015, revenue may reach about $1.25 billion while adjusted EBITDA may soar to roughly $200 million. Profits are only expected for 2015 but with low probability.
Facebook and LinkedIn respectively trade at 9x and 11x 2015E revenue. Including restricted stock and options, Twitter will have about 695 million shares outstanding. At $40 per share, the company would be valued at $28B. To avoid an exaggerated PSR well over 20, the company should get expected 2015 revenue of roughly $2B. Even so, with a PSR of 14 it would trade at a premium relative to its peers. Actually, growth is the key point here, and the company must absolutely increase its revenue at a much higher pace than in recent years. Expected revenue of $2B is a bit difficult to imagine. In fact, it would mean a growth revenue from 2013 to 2015 at a CAGR of 80%.
It is important to stress that the IPO valuation of $26 had much to do with an exceptionally high demand versus a short supply of shares on sale. In my opinion, Twitter will be worthy as a long term investment later on when its share prices may establish adequate levels in line with fair value.
It is important to remember that following Facebook's IPO its share prices retraced heavily from the initial valuation, and it took about 16 months to recover. The same thing happened to LinkedIn as may be seen on the charts below.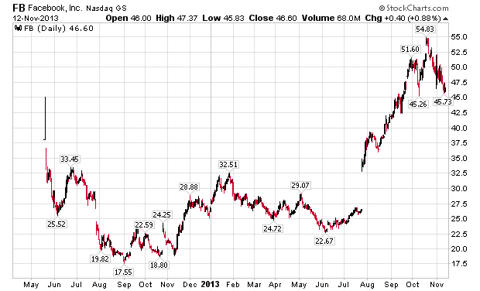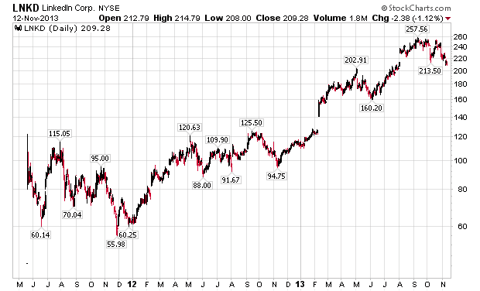 Conclusion
Promises of fast growth are not enough to price fairly a company specially when there are no expected profits in the near future. For Twitter to have an assessment of $40, exceptionally strong growth near 80% per year would be required. I do not think this could become possible.
If until 2015 growth will be surprisingly high and cash flow generation is better than expected, then maybe the level of $26 a share should be a realistic long-term support to an entry on Twitter. In the short to medium term, Twitter shares have a relevant downside potential, and may suffer a marked decline that possibly will target $26. Nevertheless, if growth will be strong and profits will appear, I think Twitter can have a positive future although away from the high initial expectations of investors who got carried away by greed and speculation.
Additional disclosure:
No position in stocks mentioned.
The author of this article gives only his personal view and opinion, never making any investment advice to buy or sell specific securities. The information presented is from sources believed to be reliable, but its accuracy cannot be guaranteed. Before investing in financial assets, investors should do their own research and consult a professional investment adviser.
Disclosure: I have no positions in any stocks mentioned, and no plans to initiate any positions within the next 72 hours. I wrote this article myself, and it expresses my own opinions. I am not receiving compensation for it (other than from Seeking Alpha). I have no business relationship with any company whose stock is mentioned in this article.