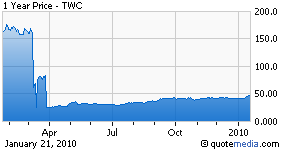 In a recent article, Barron's referred to Time Warner Cable (TWC) as a promising investment citing the company's growing cash flows and profits. Despite such improvements, we still believe that TWC's $45 market price overvalues the company. We have a Trefis price of $35 for TWC, a 22% downside to the market price.
TWC's two primary businesses, Broadband Internet and Digital Cable, each constitute about 35% of TWC's value. We believe that the outlook for both businesses is not sufficiently positive to justify the current market price.
Broadband Internet - Competition, Bundling & Declining Fees
The average broadband internet subscriber fee has declined from about $45 per month in 2005 to about $41 per month today. Downward pricing in interent access fees has been an industry-wide trend attributable to bundling of services (internet, TV, phone), a weak economy and increasing competition from fiber optic-based services (AT&T, Verizon).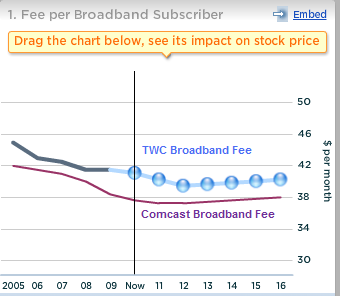 We do not expect a rise in the broadband subscriber fee which we believe will decrease to $40 by the end of the Trefis forecast period. You can modify the broadband subscriber fee to see how changes in pricing would impact TWC's stock.
Digital Cable – Upside from digital transition is limited
Digital cable suffers from the same dynamics impacting the broadband internet business – declining fees from competition and bundling. Digital cable has benefited from higher pricing compared to analog cable services and the on-going transition of customers to digital does benefit TWC as a whole, but pricing of digital services is increasingly under pressure from competitors satellite (DirecTV, Dish) and telecom (AT&T, Verizon).
In addition, digital cable has been struggling with market share losses and subscriber retention. TWC should focus on reversing the market share losses that occurred during the past few years. Recent developments like wireless broadband and on-demand online video service should help TWC improve customer retention.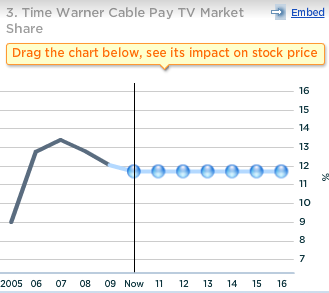 Disclosure: No positions