Diversification is paying off for The Andersons, Inc. (NASDAQ:ANDE) as it posted a huge earnings beat in the third quarter on the strength of its rail and grain segments. This Zacks Rank #1 (Strong Buy) is expected to have double digit earnings growth in 2014.
The Andersons was founded in 1947 in Ohio. Originally a single grain elevator and truck terminal, it has grown into an agribusiness company with six business segments, including grains, ethanol, fertilizers and turf.
It also has rail equipment leasing interests in Canada and Mexico where it repairs and manages 23,000 railcars and operates four stores in Toledo and Columbus, Ohio, focusing on home goods.
For several years, The Andersons had been riding the fertilizer wave as fertilizer prices and demand soared to new highs. But in 2013, that story ended. For the pure fertilizer players, that meant earnings were pressured.
But The Andersons is more than just a fertilizer play.
50% Beat in the Third Quarter
On Nov 6, The Andersons reported its third quarter results and beat the Zacks Consensus by $0.30. Earnings were $0.91 compared to the consensus of $0.61.
The Ethanol Group saw a record operating income of $10.9 million on revenue of $213 million. It saw a loss of $0.9 million in the year ago quarter.
The Rail and Grain Groups were also strong which offset weakness in the Plant Nutrient Group which saw an operating loss of $1.6 million. Margins were still solid but volume was down significantly due to lower price trends and increased volatility in the fertilizer market.
The Andersons believes some of the volume might be regained in the fourth quarter.
The company is still optimistic about the fourth quarter. It believes the quarter will be similar to those in 2010 and 2011, and not in 2012 when drought conditions hammered farmers.
Analysts Raise Full Year Estimates
The Andersons is one of the rare agribusiness companies where the analysts are actually raising, instead of lowering, full year estimates.
Three estimates were raised since the earnings report for 2013 and two estimates were raised for 2014. The 2014 Zacks Consensus Estimate jumped to $5.54 from $5.37 in the last week.
That is earnings growth of 24%.
Shares Near 2-Year High
Shares have been on a tear the last two years, hitting a new multi-year high on its big earnings beat.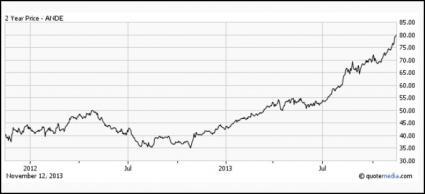 But valuations are still reasonable. It trades with a forward P/E of 18, which is a little higher than the overall S&P 500 at 16.5x but it has a price-to-book of 2.2 and a price-to-sales ratio of only 0.3. A P/S under 1.0 usually means a company is undervalued.
At a time when the agribusiness companies are out of favor with investors, The Andersons is bucking that trend through its diverse business units.
Investors interested in agribusiness would be wise to keep The Andersons on their short list.
ANDERSONS INC (ANDE): Free Stock Analysis Report