In the past year Goldcorp (NYSE:GG) became the most valuable gold miner by market capitalization, surpassing the largest gold miner on a per-ounce basis--Barrick Gold (NYSE:ABX). While the latter reclaims this role given its secondary offering, I think the market has sent a powerful message to large gold mining companies that have failed to execute despite rising gold prices. Not only is Goldcorp not the biggest producer on a per-ounce basis, but it doesn't even come close: Barrick and Newmont Mining (NYSE:NEM) produce far more gold. Other major gold miners such as Kinross Gold (NYSE:KGC) and Goldfields (NYSE:GFI) mine roughly the same amount as Goldcorp, but they have valuations that are small fractions of that of Goldcorp.
Why does the market appreciate Goldcorp so much, and it is really worth more than Barrick--a company that produces nearly three times as much gold?
In this article i analyze Goldcorp and discuss those facets of the company that have made it so appealing from an investment standpoint. This discussion will draw numerous comparisons to Barrick, which has failed miserably in the eyes of investors, myself included. Four points in particular stand out
Goldcorp has implemented a successful, disciplined growth strategy, while Barrick has failed to grow, has acquired lousy assets, and sold quality ones.
Goldcorp has a disciplined capital allocation strategy and has grown the value of its assets without assuming a lot of debt, while Barrick has poorly allocated capital, destroyed shareholder equity, and has done so while maintaining a ridiculous debt load.
Goldcorp generally operates in low risk jurisdictions, while Barrick operates just about anywhere without regard for the political environment.
Goldcorp has a strong focus on gold with some silver exposure, whereas Barrick has begun to venture into copper mining despite the fact that investors in gold mining shares want protection from an economic downturn, which copper exposure doesn't give them.
About Goldcorp
Goldcorp has a market capitalization of $20 billion. It operates 11 gold mines, all of which are located in the western hemisphere. It produces an annualized 2.6 million ounces of gold at these 11 mines.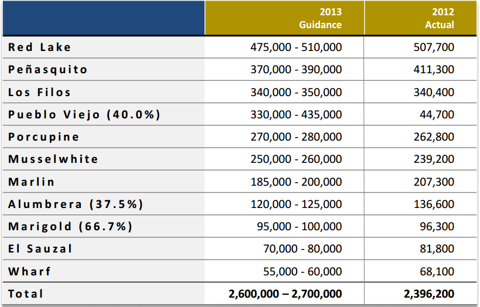 All of these mines, except for Marigold, have all in sustaining costs that are comfortably below the prices of gold.
In addition to these 11 operating mines the company has several projects in development, two of which will go into production next year and dramatically boost annualized production figures. These are:
Cerro Negro in Argentina, which will commence production next year at roughly 525,000 ounces annually.
Eleonore in Quebec, which will produce 600,000 ounces annually once production ramps up (production figures for the early stages of mining will probably be lower).
Both of these projects will be profitable, which puts Goldcorp in a unique situation--it will be substantially growing production next year to roughly 3.5 million ounces annualized (it will not achieve this figure in 2014) in a way that is profitable while we are seeing other companies put off projects (e.g. Barrick's Pascua Lama, Osisko Mining's (OSKFF) Hammond Reef) and even shut them down (e.g. Kinross Gold's La Coipa) as the price of gold languishes.
About Barrick Gold
Barrick Gold is the world's largest gold miner by total production and, for the time being, valuation. This latter point is only the case because of the company's recent equity offering. Even so the valuation differential between Goldcorp and Barrick isn't much, although the companies' production figures differ substantially. Barrick produces over 7 million ounces of gold annually on more than two dozen mines. However the company claims to have 5 core mines, which comprise 60% of its production, and include:
Cortez in Nevada, which produces nearly 1.5 million ounces annually.
Goldstrike in Nevada, which produces nearly 1 million ounces annually.
Lagunas Norte in Peru, which produces over half a million ounces annually.
Veladero in Argentina which produces roughly 700,000 ounces annually.
Pueblo Viejo in the Dominican Republic, which is actually a joint venture project with Goldcorp of which Barrick owns 60%. The project is still not operating at full capacity yet it will already produce over 600,000 ounces annually for Barrick.
These are all fairly low cost mines, with the least efficient--Goldstrike, producing with all in sustaining costs under $1,000/ounce.
Barrick also has several development-stage projects. Pascua Lama is the biggest, although it is very controversial. The company recently suspended the development of this mine. It also has the Cerro Casale project in Chile that has 23 million ounces of gold.
In addition to gold production the company has some copper projects as well. In fact the company's copper production has been growing while its gold production has been flat to slightly down. The Lumawana project in Zambia will produce about a quarter billion pounds of copper in 2013, and the Zaliwar project in Chile will produce nearly 300 million pounds. Pascua Lama has substantial copper deposits as well. Finally the company owns half of the Kabanga project in Tanzania, which has a large nickel deposit.
Relevant Points of Comparison
Clearly Barrick has substantially greater assets than Goldcorp, and this begs the question: Why are the two companies priced the same? The following points of comparison reveal several of Barrick's weaknesses and Goldcorp's strengths
A: Growth
Goldcorp's production growth year over year is about 10% in 2013, and over the next few years it should exceed this rate, especially given the two projects discussed above.
Ultimately by 2016 the company's production should exceed 4 million ounces, which means that growth will be rapid given the large size of the company. Furthermore, the company may accumulate other projects as they are depressed in value in the current gold price environment, and so growth might even be greater.
By comparison Barrick Gold is not growing its gold production. The company's Pascua Lama project would have yielded some growth, but it is on hold, and we can't be sure that it will ever produce. Furthermore the company sold its producing Australian assets to Gold Fields. Finally, to top things off the company recently issued $3 billion in stock, which means that the amount of gold produced per share by Barrick plummeted by about 15%.
B: Capital Management
Goldcorp has a disciplined capital allocation strategy that is evidenced by its strong balance sheet ($2.3 billion in debt vs. $20 billion in equity) and its small yet growing monthly dividend.
Barrick had $15 billion in debt vs. just $13.6 billion in equity as of the end of September. It got so bad that after the second quarter the company slashed its dividend by 75%, and after the third quarter it issued $3 billion in stock. Most of Barrick's debt doesn't mature for nearly 10 years and so bankruptcy probably isn't an issue, but servicing this debt will eat into the company's profits.
Furthermore Barrick has a history of squandering shareholder capital. I have addressed this issue in a couple of articles: one published in April and another in August. Excellent examples of this include the company's Equinox purchase in 2011, its hedging policy in the face of rising gold prices, and its massive expenditures on the Pascua Lama project, which may never go into production. Each of these events lead to massive write-downs. As a result, the company's shareholder equity has fallen from $15 billion at the end of 2009 to $13.6 billion as of the end of September despite a higher gold price. By comparison Goldcorp has grown its shareholder equity by a third.
C: The Location of Its Mines
Goldcorp operates solely in the western hemisphere, and it almost exclusively operates in low political risk regions. While i am not thrilled about its exposure to Argentina (Cerro Negro) I like that it gets a lot of production from Canada (Red Lake, and soon Eleonore), and Mexico (Pensaquito).
Barrick Gold gets a lot of production from its Nevada mines, but otherwise I am not thrilled about the location of its mines or its attitude towards managing political risk. The company has a lot of assets in Africa including higher risk regions such as Tanzania and Zambia. It also owns 73% of African Barrick (OTCPK:ABGLF), which has assets in Tanzania. Furthermore the political risk of Barrick's portfolio rose when it sold its Australian assets.
D: Emphasizing Precious Metals
All of Goldcorp's mines are focused on precious metals, and the company's portfolio is designed to appreciate in value along with precious metals and to potentially leverage this price appreciation. While the company inevitably has some base-metal exposure the management's dedication to gold exposure is made clear in the company presentation.
Barrick Gold is primarily a gold producer but it has a lot of base metal exposure. The company is growing is copper production from 470 million pounds in 2012 to over 520 million pounds this year as its gold production is flat to slightly lower. Furthermore we have seen the company make direct investments in copper, such as the Equinox acquisition in which it acquired the Lumwana project. The company also has exposure to the Kabanga nickel project.
While base metals aren't necessarily a bad investment the fundamental drivers differ in many respects from those of precious metals, and the fundamentals are often antithetical to one another.
Conclusion
Given the sheer size of Barrick's portfolio it is possible that it will end up being a better investment than Goldcorp. But given Goldcorp's quality management versus Barrick's persistent mismanagement and capital destruction I would rather own the former with the knowledge that my capital is in good hands.
Disclosure: I am long GG. I wrote this article myself, and it expresses my own opinions. I am not receiving compensation for it (other than from Seeking Alpha). I have no business relationship with any company whose stock is mentioned in this article.