I have recently taken an interest in screening and backtesting various value strategies on my blog. I performed a new value screen and also backtested it based on the following criteria starting in 1/1/2002. The backtest rebalanced every 4 weeks and assumed .5% slippage and 0% return on cash (a note about slippage using StockScreen123 - stocks that pass the screen are equally weighted at each rebalance. Slippage is only calculated when selling out of a stocks that no longer passes and for new stocks. The slippage to bring stocks that remain from one period to the other are not taken into account):
Price to Book < 1
Return on Equity Last 12 Months > 0
Return on Assets Last 12 Months > 0
Total Debt to Equity < 40%
Current Ratio > 3
Price to Free Cash Flow Trailing 12 Months < 15
Projected Earnings Next Fiscal Year > 0
No OTC Stocks
Daily Volume 20 Day Average > 20,000 shares
The primary difference in this screen versus others I performed in December and January are that I added an 'uptrend' criteria for the index. To put it simply, the screen/backtest goes to cash when the S&P 500 (the 'index') falls below its 200 day moving average. This is a simply strategy used in various portfolio strategies made popular in books such as Mebane Faber's The Ivy Portfolio: How to Invest Like the Top Endowments and Avoid Bear Markets
and by Tom Lydon, author of The ETF Trend Following Playbook: Profiting from Trends in Bull or Bear Markets with Exchange Traded Funds
.

There are positives and negatives to employing such a strategy. The benefit is that an investor can avoid periods of significant drawdown (2008 anyone?) but can also miss the first parts of substantial rallys (2009 anyone?). In addition, the strategy could lead to some whipsaw if the index is frequently closing above/below its moving average. However, one benefit of the strategy I used in this screen/backtest was to only re-screen every 4 weeks. Thus, the strategy only cares if the index is above or below the moving average at the end of the 4th week. Any movements above/below the moving average between the 4 week rebalancing is ignored.

The results of the current screen are below. Please treat it as a list for further investigation (do your own due diligence) and not a 'buy' list. Some possible areas for improvement (beyond changing the value criteria, which I have written about previously and will continue to feature different criteria in the future) would be to focus on each individual company's technical trend using moving averages, trendlines, use of proprietary trend trading services like Trend TV, or other trend strategies such as those discussed in Trend Trading for a Living: Learn the Skills and Gain the Confidence to Trade for a Living
(a book I recently reviewed for Seeking Alpha). In addition, below the table is the results of the backtest using stockscreen123 which is currently in beta. Again, please do your own due diligence.


A $100 investment on 1/1/02 using this strategy would be valued at $357.70 today versus $99.1 for the S&P 500 (excluding dividends on both). Your starting date is important as well - had you invested in this strategy starting 1/1/05 you would be virtually in line with the S&P 500 today. However, $100 starting on 1/1/06 would be worth $121.8 today vs $91.20 in the S&P 500. In other words, the strategy is not perfect and will underperform the S&P 500 in certain periods.

The strategy historically holds less then 10 stocks so additional stop loss strategies on the individual holdings would be prudent as well.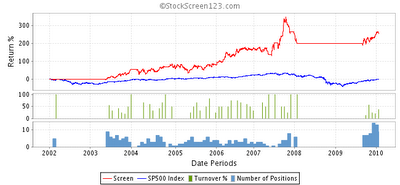 Author's Disclosure: No Positions