As Apple (NASDAQ:AAPL) wraps up another good year in 2013, I remain in the bullish camp for the company as I have for many years. Apple remains the king - the strongest fundamental company poised for continued growth at great margins for years to come.
There is no doubt that it will again overtake the title of biggest company in the world and then expand on that in coming years. Apple, at a modest P/E and with a mountain of cash in the bank, is still just getting started.
With that, we're now heading into holiday season for Apple - a quarter where the company has traditionally posted its best revenue of the year. This year, there will be a focus not only on revenue, but on margins as well.
And, after the holidays comes 2014 - a fresh start to a new year for Apple. While I maintain my bullish long term outlook on Apple for the future, I wanted to provide some color as to what investors and potential investors should expect from Apple in 2014. Here's some of the "dos and don'ts" that I'm expecting for Apple over the coming year.
DO: Expect Apple to Eat Pandora's (NYSE:P) Lunch
Apple and Pandora are officially pinned head to head right now.
In between earnings calls, and especially now that Apple's iTunes Radio is on the map, Pandora trades on the catalysts of its monthly listener metrics. Two months ago, Pandora's listener metrics were enough of a catalyst to keep Pandora in the $27 region, but failed to move the company forward past its all time highs in the wake of Apple's competition and unconvincing numbers. Last month, Pandora's numbers didn't do much to move the stock past $27 either. It's trading at all time highs today based solely on an upgrade of the stock that was issued earlier this week.
Here's a reminder of who the real boss has been over the last 5 years:

Pandora's October listener metrics:
Listener hours for Pandora during the month of October 2013 were 1.47 billion, an increase of 18% from 1.25 billion during the same period last year. This was solely a product of them lifting their 40 hour listener ban.
Share of total U.S. radio listening for Pandora in October 2013 was 8.06%, an increase from 6.61% at the same time last year.
Active listeners were 70.9 million at the end of October 2013, an increase of 20% from 59.2 million during the same time period last year. Yet, it was down 2 million listeners quarter-over-quarter - which can likely be directly attributed to Apple butting into Pandora's space.
Apple offered an update on its own conference call a couple weeks back, stating that iTunes Radio now had over 20 million listeners, and was continuing to grow. This did little to bother Pandora's stock at the time, which is seemingly a case of people ignoring the obvious - that Apple is eventually going to cannibalize on Pandora's listeners. That will lead to success for iTunes Radio and an inevitable "major" correction for Pandora in 2014.
Look for Apple to find success in 2014 in eating Pandora's lunch.
DON'T: Expect Apple to Buy BlackBerry
Speculation on who is going to save BlackBerry (NASDAQ:BBRY) with a last minute purchase was rampant - especially before BlackBerry announced that they were going to close on $1 billion and try and save their own sinking ship by loading up with nasty debt.
To this day, there is still speculation as to whether or not Apple would have been one of the parties interested in buying the company.
I acknowledge that it was reported that Apple may have been interested only in a couple of BlackBerry's patents.
Sources said Apple was among the parties interested in buying part of BlackBerry's assets, especially as it pertained to intellectual property. Microsoft, too, expressed interest in purchasing a share of the Canadian company's patents, though details of the proposals have yet to surface.

It is unknown what patents were being reviewed for purchase, but BlackBerry has a cache of wireless technology properties that may have shown value in light of Apple's ongoing patent struggle with Samsung, Google's Motorola and other smartphone rivals.
I would definitely not expect any type of buyout at this point from Apple, who already has a good thing going with mobile.
DO: Expect Mac To Keep Rolling
Mac gets the short end of the stick with Apple, and it's very simple to understand why.
Mac sales continue to increase year-over-year as Apple continues to surge into the computer market, on its way to a full ousting of Windows machines (eventually).
- image courtesy of Macworld.com)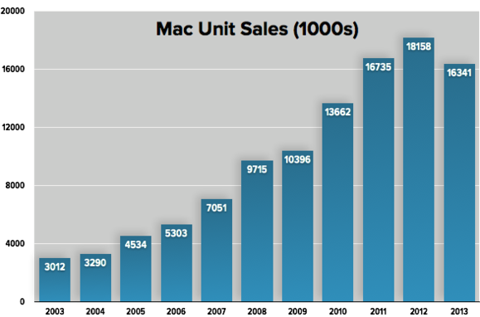 Conversely, as this is happening, tablets and smartphones as a whole have cut into PC sales across the board. Meaning, it's not only Apple that's been affected by a slowdown in PC purchases, it's been all providers across the board. Places like the UK are really starting to show the decline across the board in the PC market, as reported earlier this week:
The UK has seen the biggest decline in PC sales of any country in western Europe, as shoppers ditch traditional computers in favour of tablets such as Apple's iPad Air.

According to new estimates, PC sales in Western Europe totalled 11.9 million units in the third quarter of 2013, a decline of 12.8 per cent from the same period in 2012.

"The PC market in Western Europe continued to shrink, declining faster than expected," Meike Escherich, principal research analyst at Gartner, said of the research. "The transition from PCs to tablets continued to reduce PC sales."The UK has seen the biggest decline in PC sales of any country in western Europe, as shoppers ditch traditional computers in favour of tablets such as Apple's iPad Air.

According to new estimates, PC sales in Western Europe totalled 11.9 million units in the third quarter of 2013, a decline of 12.8 per cent from the same period in 2012.

"The PC market in Western Europe continued to shrink, declining faster than expected," Meike Escherich, principal research analyst at Gartner, said of the research. "The transition from PCs to tablets continued to reduce PC sales."
The fact that Mac can continue to grow in a market that is in regression speaks to the fact that, while it's slow, Mac continues to not only gain market share, but more importantly gain ground on its Windows competitors amongst its own ecosystem of widely selling tablets and smartphones.
DO: Expect a Dividend Raise
I've said it before and I'll say it again: dividends in the market remain the best loyalty program company's have implemented since casinos started handing out buffet tickets & free rooms simply for handing over your hard earned money directly to them.
I've been vocal against another stock buyback (as you'll read below), but I do think that one thing Apple can (and will) do for their investors going forward is to continue to raise its dividends.
As Bill Mauer reported recently:
Apple restarted its dividend in 2012 with a payment of $2.65 per quarter. They upped that figure to $3.05 a quarter this year. While that rise wasn't as large as some hoped, Apple announced a huge increase to its buyback, from $10 billion to $60 billion, which I'll get to in the next section.

At the end of fiscal Q4, Apple's most recent quarter that ends in late September, Apple had paid out just over $13 billion in dividends since the restart, according to the 10-K filing. Between the dividends and taxes related to the settlement of equity awards, Apple should total about $40 billion by the end of 2015, since the buyback is $60 billion. The amount of the next two dividend raises will depend on how quickly shares are bought back. With a much lower share count now, Apple is paying out less in total dividends at the same dividend rate ($3.05). Currently, I would expect dividend increases of approximately 10% per year for the next two.
For perspective, here's a (mostly pointless) chart of Apple's abbreviated dividend history that I've prepared. There isn't an enormous data set here, but you get the idea of the direction that Apple is likely heading.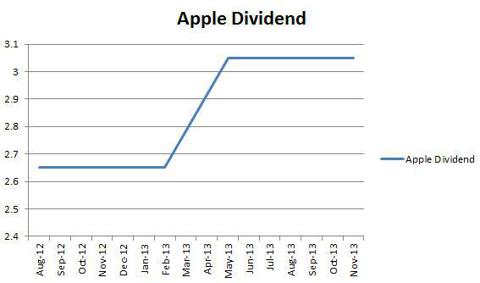 DON'T: Expect Apple to Abide Blindly to Icahn's Buyback Requests
Carl Icahn wants a buyback from a company that's already engaged in the largest stock buyback in history. You can't make this stuff up, I tell you.
I've written a couple of previous articles claiming that Carl Icahn wants nothing more out of his Apple stake than to make a ton of money. Notably, my tastefully titled article "Icahn Looks to Score on Dinner Date with Apple's Cook". In that article I argued that Icahn is looking for the proverbial "wham bam thank you ma'am" and that he doesn't care about Tim Cook, he doesn't care about the products, and he certainly doesn't care about or respect the corporate culture or well being of the Apple in the long term.
The way that Apple deals with this is going to be very telling for investors. It is my analysis that Cook and Oppenheimer should not trust Icahn any further than they can throw him. It's likely that Icahn is not interested in the long term success of the company, but sees it as a target due to its enormous cash position and how it caved to pressure from Einhorn.
Right from the get-go, I knew that Icahn had bad intentions with Apple, calling his immediate push for another buyback a big "wrong" in an article I wrote immediately after Icahn disclosed his stake in the company:
Asking for a bigger buyback immediately after Apple announced the biggest stock buyback in market history isn't really a great move right off the bat. It's nice that Carl wants more shareholder value from the company, but with Apple recently taking on its debt position and offering a buyback with increased dividend, the company shouldn't feel pressured to tend to Icahn's requests immediately and shareholders might be disappointed when Apple chooses not to honor Icahn's somewhat greedy request immediately.
As one Seeking Alpha commenter put it last month, "there are very few people in the world that can tell Carl Icahn to take a hike. Tim Cook is one of them. He should issue more shares in spite of Icahn."
I said it once, and I'll say it again : what would Steve Jobs say to Carl Icahn?
I'm confident Cook and Oppeheimer will find their spines and tell Icahn that a buyback isn't happening in 2014.
DO: Expect the New Mac Pro to be a Hit
The Mac Pro has been the neglected redheaded stepchild in the room for Apple for years. Apple Stores across the U.S. always had to carry the one obligatory Mac Pro for the occasional professional that needed it, but it never got much love. At WWDC this year, they announced that not only was Mac Pro getting a sexy facelift, but that it's going to be a more consumer appealing machine.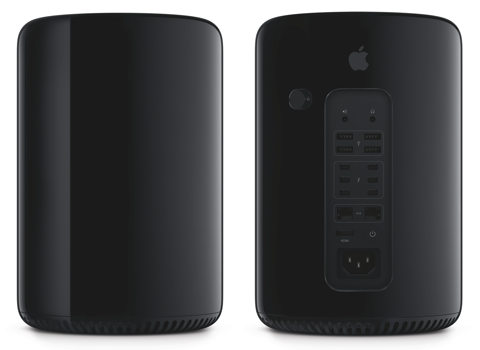 This not only breathes life into a forgotten line of Apple products, it now shifts the feeling of the Mac Pro from being used only by "professionals" to, "Hey, that would look good on my desk at home." There's a retail aesthetic with how the new Mac Pro looks.
As I stated earlier this year:
For professionals and casual computer users that just like to have something "under the hood", it supports some crazy specs:

Intel Xeon E5 Processor with Configurations up to 12 Cores
Four-channel DDR3 memory controller running at 1866MHz
4 USB 3 ports
6 Thunderbolt 2 ports
2 Gigabit Ethernet Ports
1 HDMI Port
802.11ac Networking

Having it being built in the USA will also cozy it up to certain buyers that are hooked on USA only products, as well. Trust me, I can see a lot of fathers saying in the future, "Give the kids the iMac, I want the Mac Pro in my office."
DO: Expect the iPhone 5S to Pave the Way for iPhone
So much of investors' worry and Apple's success is going to come from them making sure they're not outdone by Samsung (OTC:OTC:SSNLF) in mobile. With Apple's recent "surprise" numbers on iPhone from last quarter, Apple still has yet to really be dethroned as the most credible threat in mobile. They found some of this through the success of the 5S launch, even though the 5C didn't go exactly as planned.
It also means that the iPhones that the market seemingly didn't like (remember, Apple stock was down after the iPhone announcement event), might just be the phones that continue to help Apple exceed its mobile numbers, even if they're not doing it through the "cheaper" channels that analysts and bloggers thought were necessary.
The gaudy and posh iPhone 5S is likely to be the tool that Apple draws part of their inspiration from when continuing to evolve iPhone into 2014.
DO: Expect Curved iPhones
2014 is also likely going to be the year of the curved iPhone. The clues are there, including the patents that were filed in March of 2013. Now, the talk about the curved phone has continued to buzz louder and louder as we head towards the end of 2013.
Apple may be going from petite to plus-sized with its next generation of iPhones. Two new iPhone models are in the works, sporting curved displays as big as 5.5 inches, Bloomberg reports.

Patrick Moorhead, the founder of the tech analyst firm Moor Insights and Strategies, said that the increased size makes sense for Apple. "A lot of different factors go into deciding what kind of phone to buy," he told ABC News. "People want the Apple experience, but might be swayed because of a larger display, like the HTC One's or the Samsung Galaxy's."
DO: Expect a Finished iWatch and Plans for an Apple iTV by End of Year 2014
Not only do we know that the iWatch is coming, we know it's coming in two sizes as of this week. AppleInsider reported:
David Hsieh, head of the greater China market for supply chain analysis firm DisplaySearch, cited sources inside Apple when sharing the information at an industry conference in Taiwan on Wednesday,according to The Korea Herald. Hsieh is well-connected in the display industry and has a history of accurately predicting Apple's moves in the field.

An October report from the same publication suggested that South Korean electronics giant LG was nearing an agreement to supply OLED displays for Apple's so-called "iWatch." If true, it would mark Apple's first use of the relatively new display technology.

Rumors of a wearable device from the Cupertino, Calif.-based company have been circulating for years, and have picked up significantly in 2013. Apple is said to have a team of more than 100 employees working on the project, and has snapped up industry experts in fashion, wearable devices, and fitness throughout the year.

The "iWatch" is rumored to carry a wide array of biometric sensors, and many believe it will function as a stand-alone product, rather than be dependent upon another Apple device in the way Samsung's Galaxy Gear smartwatch is. Noted analyst Ming-Chi Kuo said in May that he expects the "iWatch" to hit shelves in the second half of 2014.
Additionally, it's been reported that much of the focus that was on the iTV has shifted into the iWatch launch, which is why I'm not expecting a released Apple iTV in 2014, but I do think that we're going to get some information on what Apple plans to do - and I'd be looking for a mid-2015 release.
Also, regardless of what people have speculated, the Samsung Gear watch is likely to offer little to no competition for Apple's iWatch.
This isn't the only time that Apple is going to have someone rush in front of them to try and beat their thunder to market with a new product. Hell, that's been going on since Microsoft (NASDAQ:MSFT) rushed to get the original Windows on the old NEC prototypes in Japan before Apple was going to launch the Mac.
For Apple, it hasn't really been about timing (possible exception being the iPhone), it's generally been about the quality of the product. Apple is of the mindset that they are producing the best quality and most innovative products in the world, and while they have a concern with shipping in a timely fashion, it's not what their model is based on.
Expect the iWatch in 2014, and expect it to be a game changer.
DON'T: Expect an Apple Phablet
Unless you're going to count the iPad mini making phone calls, I'm not really expecting Apple to release any type of separate "phablet" that people have been speculating about.
The Phablet, in general, I believe to be a pointless idea. I covered a bit about then when addressing delusional BlackBerry investors who thought that BBRY's phablet was going to save the company.
Tablets are a niche. Phones are a niche. PCs are a niche. Phablets, are again, an emerging horrifying mutation of two niches that already exist; not unlike a strain of some flesh eating bacteria that has mutated to avoid convention medicine, the phablet is what people who want major innovation 24/7 have smashed together, seemingly strictly out of boredom.
In a tech world where the focus is on getting things smaller, more lightweight, and easier to store - how, exactly do these projections take into account that there may not exactly be millions of people that want to walk around holding something the size of a frying pan up to their ear.
Apple is about elegant innovation, and there's nothing elegant, nor innovative about phablets.
Into 2014 We Roll
I hope this article offered a significant amount of insight as to some of the exciting things coming (and not coming) for Apple in 2014. With a rock solid balance sheet, solid dividend yields, continued growth on all fronts, and new products coming down the line for Apple, I remain bullish on the company long term.
Best of luck to all investors.
Disclosure: I am short P. I wrote this article myself, and it expresses my own opinions. I am not receiving compensation for it (other than from Seeking Alpha). I have no business relationship with any company whose stock is mentioned in this article.