A little over a week ago, I wrote an article previewing NQ Mobile's (NQ) third quarter earnings report. In that article I showed investors why NQ will beat expectations and why analysts will be upgrading the stock as well.
Now that earnings have come and gone, were my expectations met? Yes! First, NQ crushed analyst estimates as the Company beat on both the top and bottom lines. The good news did not stop there as management expects fourth quarter revenue to be higher then what it previously had planned. The table below shows the earning results.
| | | | |
| --- | --- | --- | --- |
|   | Revenue | EPS | Guidance |
| Analyst Estimates: | $50.9M | 0.27 | $61.2M |
| Actual Results: | $54.2M | 0.28 | $62.5M |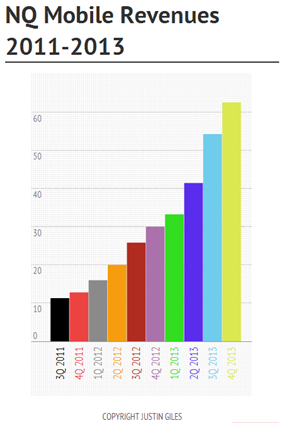 * 2013 Q4 Estimates between $62M-$63M
As you can see, the results were quite impressive! The company also raised its full-year revenue outlook to $191M to $192M, up from $179M to $184M it saw in the first half of the year. This has been one of the reasons why analysts have been upping their price targets as revenues continue to surge.
Last but not least, it was announced that NQ Mobile's Senior Management team lead by Co-CEOs Dr. Henry Lin and Omar Khan, President Zemin Xu, COO Dr. Vincent Shi and CFO KB Teo, among others, intend to use their personal funds to purchase up to $3M worth of the Company's shares within the next six months. Talk about icing on the cake.
NQ Share Buyback Program
Even with management planning on purchasing shares before the end of the year, there was still some investors who managed to find some disappointment. Why? Because the Company did not issue a bigger buyback program then what they currently have in place ($35M).
Think about this for a moment. If the company were to buyback $35M at current prices, the company would reduce the float by 9%. With close to 45% of the float short, the Company's buyback (which starts as soon as this Friday) could squeeze the shorts, and those attacking the Company.
During the conference call management stressed that they are looking at other options to put their capital to use. While a larger buyback would have brought cheers for many short term investors, long term investors know the Company should use its cash for other purposes as well such as acquisitions etc. I personally feel that the $35M buyback program is sufficient enough and should not be a concern for investors right now.
Nevertheless, the fact that management plans to buy shares with their personal money shows you how much confidence they have in the Company. After all, insiders may sell their shares for a multiple of reasons however, there is only one reason to buy shares. That is because management believes their stock price is undervalued and shares will being going back up.
Other Key Takeaways
Cumulative registered user accounts grew to 426.6 million at the end of the third quarter, up 77% yoy.
Monthly active user accounts grew to 233 million, up 57% yoy.
Enterprise mobile revenues increased 243% year-over-year and 90.6% sequentially to $50.3 million in the third quarter. NationSky became a Tier-1 distributor for Apple in the first quarter of this year and is currently ramping up its MDM business.
Mobile value-added services revenues increased 46.4% year-over-year [yoy] to $26.9 million.
Monthly premium user accounts grew to 14.8 million compared with 11.3 million in the previous quarter.
Daily active users for FL Mobile games reached 127,448 up from 98,595 in the previous quarter. Advertising revenues were 11 million, up 99.7% sequentially.
DSO's (Days Sales Outstanding) fell from 145 days to 115 days in the third quarter representing a decrease of 20.7% sequentially. This was the lowest number the Company has ever reached.
Conclusion
There is no doubt about it that NQ Mobile posted solid earnings on all fronts (Revenues, EPS, Guidance etc), and continues to fire on all cylinders. Looking over the earnings report we can see the Company has been busy with acquisitions, partnerships as well as introducing its new product NQ live.
NQ Live was introduced on October 22, and one analyst said it has the potential for some 500 million users and more than $100 million in sales in two years. Co-CEO Omar Khan talked about NQ live during the conference call and had this to say:
"I can't tell you how excited I am about NQ Live. It completely changes the paradigm of user interaction and it starts to monetize and engage users."
"On a piece of real-estate on the home-screen that has never been done before in the way that we're doing. ...we're opening that platform to third parties and partners whether it be third party content developers, advertisers, carriers, OEMs, we've got interest across the board from every single piece of that value chain or ecosystem."
NQ Mobile has been able to grow at a phenomenal rate and the share price has shown that as shares climbed to a 52 week high ($25.90) just a couple of weeks ago. NQ live looks very promising and will help the Company to continue growing at an impressive rate.
Let's not forget about the $172.5M convertable note offering that Morgan Stanley and Deutsche Bank purchased last month. The conversion price of the notes comes out to approximately $25.61 per share, which is a whopping premium of 96% from today's closing price of $13.05. Certainly Morgan Stanley and Deutsche Bank saw something they liked and even paid a premium for it.
NQ Undervalued
The last couple of weeks have been nerve racking for investors as the stock has been nothing short of a roller-coaster ride. Until everything is resolved and settled, holding shares requires strong-willed investors who can tolerate all of the volatility in the stock. During the conference call NQ Mobile continued to refute the attacks by short sellers saying;
"As ridiculous and false the many allegations from the recent short-seller report and coordinated other blog posts are, we are determined to provide the marketplace with transparency and action. We have taken steps that no other company has taken. We have already clearly shown that the entire premise of the report is false. In fact, in spite of the increased scrutiny on our company over the past couple of weeks, we have reported our quarterly results on time and on schedule without deviation."
I expect that after everything has been clearly resolved, NQ Mobile will be a stronger company from this, and investors who have held the stock will be rewarded for their ongoing patience.
Considering NQ was in the mid-$20's just a couple weeks ago, and after everything that has happened, there is no reason that the stock should not push towards a new 52 week high. After the earnings announcement, Topeka even upgraded shares of NQ from $33.50 to $34.25, which represents upside of over 160%.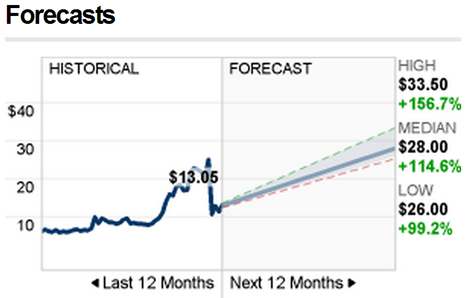 NQ Mobile remains deeply undervalued at these levels and I believe Topeka's latest price target is pretty conservative at $34. I've recently come to the conclusion that shares of NQ should be north of $40 based on forward estimates. I've outlined those reasons why in my NQ Mobile earning preview article released just a week and a half ago.
Not only is the Company growing quite rapidly, it's growing in a space that has a huge market for what they're doing. Mobile security, gaming and other various products that NQ Mobile offers continues to grow by leaps and bounds. While NQ Mobile has positioned itself nicely in China, it's a company that is growing worldwide.
I wouldn't be surprised to see more analyst upgrades on the way especially after NQ Mobile's Annual Investor and Analyst day which takes place in New York City on November 19.
Knowing who you can trust in the market is very important. That's why I'm providing you with my track record and other particular stocks that I like. The link provided will show you all of my picks, how they have fared, and where I think they will be going in the near future.
Disclaimer: Investors are always reminded that before making any investment, you should do your own proper diligence on any stock mentioned in this article. Have a great day and as always, I look forward to hearing your thoughts or questions that you might have.
Disclosure: I am long NQ. I wrote this article myself, and it expresses my own opinions. I am not receiving compensation for it (other than from Seeking Alpha). I have no business relationship with any company whose stock is mentioned in this article.